Gold. For centuries, the precious mineral has captured the imagination, made people rich, and indeed powered the rise of civilization. But when it comes to profiting from gold investments, buying and selling is mere child's play. The real returns come from investments in the explorers, as the potential of a new mineral discovery can make share prices skyrocket tenfold and more.
But how to know where to put your money? Investing in a company drilling for a new gold discovery has potential for a huge reward but there is also high risk if they don't succeed. Most companies only explore one property at a time, hoping for the big win. If they fail, you lose all your money.
However, there is one company that is unique: Eagle Plains Resources (EPL:TSX-V). Based in Western Canada, they have multiple gold exploration programs this year, therefore increasing shareholders' potential profits. They also have a strong track record of success.
In this article, we'll break down the reasons why gold investors like you should jump at the chance to invest in Eagle Plains.
On the record
Eagle Plains has many positive indicators that suggest it will be successful in its latest exploration operations. First of all, it is financially sound as they have $9m in cash and a market cap of approximately $18m.
Did I already mention that Eagle Plains has a fantastic track record? When it comes to rewarding shareholders – they have had multiple ten-baggers (10x returns) and have never conducted a roll-back to the share structure making them safe for long-term investing.
Another extremely important factor to consider is that there is less risk with Eagle Plains than with other exploration companies. This is because most of their exploration programs are being funded via partners, which means they won't be stressed financially if one isn't successful.
Additionally, TerraLogic Exploration Services, the geological services company they own, is very busy and generates a lot of revenue. This is a distinctly different approach, as many other operations hire "service companies" that in some cases are actually owned by the CEO; instead of generating cash for operations, they gorge on profits themselves.
TerraLogic offers a full range of GIS, data management, data collection, and geological services as well as diamond-drilling support.
The Next Gold Rush?
Eagle Plains has projects located all over the safe jurisdiction of Western Canada but for this article we are focusing on the Trans-Hudson Corridor, an active area in Saskatchewan that some consider to be the next big gold district. The Corridor formed almost 2 billion years ago when the continents collided and created both the Precambrian Canadian Shield as well as the Great Plains in the United States. (Indeed, the Black Hills of South Dakota where the Homestake mine was located yielded 44 million ounces of gold during its 126-year run.)
Overall, the north where Saskatchewan is located has been successfully explored for uranium, copper, and other base metals but has been relatively untapped for gold. This is in spite of the Seabee Mine, which has been extracting high-grade gold from the area for 40 years. The skyrocketing price of gold has now incentivized more exploration. At this early stage, geologists are using drill rigs to test the hard rock for occurrences of gold in economically viable quantities.
The good news for Eagle Plains investors is that they own a lot of claims in the Trans-Hudson Corridor; in fact five of these properties were spun-out from Eagle Plains to form Taiga Gold Corp.
One of the most promising Eagle Plains projects is the Olson where significant gold mineralization was detected in Saskatchewan CEO Tim Termuende stated "I think we made a significant new discovery in an undrilled area… we pointed the drill under a soil anomaly and we are very pleased to see an intercept of almost 40 meters of 1.09 g per tonne gold. What's also significant is that this mineralization starts on the surface at that occurrence."
Olson Project highlights:
(February 4, 2021)
New mineral discoveries show substantial widths of moderate to high-grade gold mineralization within multiple stacked intervals including:
DDH OL20004
39.80m @ 1.09 g/t Au (3.05m to 42.85m)
including: 7.62m @ 3.44 g/t Au (15.75m to 23.37m)
including: 1.53m @ 13.80 g/t Au (21.84m to 23.37m)
DDHOL20005
31.04m @ 0.51 g/t Au (2.88m to 33.92m)​
DDH 20002
1.53m @ 13.5 g/t Au (125.13m to 126.66m)
1.24m @ 1.14 g/t Au (76.2m to 77.44m)
1.21m @ 2.54 g/t Au (116.84m to 118.05m)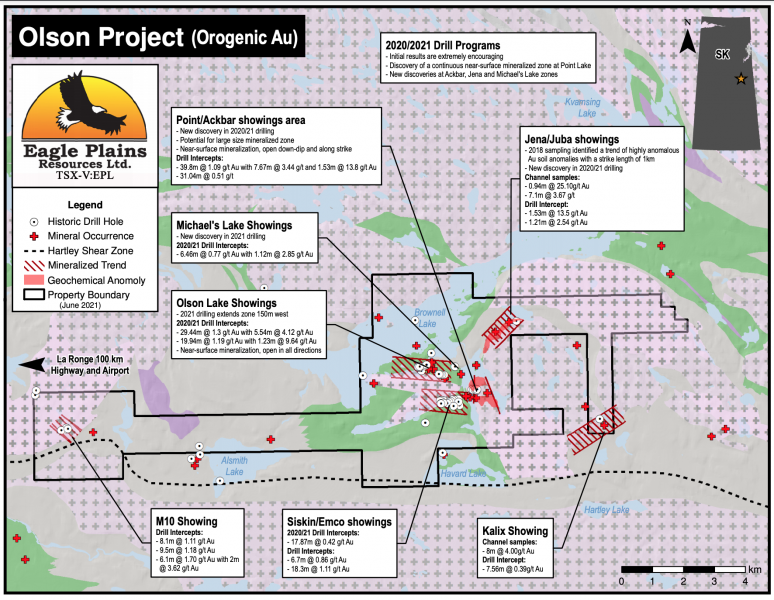 (March 25, 2021)
Initial exploration drilling continued confirmation and extension of high-grade mineralization in the Olson Zone area of the property. The drill rig was moved 150 meters out from the historic Olson showing and drill hole OL20017 hit 9.64 g/t over 1.23m within a longer interval grading 1.19g/t over 19.94m.
Encouraging results from the second phase of the drill program intersected significantly wide areas of gold mineralization. The presence of both consistent high-grade gold mineralization identified and low-grade, bulk-tonnage gold mineralization merits further drilling to test the size potential of the Olson gold system.
The Olson property area covers 5,038 ha located within the Trans-Hudson Corridor 100 km east of La Ronge, Saskatchewan and 80km south of SSR Mining's Seabee Gold Operation. All 2021 work was fully funded by Eagle Plains' option partner SKRR.
In a completely different belt of rocks located in British Columbia that are well known for large copper deposits being mined by major producers such as resource giant Teck, Eagle Plains recently funded a drill program at its Donna Property and is awaiting assay results. They also have a ground-based exploration program underway at the nearby Dictator Project designed to establish drill targets and follow up last year's discovery of mineralized boulders containing high-grade gold.
News about these activities can be found at: https://www.eagleplains.com/news
As you can see, there is a lot of exciting news coming from Eagle Plains and their activites in both Saskatchewan and British Columbia. Because they are engaged in multiple exploration programs, there is more than one chance that shareholders will reap the benefits of discovery.
Are you interested in participating in the exciting world of mining exploration? Without a doubt, Eagle Plains has a great track record and has potential for future payouts. To better understand the investment opportunity in Eagle Plains Resources, click here.