Klondike Gold Corp. (TSXV: KG; Frankfurt: LBGF; OTC:KDKGF) has a 557-sq.-km land package in Yukon, not far from where Goldcorp Inc. (TSX: G; NYSE: GG) is developing the 1.67 million oz., construction-stage Coffee gold project and White Gold Corp. (TSXV: WGOK; NYSE: KGC) is working on its 960,000 indicated oz. Golden Saddle development-stage project.
Klondike President, CEO and Director Peter Tallman believes his company's claims are not only nearby, they host nearly identical gold mineralization.
"I think all three gold districts are in fact the same district but that is an emerging geological theory. More detailed work has been done at Coffee, and the details of their mineralization, right down to the half-metre units of ultramafics that occur within the Coffee deposits also occur within our mineralization," explains Tallman.
He adds: "The network of structures and cross-structures at Coffee, for example, and the apparent age relations, also have striking similarities to those identified this past summer within the Klondike. There are cross-structures that are the same structures that Gay Gulch is on."
Tallman is referring to a recent PhD thesis on Goldcorp's Coffee deposits that suggests a similar if not identical structural evolution of the gold mineralization on Klondike Gold's land package.
Although the White Gold district has not been studied in the same detail, Tallman believes the same structural systems are in place there, too.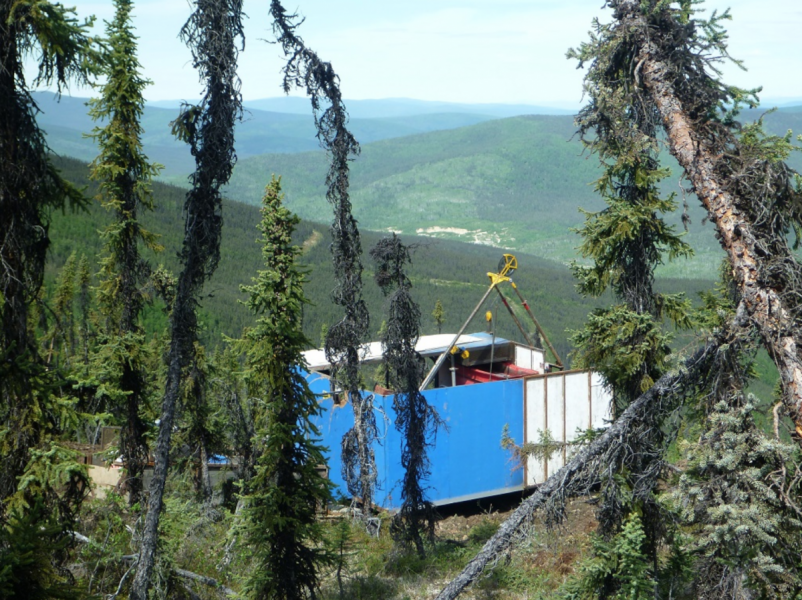 Klondike Gold started drilling targets on its massive property in 2015, about a year after Tallman joined the company. The first drill target was a quartz vein in a ditch at Gay Gulch that returned 76 grams gold per tonne over 2.8 metres. Not a bad start.
Shortly after joining Klondike, Tallman, a geologist, was online examining a version of a Geological Survey of Canada airborne magnetic survey conducted in 2002, when he noticed what he thought was a fault running the length of the district.
"I thought, 'this could be an orogenic gold belt.' And that this particular fault, which had not been considered previously, would be the primary structural control," says Tallman.
A year later, the company targeted Nugget East and had several promising drill results — but only in quartz veins.
"Nugget East is mostly hosted in apex quartz veins, within a structural hinge, and in a number of different drill holes there we intersected gold mineralization that basically ran between 2 and 2.5 grams per tonne over about 25 metres horizontally, more or less true width," Tallman explains.
"That is part of a trend that we've defined as the Nugget Fault, which extends at least 3 kilometres and as much as six."
However, Tallman suspected that the estimated 20 million oz. of gold in alluvial gravels in the Klondike district could not have come from quartz veins alone.
At that point the Klondike Gold team began looking for disseminated gold deposits as the possible source of the alluvial gold. It also hired seasoned geologist Ian Perry as Vice-President of Exploration.
"Ian has different skills than I do. He's more of a technical guy. His compilations and guidance are helping to produce the new model of mineralization in the Klondike," says Tallman.
In 2018 the company completed district-scale soil surveys, a detailed magnetic airborne survey, and hired SRK Consulting to do structural mapping.
"The intent of those things collectively was to document the structural model and to see if that original premise from 2014 — Is there a big controlling fault in the district? — held up. As well as to see what else is going on from a structural point of view," says Tallman.
The airborne survey mapped what appears to be a large basement fault. And the structural mapping by SRK suggests an orogenic thrust event not previously recognized in the Klondike, but which is consistent with similar findings at the Coffee deposit.
"We now have a really good understanding of the orogenic history of the Klondike and why the gold is where it is and how it got there," says Tallman.
The company spent roughly $3.5 million in exploration in 2018, about $1 million more than the original budget.
The company plans to drill another 5,000 to 8,000 metres in 2019.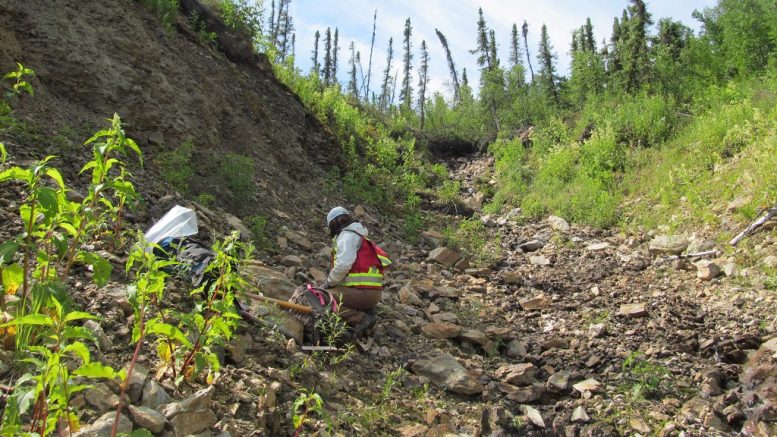 On a land package so large, narrowing the drill targets is not as easy as one might think. Tallman says some further drilling will be done at Nugget East and Gay Gulch but Tallman's ambitions outstrip his current budget.
The company has about $2 million in cash. And it could raise more money via its core shareholders.
The company boasts wealthy mine financiers Frank Giustra and Eric Sprott among its owners. Those two and Klondike management, as well as several other large shareholders, would own slightly less than 50% of Klondike Gold if they exercised all of their warrants; with Giustra owning 22%.
There are 97 million shares outstanding (126 million fully diluted) and a market cap of about $18 million in mid-February. Shares of Klondike Gold trade in a 52-week range of $0.17 to $0.43.
"One of our financing opportunities is going to our sophisticated shareholders and asking them to exercise warrants when we need money," says Tallman.
Klondike also owns some legacy base metals projects in British Columbia that are for sale. Perhaps the most noteworthy asset on the auction block is the McKinnon Creek placer mine in the Yukon. That property was featured on the Discovery Channel's "Gold Rush" television program, created by Todd and Jack Hoffman.
For two seasons, Tallman played the role of the Hoffmans' "Evil Claim Lord." Tallman notes that the royalties generated by the Hoffmans' efforts to mine the property basically paid for the restart of Klondike Gold.
Another item in Klondike's favour is infrastructure. The Bonanza-Eldorado Creek area is 20 km from Dawson City on a paved and gravel road maintained by the Yukon territorial government, which is also spending millions to upgrade these roads across the region. There is also a power substation in Dawson.
Tallman cautions that a resource estimate on any of Klondike's drill targets is still years away.
"Is there an economic deposit? We don't know that yet. There are certainly targets in the belt that have potentially economic characteristics, now we have to go drill them," he says.
— The preceding Joint-Venture Article is PROMOTED CONTENT sponsored by Klondike Gold Corp., and compiled in cooperation with The Northern Miner. Visit www.klondikegoldcorp.com for more information.