By Nicholas LePan, GoldSeek.com
On Monday, a newly listed junior miner started its first trading day on the Canadian Securities Exchange under the symbol (CSE: TGC), Taiga Gold.  Taiga is a junior exploration company focused on the search for gold in Northern Saskatchewan.  The company is a spin out of its parent company Eagle Plain Resources (TSX-V: EPL).
Taiga is not so much a new company but a new vehicle to allow one asset to take precedence.  In finance, the main rationale for a spin out is two-fold. First, it is a way to unlock the value of an internal asset, which might be traveling a different growth plan than the overall company or the asset is underappreciated amongst a parent company's portfolio of projects. Second, it allows the parent company to focus on its core assets.
Usually, the proposed asset for the spinout shows near-term potential and would be better appreciated and understood as its own listing.  Second, the spinout allows the parent company to focus on its core operations without the diversion of resources to a segment that could have different needs in various aspects such as marketing, finance and human resources.
Parent companies often provide support for their spinouts by retaining equity in them or signing contractual relationships for the supply of products or services. In many cases, the management team of the spinout firm is drawn from the parent company as well.
Investors generally favour spins outs, as it makes business sense for a segment that has different needs and growth prospects. The sum of the separated parts typically improve share price valuations over time.
In this case, it is to unlock the value for shareholders of the company's Fisher, Chico, Orchid and Leland properties next to SSR Mining Inc.'s (TSX: SSRM) Seabee gold operation and allow Eagle Plains to develop other assets in its portfolio.
Taiga's projects are located near the Seabee Gold Operation, with its flagship Fisher project currently under option to SSR Mining Inc., the operator of the Seabee and Santoy mines.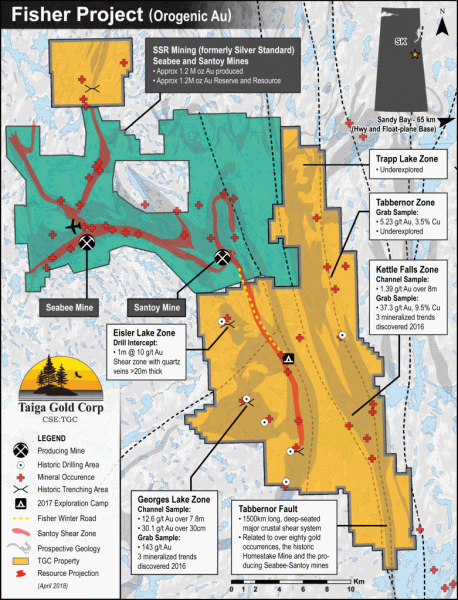 SSRM is currently in the second year of a four-year option agreement whereby SSRM may earn up to an 80-per-cent interest in the 34,000-hectare property by completing $4-million in exploration expenditures and making $3.3-million in cash payments.
The Fisher project is contiguous to the north, south and east with SSRM's Seabee gold operation. SSRM began its 18,000-metre diamond drilling program on March 20.
The 46-hectare Chico project is located 125 kilometres east of La Ronge, Sask., 40 kilometres south of SSR Mining's Seabee Gold Operation and six km south of the Fisher project. Aben Resources Ltd. (TSX-V: ABN) may earn up to an 80-per-cent interest in the property by completing $3.5-million in exploration expenditures, issuing 2.5 million shares and making cash payments of $150,000 to Eagle Plains over four years.
Eagle Plains' shareholders received one share of Taiga for every two Eagle Plains shares held. Eagle Plains will transfer $300,000 cash to Taiga to provide initial working capital and exploration financing.  On completion of the arrangement, Eagle Plains will hold 19.9 percent of the outstanding shares of Taiga.
With drilling results expected soon, shares in Taiga Gold Corp. (CSE: TGC) will be a stock to keep an eye on.
Legal Notice / Disclaimer: This document is not and should not be construed as an offer to sell or the solicitation of an offer to purchase or subscribe for any investment. GoldSeek.com, have based this document on information obtained from sources it believes to be reliable but which it has not independently verified; GoldSeek.com makes no guarantee, representation or warranty and accepts no responsibility or liability as to its accuracy or completeness. Expressions of opinion are those of GoldSeek.com only and are subject to change without notice. GoldSeek.com assume no warranty, liability or guarantee for the current relevance, correctness or completeness of any information provided within this Report and will not be held liable for the consequence of reliance upon any opinion or statement contained herein or any omission. Furthermore, we assume no liability for any direct or indirect loss or damage or, in particular, for lost profit, which you may incur as a result of the use and existence of the information, provided within this Report.
Additional Disclosure: The owner, editor, writer and publisher and their associates are not responsible for errors or omissions. The author of this report is not a registered financial advisor. Readers should not view this material as offering investment related advice. Authors have taken precautions to ensure accuracy of information provided. Information collected and presented are from what is perceived as reliable sources, but since the information source(s) are beyond our control, no representation or guarantee is made that it is complete or accurate. The reader accepts information on the condition that errors or omissions shall not be made the basis for any claim, demand or cause for action. Past results are not necessarily indicative of future results. Any statements non-factual in nature constitute only current opinions, which are subject to change. The information presented in stock reports are not a specific buy or sell recommendation and is presented solely for informational purposes only. The author/publisher may or may not have a position in the securities and/or options relating thereto, & may make purchases and/or sales of these securities relating thereto from time to time in the open market or otherwise outside of the trading timeframe listed above. Nothing contained herein constitutes a representation by the publisher, nor a solicitation for the purchase or sale of securities & therefore information, nor opinions expressed, shall be construed as a solicitation to buy or sell any stock, futures or options contract mentioned herein. The companies mentioned herein may be sponsor of GoldSeek.com. Investors are advised to obtain the advice of a qualified financial & investment advisor before entering any financial transaction.