Originally published on https://goldnewsletter.com
With district-scale command of Canada's newest gold belt and a world-class resource in its back pocket, Westhaven Gold (WHN.V; WTHVF.OTC; WHNWF.OTC) was already one of the best explorations plays out there.
But the company just announced a dramatic discovery in an entirely new zone — 37.2 g/t gold and 209.52 g/t silver over 23.0 meters — that's an 857 gram-meter hit and one of the highest-grade gold intercepts in all of Canada this year.
The Spences Bridge gold belt is Canada's newest and arguably most exciting gold belt.
And the company with the largest land package on this belt is also the one with the newest and most exciting resource: Westhaven Gold (WHN.V; WTHVF.OTC; WHNWF.OTC).
Now — with a dramatic new discovery on an entirely new zone — it looks like that gold resource is about to get a lot bigger.
More on that in a moment. First, a little background….
Westhaven sees the Spences Bridge Gold Belt as potentially the source of the Fraser River Gold Rush in 1857.
And its flagship high-grade gold discovery on the Shovelnose gold property boasts similarities to other notable low sulphidation epithermal gold deposits around the world.
Those include Pajingo in Australia (more than 3.4 million ounces gold produced since 1996), Japan's Hishikari (in production since 1985) and Ecuador's Fruta del Norte (4.92 million ounces of probable gold reserves).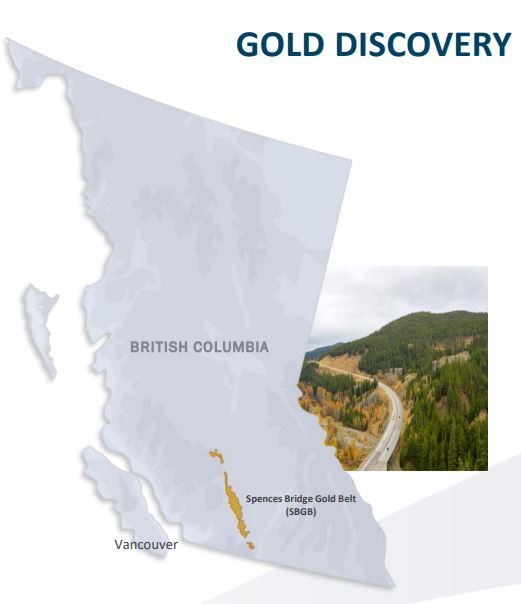 The Spences Bridge Gold Belt isn't to those levels — yet — but it is off to a great start thanks to the good work Westhaven has been doing on Shovelnose.
As you're about to see, Shovelnose already has a world-class resource of its own…and that resource is set to grow as the company's drills have just returned some of the highest-grade hits in the industry.
Off To A Great Start
Westhaven just released its maiden resource estimate for Shovelnose in January.
That showed the project to have 841,000 indicated ounces of gold-equivalent resource and 277,000 inferred ounces of gold-equivalent.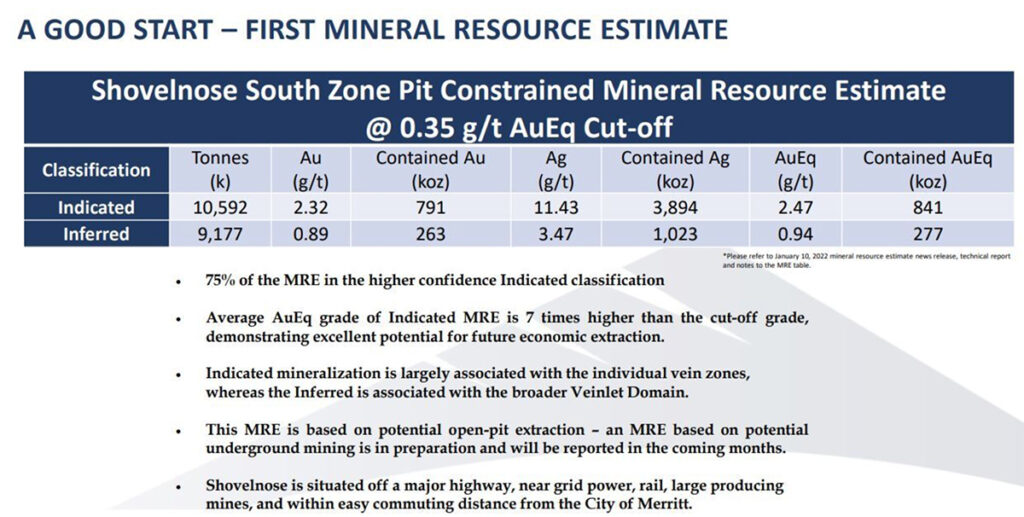 It was an impressive start to Westhaven's ambitions in the Spences Bridge belt, one built on the back of a "Eureka!"-level discovery a few years ago.
It was hits like these on the South zone at Shovelnose that made headlines and sparked a stampede into Westhaven's stock:
• 17.7 meters of 24.5 g/t gold and 107.9 g/t silver and 46.9 meters of 8.95 g/t gold and 65.5 g/t silver in late 2018
• 12.7 meters of 39.3 g/t gold and 133.1 g/t silver in early 2019
These tremendous assays proved just the start of what has been a steady stream of good results…a stream that turned into a gusher with a recent discovery on the FMN zone.
A Second Eureka Moment
The FMN zone lies to the northwest of the resource-hosting South zone at Shovelnose.
It is directly along strike with that million-ounce resource and on trend with the key structure that hosts the South zone. This is why Westhaven's geologists were so excited about the South zone.
Then — just last month — that excitement was validated by the drill bit:
Just last month, Hole 212 hit paydirt at FMN, cutting 37.2 g/t gold and 209.5 g/t silver over 23.0 meters.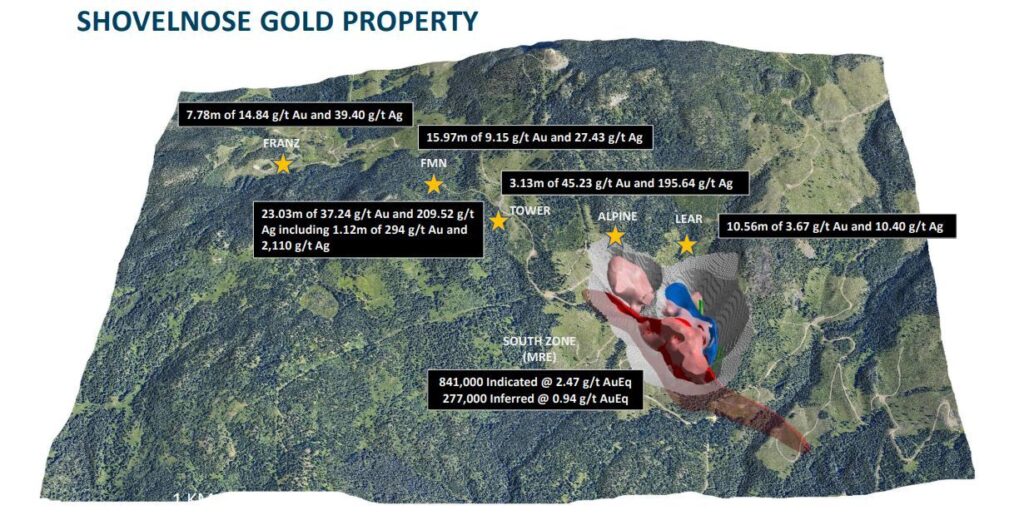 By grade and thickness, that's just about the best intercept a drilling program has turned up anywhere in the world in 2022.
The FMN zone has been outlined for over 500 meters so far. With drill hits like this, it could soon rival the massive South zone.
Still In Discovery Mode
Best of all, Westhaven is still very much in exploration mode at Shovelnose.
The company has been exploring new and similar zones along trend (including FMN), work that has yielded near-South-zone discoveries like the Alpine zone (8.0 meters of 20.2 g/t gold and 84.0 g/t silver).
The company plans to keep on drilling here, as it has C$1 million in cash on hand and an additional $2 million coming back from the government in the form of a tax credit.
Plus, there's the additional upside of no less than three other projects Westhaven holds along the Spences Bridge gold belt.
Given the success Westhaven has enjoyed at the South zone, the FMN zone and other targets along the gold belt, chances are good that this may be the hard-rock source of all the alluvial gold that spawned the massive Fraser River Gold Rush in 1857.
Serially Successful Management In An Undervalued Company
Guided by a successful management team with a glittering track record of success, Westhaven Gold is a company where management's interests are directly aligned with shareholders.
The company is 25%-owned by management and insiders, so you can bet they're doing everything in their power to unlock more value for shareholders.
Westhaven is currently trading at around C$80 million — arguably significantly undervalued if it "only" had the million-ounce resource on the South zone.
But get this: The share price is currently at about half the levels it reached after the original South zone discovery…and now the company is turning up dramatic new discoveries at FMN, Alpine and along trend.
Add in the huge upside on the rest of the underexplored property at Shovelnose…and the fact that this isn't just one property, but a whole belt…and you have the makings of one of the best exploration stories in the sector.
With a gold market that's still getting its sea legs in the new environment, now is an ideal time to position yourself for the bull run to come by looking at adding Westhaven Gold to your portfolio today.
CLICK HERE To Learn More about Westhaven Gold Corp.
Warnings and Disclaimers: As you know, every investment entails risk. Golden Opportunities hasn't researched and cannot assess the suitability of any investments mentioned or advertised by our advertisers. We recommend you conduct your own due diligence and consult with your financial adviser before entering into any type of financial investment. This profile should be viewed as a paid advertisement. The publisher and staff of this publication may hold positions in the securities of companies discussed or recommended. The information contained herein has been received from sources which the publisher deems reliable. However, the publisher cannot guarantee that such information is complete and true in all respects. The advertiser provided a review of the factual content of this advertisement at the time of publication. The publisher is not a registered investment adviser and does not purport to offer personalized investment related advice; the publisher does not determine the suitability of advice and recommendations contained herein for any reader. Each person must separately determine whether such advice and recommendations are suitable and whether they fit within such person's goals and portfolio. The advertiser featured in this edition of Golden Opportunities has paid the publisher for the costs and compensation related to the authorship, overhead, design and distributing this online edition, in the amount of $7,500. The publisher may receive revenue, the amount of which cannot be predetermined, from sales resulting from any accompanying offer. Authors of articles contained herein may have been compensated for their services in preparing such articles.
Golden Opportunities
Jefferson Companies
111 Veterans Memorial Blvd. Suite 1555
New Orleans, LA 70005
1-800-648-8411