By Trish Saywell, NOVEMBER 1, 2018
Seven years ago, EMX Royalty (TSXV: EMX; NYSE-AM: EMX) identified privately held IG Copper and its Malmyzh copper-gold porphyry project in Russia as a strategic investment opportunity, and poured US$13 million into the company.
That investment has just paid off with IGC's sale of the project for US$200 million to Russian Copper Co., a large, privately held copper producer in the Russian Federation.
The sale gives EMX US$65 million in cash. A further US$4 million, held in escrow, will go to EMX in two payments over the next 12 months.
"It's the largest profit we've had in the history of the company on any deal," David Cole, EMX's founder, president and CEO, said in an interview, adding that the cheque from Russian Copper Co. "did not bounce."
"It has done a lot for my personality," he jokes. "You can imagine facing impatient shareholders for years and then when you finally crystallize a big investment and the money is in the bank, they come up and shake your hand and say, 'Dave, great to see you!'"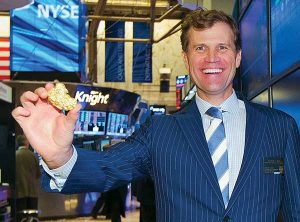 IGC owned 51% of the Malmyzh project and Freeport-McMoRan (NYSE: FCX) held the other 49% stake. (Read our site visit feature story on Malmyzh in our Jan. 9–17, 2017 edition.)
The IGC team has been exploring and developing Russia since 2005.
Malmyzh is an advanced copper-gold exploration property, 210 km northeast of Khabarovsk in Russia's Far East.
The project is 200 km from Russia's border with China and 65 km from rail access at Komsomolsk.
Malmyzh has four known deposits with total inferred resources of 1.66 billion tonnes grading 0.34% copper and 0.17 gram gold per tonne, or 0.42% copper-equivalent. The resource is based on a 0.30% copper-equivalent cut-off grade.
The district-scale, 16 by 5 km porphyry intrusive corridor is concealed beneath a thin alluvial cover.
EMX is a shareholder in IGC, with a 40% stake.
EMX, formerly known as Eurasian Minerals, has 90 projects worldwide, with over 8,000 sq. km of mineral rights exposure.
The company, founded 15 years ago, has a three-pronged business model.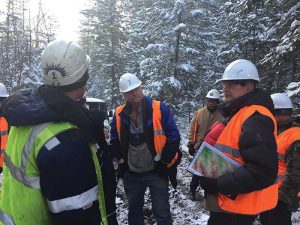 The first is prospect generation (acquiring large tracts of "real estate" and adding value), which eventually leads to a combination of cash payments, advanced royalty payments, work commitments and a production royalty.
EMX also buys royalties outright if and when it can — although it's a tough business, Cole concedes. The third prong is strategic investments, like ICG and Malmyzh.
"Having astute geologists around the world means they occasionally come across a share-purchase opportunity that is so good you cannot not do it, and so the strategic investment arm of the company has been very successful, and the liquidation of the Malmyzh investment is one example."