This is a different kind of beast with big catalysts and a profitable business
Eagle Plains Resources
(TSX-V:EPL, OTC: EGPLF)
By Jack Graham
"$1 million per year in net income…wait.. this is an exploration company?"
This company also has dozens of exploration projects across Western Canada, in addition to an extremely profitable wholly-owned subsidiary that delivers geological services to the mineral exploration industry across Canada.
Investors get positions in a project portfolio that spans a suite of minerals throughout western Canada, including many projects that have been optioned out to other exploration companies – this company receives option payments from the companies it has options agreements with, and it maintains royalties on many of the projects it has optioned to other exploration companies.
And I'm just getting started. This company also has a wholly-owned subsidiary that is spitting out millions of dollars of revenue and a considerable amount of free cash flow.
Watch Eagle Plains Resources – An Overnight Success Story 30 Years In The Making
The company is Eagle Plains Resources (TSX-V:EPL, OTC: EGPLF), a vertically integrated project generator focused on minerals exploration in Western Canada. EPL management takes shareholder value seriously and the company has a track record of successful shareholder value creation.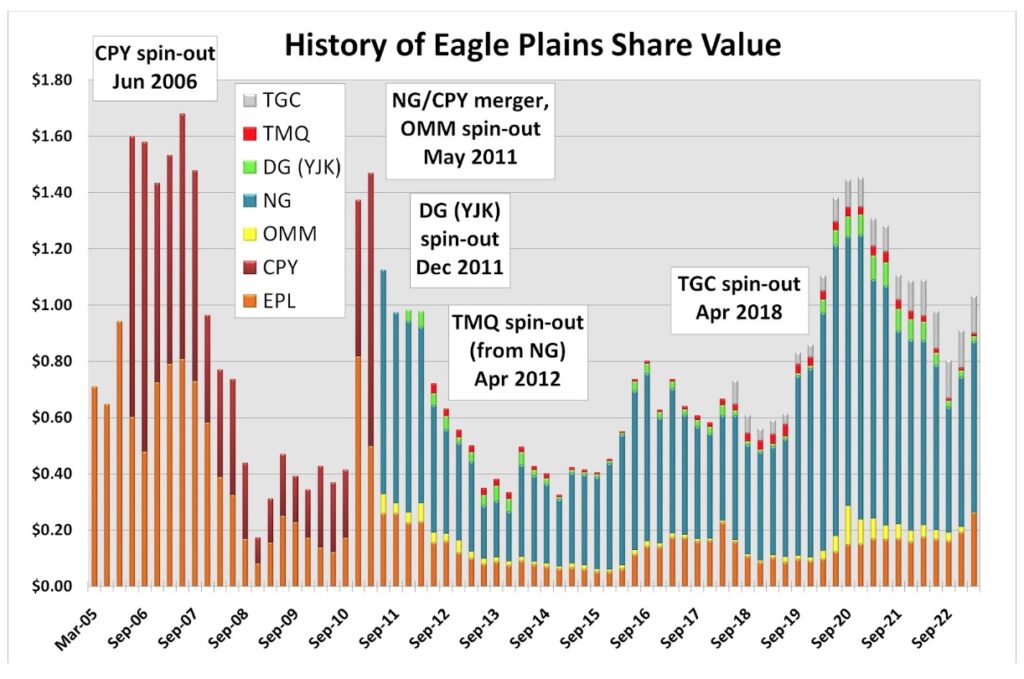 Very few exploration companies have this staying power. The diagram above depicts the cumulative value that Eagle Plains has created after reflecting all the spin-out transactions it has executed to March 2023. In short, Eagle Plains, a $23m market cap company has spun-out over $100M to shareholders since 2006. Its latest spin-out was Eagle Royalties in May 2023.
Eagle Plains directors, insiders, and long-term account for 20-30% of the outstanding shares. The CEO/founder Tim Termuende and his family are the largest shareholders with 11M sharest. This is a management team that eats their own cooking and maintains a laser focus on Eagle Plains (as opposed to many other junior mining management teams that are involved with numerous companies and split their time and attention in order to maximize their personal salaries and options packages).
Eagle Plains has developed a risk averse approach to a very risky business by employing the JV project generator model. EPL acquires many projects based on research, develops these projects to a certain degree which varies by project, then options them to other companies to carry on development and conduct most of the heavy lifting. Risk mitigation is the core of the business and EPL usually ends up retaining a 20 – 40% interest in the event of discovery but pays much less than that proportionally of the exploration expenses.
A few things make Eagle Plains different from other project generators in the junior mining sector. One of which is EPL's wholly owned geological services subsidiary, TerraLogic Exploration Inc. Their expertise is highly sought after in the resource sector and TerraLogic generated a C$1.6 million profit on revenues of C$14 million in 2021.
It's extremely rare to have a junior mining investment opportunity that is supported not only by a strong cash position and equity portfolio, but also with a steady stream of significant revenue. In fact, this is basically unheard of in junior mining!!
Royalty Portfolio Spin-out:
In May of 2023, Eagle Plains completed its fourth spin-out, Eagle Royalties (CSE: ER), which holds over 50 royalty interests covering a broad range of commodities made up of gold, silver, uranium, critical-metals including copper, zinc, rare earth elements, lithium, cobalt, and others. The flagship royalty, AurMac/McQuesten, is located in the central Yukon and covers a significant portion of Banyan Gold's recent discovery of 6.18M ozs gold at their AurMac Property. Other notable projects are controlled by Cameco Corp., Iso Energy Corp., Denison Mines Corp., Skeena Resources Ltd. and Hecla Mining Co., among others. This restructuring enhances the valuation and M&A potential of this extensive royalty portfolio where investors received 1 Eagle Royalties share for 3 Eagle Plains shares.
Near Term Catalyst:
Next up, Eagle Plains is swinging for the fences on the Vulcan project where they are currently following-up a 2022 drill intercept of SEDEX mineralization in the fabled Sullivan Camp. This self-funded drill program is underway and testing for discovery of another world-class critical-metal deposit. This target is located 30 km west of the historic Sullivan Mine in British Columbia which was in production for 92 years and contained 160 million tons grading 12% Pb/Zn and 67 g/t Ag.
It is a rare occurrence for Eagle Plains to solely fund exploration but the quality of the target has compelled the company to deviate from its typical model of having partners share the risk and they have the cash flow to make it happen.
Risk vs. reward propositions in junior mining don't get much better. The company is generating substantial cash flow from its geological services business and its project deal-flow, while striving to make a game-changing discovery on one of its 100% owned projects. A strong cash position and equity investment portfolio underpins an already formidable proposition. I've had a position in EPL since 2020, so I'm not 'new' to the story.
---
Disclosure: Author owns shares and warrants of EPL.V at the time of publishing and may choose to buy or sell at any time without notice. Author has been compensated for marketing services by Eagle Plains Resources Ltd.
DISCLAIMER: The work included in this article is based on current events, technical charts, company news releases, and the author's opinions. It may contain errors, and you shouldn't make any investment decision based solely on what you read here. This publication contains forward-looking statements, including but not limited to comments regarding predictions and projections. Forward-looking statements address future events and conditions and therefore involve inherent risks and uncertainties. Actual results may differ materially from those currently anticipated in such statements. This publication is provided for informational and entertainment purposes only and is not a recommendation to buy or sell any security. Always thoroughly do your own due diligence and talk to a licensed investment adviser prior to making any investment decisions. Junior resource companies can easily lose 100% of their value so read company profiles on www.SEDAR.com for important risk disclosures. It's your money and your responsibility.