By: Brian Leni  P.Eng, Junior Stock Review
The Volatility Index (VIX) is spiking and so is gold. The question that immediately comes to mind is 'why?' This is a complex question because, in my opinion, it isn't just one event which has led to the quick reversal in price.
In the most immediate case, it's certainly connected to the correction in the broader market, which has spurred countless headlines predicting a crash. The VIX has spiked above 20, a level which it hasn't seen since earlier this year when gold was well over $US 1300 per ounce.
The fact is, it has been around 10 years since the infamous 2008 crash and, really, given the history of bull markets, 10 years is a long time to wait for a major change in market sentiment. We live in unprecedented times, however, as this last decade has been laced with major quantitative easing (QE), and who can really tell where the market is headed, at least in the short term?
I remain very bullish on gold and am investing accordingly. As I've mentioned previously, however, trying to guess the short-term direction of a market is akin to herding cats; it's difficult or impossible to do consistently.
Instead, focusing your attention on the differential between the price and value of a prospective investment is how you can tilt the odds of success in your favour. The success of a company is dependent upon a management team executing a well thought out action plan, not because the gold price is going to $US 2000 per ounce.
Tax loss season is quickly approaching and many junior resource companies, in regards to the share price, are sitting at a loss for the year. Without a rally, I believe there's a good chance that we will see another fall in prices and a great opportunity to buy the best of the best.
One company that I believe presents a great opportunity, especially given its current share price, is Klondike Gold.
Here's an update on Klondike Gold. Enjoy!
Klondike Gold Corp. (KG:TSXV)
MCAP – $22.3 million (at the time of writing)
Shares – 95 million
Fully Diluted – 120 million
CASH – roughly $3.0 million
Klondike Gold Exploration Update
In mid August, Klondike announced that it was accelerating its 2018 drill program. The original 2018 plan called for 50 to 70 holes for roughly 5,000m of drilling. This was expanded to 87 holes for roughly 9,000m.
On a personal note, I really like to see companies aggressively pursuing their goals. It's so easy in the junior resource sector to "kick the can down the road," as they say. When a company is pushing forward, especially with drilling, I generally think it's a great sign of a motivated management team.
The primary focus of the additional drilling will be the Lone Star Zone, which is located in the north-western portion of the property.  CEO, Peter Tallman, and the VP of Exploration, Ian Perry, remain focused on systematically testing sections of the zone to outline geometry, continuity, and the extent of disseminated gold mineralization and gold-bearing quartz vein mineralization.
NOTE: Klondike Gold's property, the Lone Star Zone, in particular, lies very close to Dawson City, which gives them easy access to labour, the main road leading to Whitehorse, an airport, and access to the Yukon River. Compared to most of the exploration and development companies in the Yukon, Klondike has a tremendous advantage given their geography.
Drill Results
Since my last update, Klondike has released 3 additional sets of drill results, which were highlighted by the following:
LS18-166 – 38.40m of 1.08 g/t gold
LS18-168 – 79.45m of 0.69 g/t gold
LS18-171 – 118.30m of 0.42 g/t gold, including 17.3m of 0.91 g/t gold and 9.55m of 1.99 g/t gold
LS18-172 – 100.30m of 0.34 g/t gold
LS18-179 – 38.90m of 0.54 g/t gold
LS18-180 – 92.30m of 0.72 g/t gold, including 4.6m of 10.00 g/t gold
NOTE: Please see Klondike Gold's website or Sedar for further assay results and details.
As you can see from the highlighted results, there's good continuity in the grade and thickness for these results. In my opinion, the Lone Star Zone Plan Map, provided by the company, gives you the best perspective of how the results relate to each other and a general sense of the possible overall geometry of the mineralized body, thus far.
Using the scale in the map below, drilling in the Lone Star Zone has covered around 800 meters along the Bonanza Fault and remains open along strike and at depth.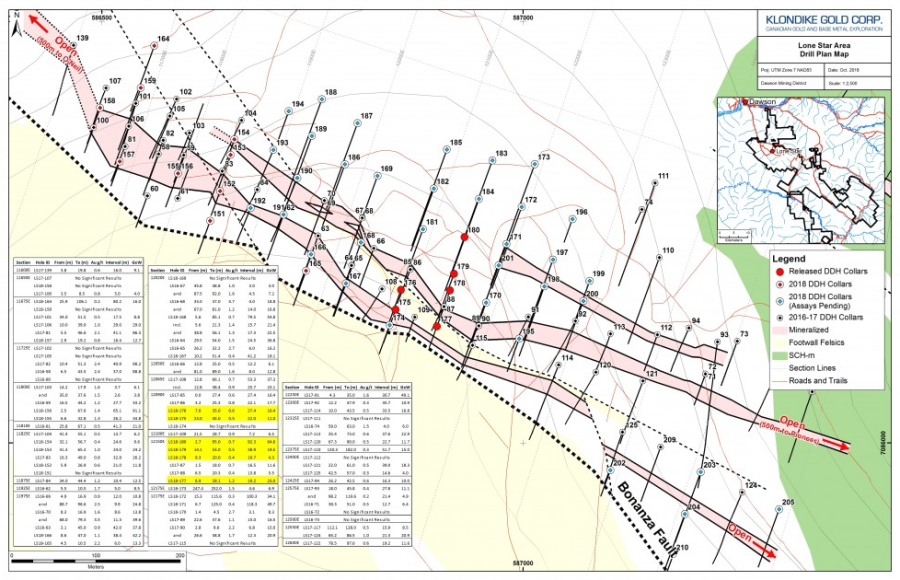 Recently, while at the Mines and Money Americas Conference in Toronto, I was asked specifically about Klondike and if I thought it was possible for a low-grade deposit to become a mine in the Yukon.
First, while the grade of the ore certainly matters, it's just one of a long list of factors that need to be considered when it comes to determining whether a deposit becomes a mine. Here are a few high level factors that can have an impact on the profitability potential of a deposit (there are many more factors):
Size – How big is the ore body? Generally speaking, the lower the grade of ore, the larger the deposit must be in order to be profitable.
Depth and Shape – What is the shape and how deep is the ore body? Generally speaking, the lower the grade of ore, the higher the importance of a low strip ratio – which is related to both the shape and depth of the ore body.
Metallurgy – What is the recovery of the payable metals? First, no matter if the deposit is high or low grade, the payable metal must be recoverable from the ore. Second, and more generally speaking, when you've got a lower grade of ore, you need a higher recovery (at a reasonable cost) of the payable metal.
In terms of Klondike Gold and how these factors pertain to its potential, Tallman and Perry are in the midst of outlining the length, width, and depth of the mineralized areas discovered so far, at both the Lone Star and Nugget Zones. The team has the cash and the plan to drill roughly 100,000m over the next 2 years, putting the company's maiden resource just around the corner in 2021.
Low-Grade Gold Comparisons in the Yukon
In June, I had the pleasure of visiting the Yukon. The point of my visit was to partake in the 2018 Yukon Property Tour, which took me to 6 different projects in 4 days, giving me a great perspective of the Yukon's mineral potential and the people who are exploring and developing within it.
One of the projects I visited was Victoria Gold's Eagle Gold Project, which is currently under construction, being developed into the Yukon's next mining operation.
For those who aren't familiar, the Eagle Gold Project has 2.463 Moz of proven and probable gold reserves at 0.66 g/t. I bring up Victoria Gold for no other reason but to say that low-grade gold in the Yukon can work.
As I laid out earlier, there are many criteria which must align for any gold project, high or low grade, to become a mine. In the Eagle Gold Project's case, the fact that its ore is heap leachable is a major plus in the mine's potential profitability.
One last comment on low-grade comparables; remember back to my introduction to Klondike Gold, which I wrote earlier this year. Not only is Klondike Gold's property in close proximity to Goldcorp's Coffee Mine Project (formerly Kaminak Gold), but there are a lot of similarities in geological structures.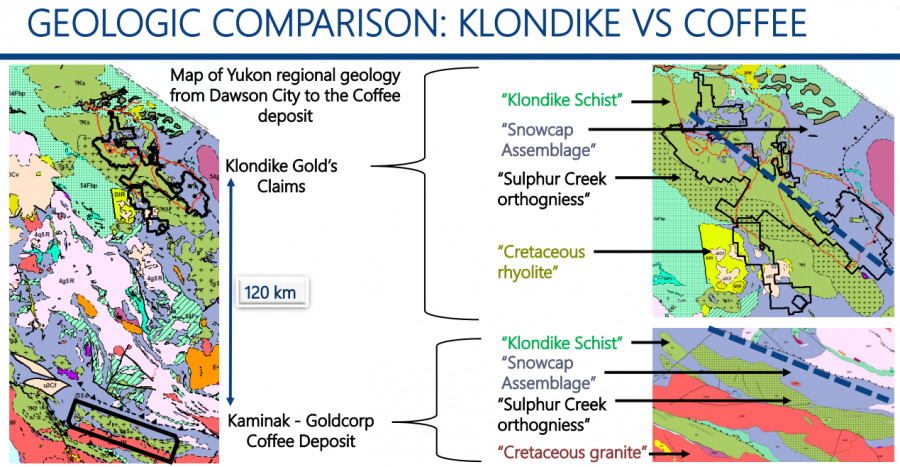 These similarities not only give Tallman and Perry a blueprint for exploration in the Lone Star and Nugget Zones, but also speak to the potential of what Klondike may have in terms of gold mineralization.
Low-grade gold projects are being developed into mines in the Yukon and set the stage for more to come in the future. Maybe Klondike Gold will be one of them. Time will tell.
Concluding Remarks
Early stage junior mining companies come with a lot of risk, as the vast majority of companies never find what they are looking for. Although there's a very real risk of coming up empty handed, however, the upside potential for the share price of a company that finds the next economic deposit is considerably high.
In terms of early stage companies, I believe Klondike Gold is further down the development path than most which currently don't have a mineral resource estimate on their project.
Therefore, the question that must be answered by Klondike Gold is not is there gold, but how much gold is there and how will it be recovered?
In my opinion, 2019 is setting up to be a pivotal year for the Klondike Gold team, one which should give us an idea of the upside potential of the company.
Tax loss season is upon us! Buying Klondike Gold at these levels could be very profitable in 2019.
Don't want to miss a new investment idea, interview or financial product review? Become a Junior Stock Review VIP now – it's FREE!
Until next time,
Brian Leni  P.Eng
Founder – Junior Stock Review
Disclaimer: The following is not an investment recommendation, it is an investment idea. I am not a certified investment professional, nor do I know you and your individual investment needs. Please perform your own due diligence to decide whether this is a company and sector that is best suited for your personal investment criteria. I do own shares in Klondike Gold Corp. All Klondike Gold Corp. analytics were taken from their website and press release. Klondike Gold Corp. is a Sponsor of Junior Stock Review.