The gold-hosting trend on Westhaven Gold's (WHN.V; WTHVF.OTC) flagship Shovelnose project in British Columbia covers just a small fraction of the district-scale property.
Now, Westhaven has hit high-grade gold well off that trend…and it's pointing the way to potential discoveries that could make Shovelnose a multi-million-ounce gold project.
High-grade gold, in a great location…in size.
That's the essence of the Westhaven Gold (WHN.V; WTHVF.OTC) story.
The company has a dominant position on the Spences Bridge Gold Belt in south-central British Columbia, with no less than four large properties.
That portfolio is led by flagship project Shovelnose, which has district-scale size and potential.
Since it made the high-grade gold discovery at the project in 2018, Westhaven has drilled off an 830,000-ounce gold-equivalent resource on the project's South zone (654,000 indicated ounces of gold equivalent and 176,000 ounces of inferred gold equivalent).
It has also established the presence of high-grade gold further along to the northwest on the Zone One Trend, on the FMN and Franz targets.
That zone now spans four kilometers in strike…and yet it still covers only a small fraction of Shovelnose.
Now, for the first time, Westhaven has hit high-grade gold off the Zone One Trend, with the compelling implication that it can find even more high-grade deposits elsewhere on the property.
A High-Grade Hit At MIK
The hit in question came from the MIK target at Shovelnose.
Located about 150 meters southwest of the Zone One Trend, MIK just hit the highest-grade gold intercept off the main trend that hosts all the major discoveries to date. .
Hole 360 from this program at MIK returned an impressive 3.7 meters of 17.6 g/t gold, including 1.7 meters of 27.6 g/t gold.
Hole 362, another hole of note from this program, cut 2.4 meters of 3.4 g/t gold and 15.7 g/t silver, including 0.44 meters of 12.9 g/t gold and 73.2 g/t silver.
MIK has so far been traced for 120 meters along strike and remains open to the north and south.
Mineralization was encountered in all three holes reported with an additional five holes pending assay. The gap between MIK and the Zone One Trend is now viewed as prospective for additional near-surface, vein-hosted gold. 
The company will look to mobilize the drill back to the MIK target in the near term and remains fully financed for the program.
World-Class Potential
Stepping back from the Zone One Trend proper, you can see from the graphic below that Shovelnose's mineralization bears remarkable similarities with the world-class Hishikari Mine vein swarm in Japan.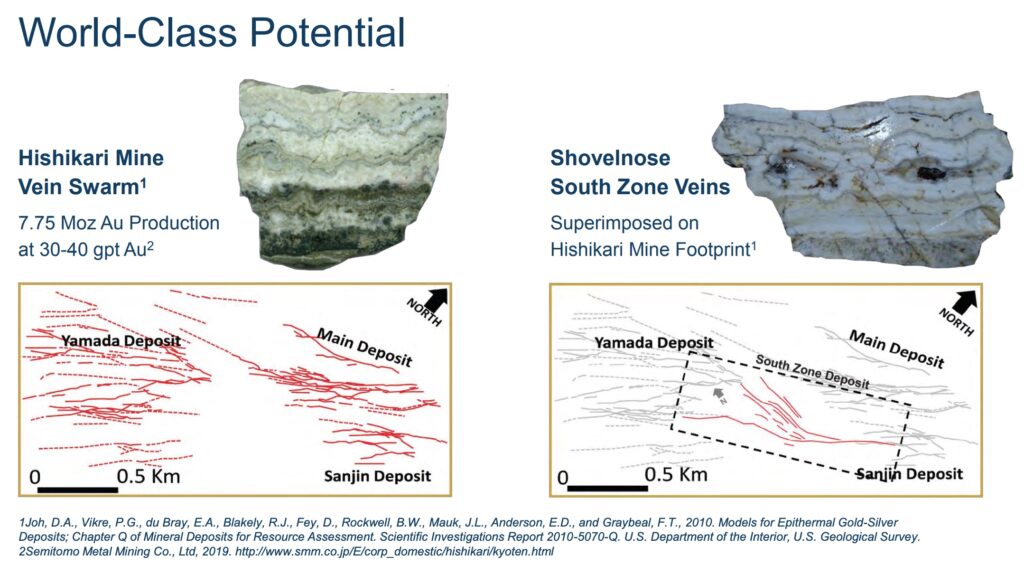 That deposit has produced 7.75 million ounces of gold at eye-popping grades of 30 g/t-40 g/t. 
Shovelnose is obviously at a much earlier stage than Hishikari, but as you can see from the following field map of the project, the red line that is the Zone One Trend covers just a very small portion of the property.
Recent surface sampling on Shovelnose has identified several promising targets for further drilling, including an area of hydrothermal outcrop located approximately three kilometers southeast of the South zone.
The "re-discovery" hit at MIK provides an example that Westhaven's geologists can use to target similar surface expressions of gold elsewhere on the property.
Bottom line: The exploration upside at Shovelnose remains wide open and Westhaven will continue to aggressively test new targets with the drill bit.
An Ideal Location
As far as a site for a future mine goes, this project could hardly be in a better location.
Shovelnose is a mere 2.5-hour drive from Vancouver and a 30-minute drive from the town of Merritt. Its just five kilometers from the Coquihalla Highway.
There is a powerline on the property and the area has been heavily logged, so there is an abundance of forestry roads in place.
Shovelnose's location in south-central British Columbia sets it up for year-round exploration and Westhaven is fully financed for its 25,000-meter drilling program in 2023.
More Drill Results Are On The Way
What makes now a great time to be looking closely at Westhaven Gold?
Only this: The company has assays at the lab from the remaining five holes drilled at MIK.
If these holes return similar grades to Hole 360, it could light a fire under Westhaven's share price.
Longer term, the opportunity to drill-test other targets within Shovelnose's district-scale property boundary opens up the door to more discoveries.
With the presence of high-grade gold now established off the resource-hosting Zone One Trend, the sky's the limit for what future exploration could uncover for Westhaven.
One thing's for sure:
The company's current valuation hardly reflects the established value at the South zone, much less the enormous exploration upside that exists over the rest of the large Shovelnose project.
If you're looking for gold exploration story that could deliver the kind of high-grade discoveries that make the market stand up and take notice, you'd do well to begin doing your due diligence on Westhaven Gold before more drill results come in.

To Learn More about Westhaven Gold Corp.
---
Securities Disclosure: The author and staff may hold direct investment interest in any company mentioned in this article at the time of publishing and may choose to buy or sell at any time without notice. The author has been compensated for marketing services.
Important Disclaimer: The work included in this article is based on current events, technical charts, company news releases, and the author's opinions. I am not a certified financial analyst, licensed broker, fund dealer, exempt market dealer nor hold a professional license to offer investment advice. We provide no legal opinion in regard to accounting, tax or law. Nothing in an article, report, commentary, interview, and other content constitutes or can be construed as investment advice or an offer or solicitation to buy or sell stock or commodity. Information is obtained from research of public media, news, original source documents and content available on the company's website, regulatory filings, various stock exchange websites, and stock information services, through discussions with company representatives, agents, other professionals and investors, and field visits. While the information is believed to be accurate and reliable, it is not guaranteed or implied to be so. The material on this site may contain technical or inaccuracies, omissions, or typographical errors, we assume no responsibility. Gold-report.com is a wholly-owned domain of Streetcents Investor Media Ltd. ("Streetcents"). Streetcents has been paid a fee for Westhaven Gold Corp. advertising and digital media from the company. There may be 3rd parties who may have shares of Westhaven Gold Corp. and may liquidate their shares which could have a negative effect on the price of the stock. This compensation constitutes a conflict of interest as to our ability to remain objective in our communication regarding the profiled company. Because of this conflict, individuals are strongly encouraged to not use this editorial as the basis for any investment decision. Streetcents does not warrant or make any representations regarding the use, validity, accuracy, completeness or reliability of any claims, statements or information on this site. It is provided in good faith but without any legal responsibility or obligation to provide future updates. I accept no responsibility, or assume any liability, whatsoever, for any direct, indirect or consequential loss arising from the use of the information. All information is subject to change without notice, may become outdated, and will not be updated. A report, commentary, this website, interview, and other content reflect my personal opinions and views and nothing more. All content of this website is subject to international copyright protection and no part or portion of this website, report, commentary, interview, and other content may be altered, reproduced, copied, emailed, faxed, or distributed in any form without the express written consent of Streetcents Investor Media Ltd.
Always thoroughly do your own due diligence and talk to a licensed investment adviser prior to making any investment decisions. Junior resource companies can easily lose 100% of their value so read company profiles on www.SEDAR.com for important risk disclosures.