June 17, 2022

As of March 31, 2022, Gold Bull had 9,825,000 options open with an average price of C$0.36, which if fully exercised would add $3.54 million to the treasury. Also at March 31, 2022, there were 38,226,025 warrants with an average price of C$0.46, which if fully exercised would result in an additional C$17.2 million into the company's treasury.
The latest resource numbers from the company's Sandman Project are broken down on your right. This resource increased by 60% from 2007. It will likely grow more with the 2022 drill program, which is 80% complete.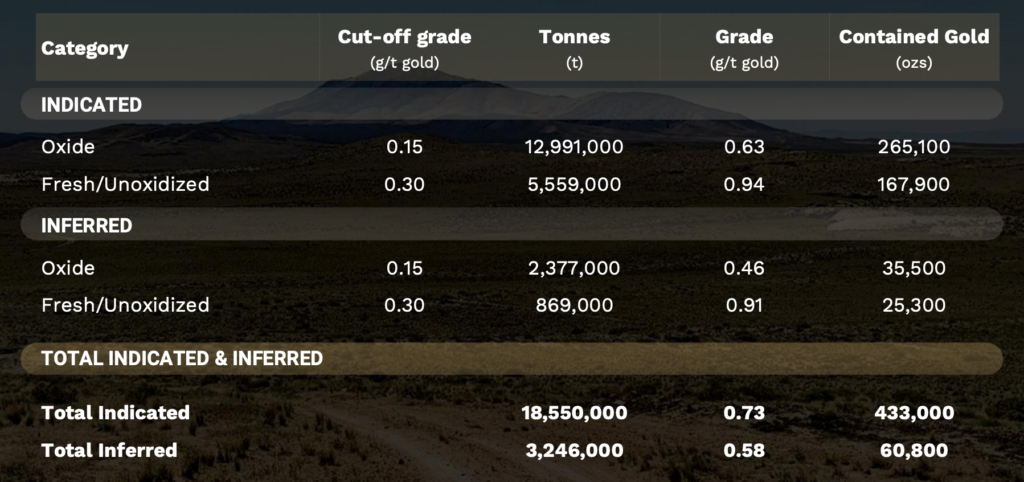 With COVID winding down (hopefully), in-person events are starting to take place again. And last weekend's attendance at the Metals Investor Forum (MIF) revealed once again the importance of reestablishing human contact rather than relying on behind-the-camera communications. At the MIF I met up with Cherie Leeden, CEO of the company. Cherie is an Australian geologist who has had some serious positions with large mining firms in the past, but she ended up in Nevada thanks to the restrictive COVID policies in Australia. Although she is an Australian citizen, the Australian government would not let her back in the country during that government's hyper-fearful response to COVID.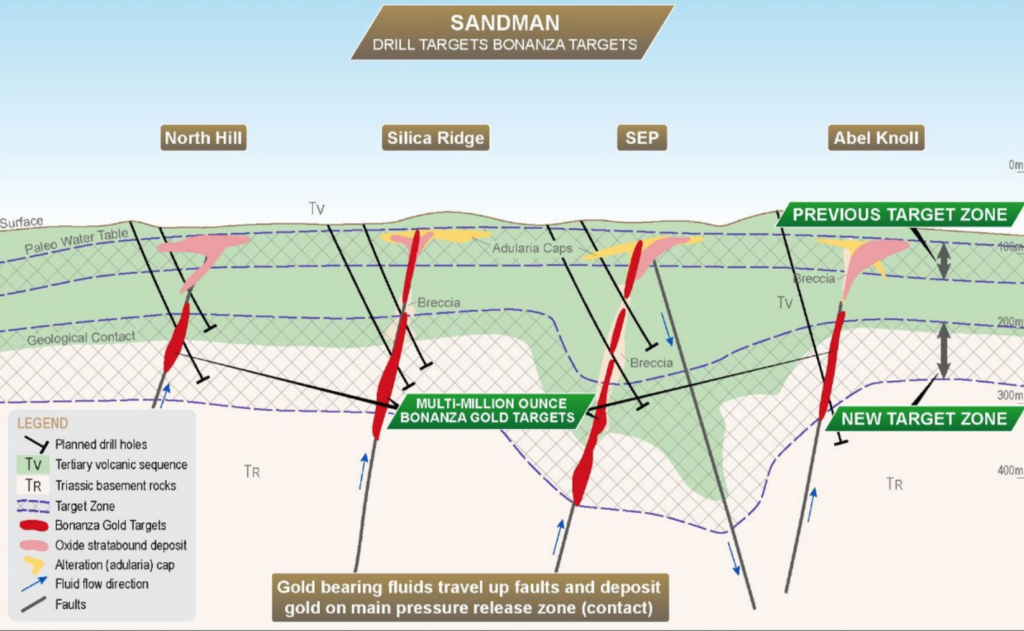 What I like most about this story is the big-picture approach the company is taking in an effort to find the feeder zones to some very encouraging gold mineralization, like in this cross section of the company's Sandman Project in Nevada where the existing resource hosted. In fact, as Cherie was introducing this story to me at the MIF, what immediately came to mind was the approach Quinton Hennigh takes when choosing to get involved in a project. So, I sent the following message to Quinton regarding the Sandman: "Sandman looks very interesting for this penny play. Seems they think system wide." To which he replied: "Very true. This is what the project needs. Cherie has the right view of the system and the right team. Including John Wood, discoverer of the Sleeper Deposit."
John Woods, who is the discoverer of the 5- million-ounce Sleeper Mine in northwestern Nevada just 23 km north of Gold Bull's Sandman Project, has said the following: "The size of the Sandman surface gold anomaly, at least 15 km in length, and the apparent elevation control of the gold deposits and adularia "cap" rocks are direct indicators that a very large goldbearing hydrothermal system was active at Sandman. At the Sleeper Deposit and regionally at other deposits, bonanza-grade gold often occurs at the pre-Tertiary contact where gold-bearing fluids depressurize quickly and deposit high-grade gold. This horizon is not well tested at Sandman and offers an opportunity to target bonanza-grade structures, essentially feeder zones, to the known deposits. The target here is for relatively small but very high-grade structures like the Sleeper Vein, and at this stage, could reflect multimillionounce potential."
With only 1.7% of drill holes to date deeper than 250 meters, John Woods has also said that the most compelling exploration targets remain untested. The targets are high-grade epithermal deposits. The newly identified target is located on the contact of the tertiary volcanic rocks and the basement rocks. The company is authorized for 2 km2 (500 acres) of surface disturbance under the company's plan of arrangement.
BIG BALDS PROJECT
Gold Bull owns 100% of the Big Balds Project, a gold exploration target located approximately 120 km south of Elko, Nevada, and 10 km west of the 5.5-million-ounce Bald Mountain Mine operated by Kinross.
The initial project is comprised of 210 lode mining claims on BLM tenure and is located within White Pine County, Nevada, USA. The company has identified three priority targets identified under cover by geophysics. The three projects are the Bald Eagle, Bald Badger, and Bald Cougar. They will form the core of the company's drill-ready exploration program. A surface geochemical sampling program and a ground magnetics survey have recently been completed, with the aim of determining depth of targets.
These targets lie on the structural intersection of the Carlin Trend and the Bida Trend. Management envisions the potential to host three different styles of mineralization, those being (1) sediment hosted Carlin-style gold mineralization; (2) Au-Ag-base metal skarn and/or porphyry; and (3) intrusive related gold like that at the Bald Mountain Mine.
While clearly the Sandman Project is on the front burner, the buried prospects on the Balds Project offer early exploration potential with Gold Bull's management team taking charge.
MANAGEMENT
Cherie Leeden, CFO
Ex Rio Tinto and LionOre
20 years of proudly promoting a responsible mining industry, the past 10 years at CEO level
Former founder and CEO of Battery Minerals
Founder of private natural resources project Generation Company, NV Resources and local Director for Hog Ranch Minerals Inc. (Rex Minerals Limited)
Nevadan gold focused and based for the past 5 years
Track record of negotiating and executing win-win business transactions with Fortune 500 companies
Gavin Cooper, CFO
35 years in finance, strategy & senior management
Former CEO and Director of Standard Lithium Ltd., former Director of Nevada Geothermal Power Inc., founding shareholder and former Director, Enthusiast Gaming Holdings Inc.
Former Director of Finance and Administration of Yarrows Ltd. (1,300 employees)
Former CEO of Catamaran Ferries International. ($450 million ship construction project)
CFO of Kutcho Copper Corp. and District Metals Corp.
Debra Struhsacker, Environmental Permitting & Government Relations Advisor
Hardrock mining advocate and policy expert with 35 years of experience with the key federal and state environmental and public land laws and regulations governing mineral exploration and mine development
Proven track record in state and federal legislative and administrative venues in securing project permits for exploration and mining projects
Unique combination of communication skills and expertise that effectively bridges the communication gap between the technical, political, and public opinion factors influencing policy decisions about mineral exploration and development, public lands, and the environment
Keith Peck, Financial Advisor
30 years' Investment Banking experience in the resource sector including hundreds of capital markets transactions (equity and debt), takeover offerings, business valuations, and expert financial testimony
Vice President and Director of RBC Dominion Securities Inc., First Marathon Securities Inc. and Vice Chairman of Yorkton Securities Inc. Chairman of Orezone Gold Corporation ($40 million with RCF) and initial investor group (Convertible Debenture and Bridge Loan) to purchase Cerro Blanco from Goldcorp Inc.
Sole financial advisor to Skeena Resources Inc. Initiated, structured, and assisted on the negotiations on the acquisition of the Snip Mine and Eskay Creek, including the purchase of the "Back-in Right" from Barrick Gold Corporation for approximately $75 million
Applied Economics – Princeton University. Chartered Business Valuator (CBV)
Michael Konnert, Advisor
Co-founder and Managing Partner of Inventa Capital which has raised over $80M for portfolio companies in 2020
Founder and CEO of Vizsla Resources which is developing one of Mexico's highest-grade Ag camps
Co-founded and sold Cobalt One Energy to Blackstone Minerals in 2017
>10 years of experience in resources and capital markets
Bcom in Entrepreneurial Management from Royal Roads University
David Johnson, VP Exploration
Ex-Rio Tinto, WMC, LionOre and Independence Group (IGO Ltd)
>25 years global exploration experience across wide range of deposit types
Led successful in-mine exploration team at IGO, with key role in two discoveries
Geophysicist specializing in potential field and electrical/EM methods, and integration with other exploration datasets
Proven mineral resource discoverer
Regina Molloy, Exploration Manager
>25 years' experience as a multi commodity economic geologist
Skilled in Mineral Exploration and Mine Development
Ex BHP, Newcrest, Barrick, Battery Minerals • Global experience exploring and discovering a range of deposit styles
Experience with junior and large company investment strategies
Will Strong, Principal Geologist
>20 years' experience exploring for epithermal gold-silver-bearing quartz veins, sediment-hosted gold deposits, intrusion-related gold deposits and skarn-related silver-base metal deposits in Mexico, Chile, Argentina and Nevada
Key experience includes drill hole and geologic database management, 3D geologic modeling using Surpac and Leapfrog as well as QA/QC program design and oversight
Responsible for targeting both greenfield and brownfield exploration prospects on surface and underground, subsequent drill program execution as well as data analysis and interpretation using both hand-drawn paper and 3D software methods
Key team member who helped convert several mineral discoveries into economic ore deposits including the Mercedes gold vein deposit in Mexico now in production, and the San Rafael, El Cajon and 120 Zone skarnrelated deposits in Mexico recently put into production
Amy Hannink, Project Geologist
Worked in the Nevada gold industry for the past 5 years, primarily in epithermal deposits, both as a mine geologist and an exploration geologist
Most recently worked for Hecla's Nevadan Regional Exploration Team advancing both brownfield and greenfield projects. Ms. Hannink is proficient at a wide variety of geological skill sets including: surface mapping, rock sampling, 3D geologic modeling, geophysical and geochemical techniques to advance targets
Prior to her 5 years focused on Nevada and Utah gold projects, she worked for 2 years as a geophysicist.
Earned a Masters of Science (Geophysics) from the University of Reno and her Bachelors of Science (Geology) from the University of Idaho
Robbie Anderson, Project Geologist
Over a decade of experience working as a geologist in exploration, production and mineral development, with the last ten years focused across the Great Basin in Nevada
Has expertise in polymetallic massive sulfide, bedded-barite, Carlin Au, porphyry-related Cu-Au skarn and significant exposure to epithermal Au-Ag deposits
Brings experience in geologic field work and property evaluations, targeting, and design and management of drill programs
Proficient in GIS, 3D geologic modeling and database structure and management
Received his B.Sc. in Geology from the University of Georgia in 2006 and earned his M.Sc. through the Ralph J. Roberts Center for Research in Economic Geology at the University of Nevada, Reno in 2013. This research focused on the stratigraphy, structure and mineralization of the Sandman epithermal deposit, a core asset of the company
BOARD OF DIRECTORS
Craig Parry, Chairman
Ex-Rio Tinto, Oxiana, G-Resources, Tigers Realm Group and EMR Capital
Has raised +$200M in the past 12 months
Led geology and resources for Rio Tinto's Kintyre uranium project and advised on sale to Cameco
Co-founder and former head of Business Development for Tigers Realm Group
Former founder and CEO of Tigers Realm Coal
Co-founder and former Senior Advisor of EMR Capital
Co-Founder and former Director of NexGen Energy Ltd.
Walter Coles Jr., Director
CEO of Skeena Resources
Extensive M&A experience in the resources sector
Ex analyst for Cadence Investment Partners and UBS Investment Bank in New York
B.A. in Economics from the University of Richmond
Mike Cowin, Director
Over 25 years' investment experience in the wholesale funds management sector in Australia
Previously, was an equity partner and Director of Northcape Capital, a boutique investment fund based in Australia which manages over A$10 billion
Principal of Corom Funds Management, Chairman of Dominos Pizza Japan Inc. and a Director of Apache Industrial Services, Queens Road Capital, CTE Investments, Rockmaster Resources Corp. and Walcott Resources Ltd.
Vince Sorace, Director
Mining and technology entrepreneur with >30 years of international business and capital markets experience
President & CEO of Kutcho Copper, Director of E79 Resources Corp and Founder and Chairman of MineHub Technologies Inc.
Raised over $250M in equity and debt in recent financings
Prior roles include Founder, President and CEO of various private and public resource companies
Video MIF Presentation with CEO Cherie Leeden
Gwen Preston Interviews CEO Cherie Leeden
The Bottom Line
The rationale for adding Gold Bull for coverage in this letter is very simple. It has a real shot at finding a monster gold deposit and I believe it has the vision, technical talent, and well-rounded Management to make it happen. As always there are no guarantees in exploration. But with over 500,000 ounces already identified on the Sandman Project, and likely to grow with 2022 drill results, I believe the downside is limited for investors who buy these shares at current price levels, discounted 75% from their 52-week highs. If successful in the hunt for the structures through which gold mineralization fed the near surface gold mineralization as shown on page 4, these shares could be expected to rise many times higher from current share price levels. Of course, as with any small cap stocks like Gold Bull, investors should be prepared to hold for a protracted period of time and also be aware that illiquidity is frequently a feature to be aware of.
---
Author Disclosure: J Taylor's Gold, Energy & Tech Stocks (JTGETS), is published monthly as a copyright publication of Taylor Hard Money Advisors, Inc. (THMA), Tel.: (718) 457-1426. Website: www.miningstocks.com. THMA provides investment ideas solely on a paid subscription basis. Companies are selected for presentation in JTGETS strictly on their merits as perceived by THMA. No fee is charged to the company for inclusion. The currency used in this publication is the U.S. dollar unless otherwise noted. The material contained herein is solely for information purposes. Readers are encouraged to conduct their own research and due diligence, and/or obtain professional advice. The information contained herein is based on sources, which the publisher believes to be reliable, but is not guaranteed to be accurate, and does not purport to be a complete statement or summary of the available information. Any opinions expressed are subject to change without notice. The editor, his family and associates and THMA are not responsible for errors or omissions. They may from time to time have a position in the securities of the companies mentioned herein. No statement or expression of any opinions contained in this report constitutes an offer to buy or sell the shares of the company mentioned above. Under copyright law, and upon their request companies mentioned in JTGETS, from time to time pay THMA a fee of $250 to $500 per page for the right to reprint articles that are otherwise restricted solely for the benefit of paid subscribers to JTGETS.
To Subscribe to J Taylor's Gold, Energy & Tech Stocks Visit: https://www.miningstocks.com/select/gold