October 22, 2020
Nevada Exploration Inc. (TSX-V: NGE; OTCQB: NVDEF) has significantly increased its land holdings at its Awakening Gold Project by staking an additional 25 square kilometres.  Awakening is a low-sulfidation epithermal gold project located directly north of Paramount Gold Nevada Corp.'s (NYSE American: PZG) 4.8 million-ounce Sleeper Gold Mine, where NGE has completed a series of district-scale geochemistry, geophysics, and orientation-drilling programs to build a comprehensive exploration dataset to target Sleeper-style mineralization. Sleeper produced 1.66 million ounces from an open pit at 7 g/t Au from 1986 to 1996, as a very profitable mine producing significant free cash flow for its previous owner.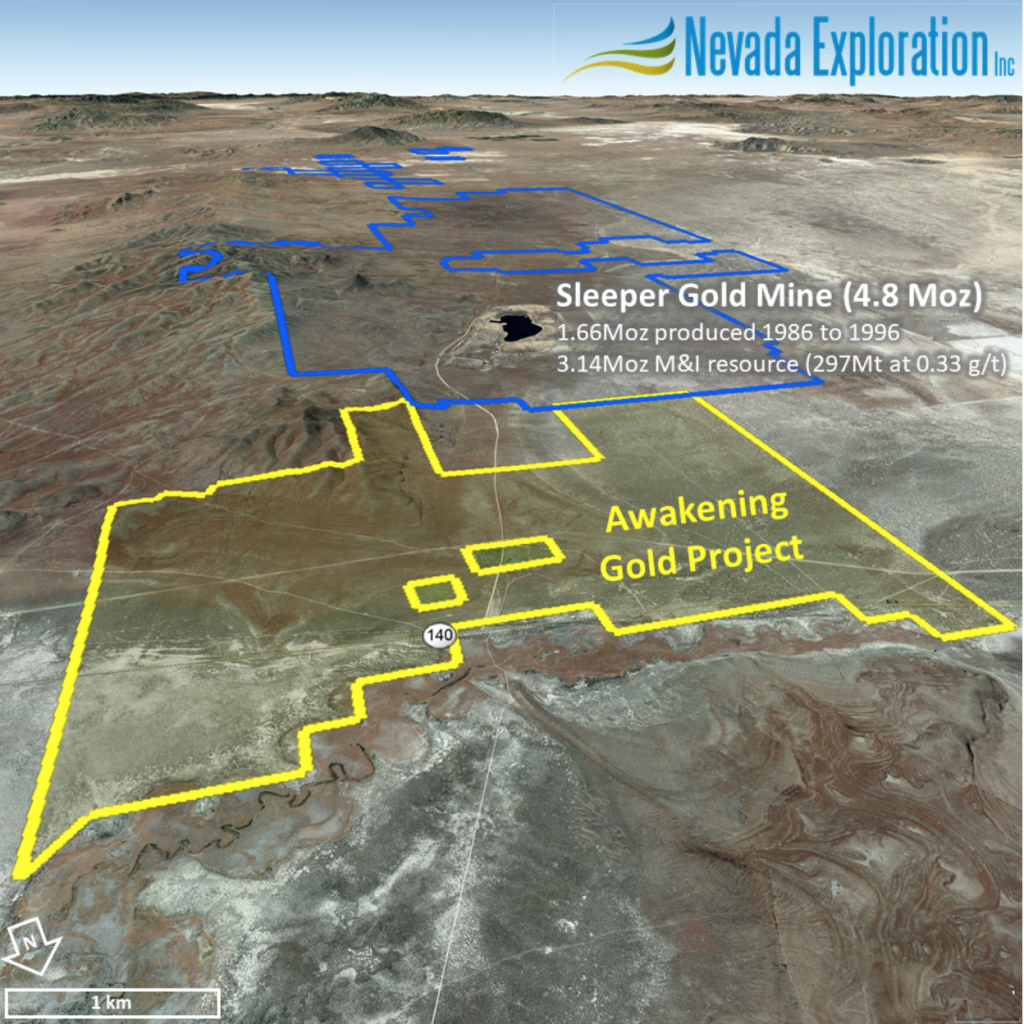 (Source: https://www.nevadaexploration.com/news/2020/nevada-exploration-acquires-additional-25-square-kilometres-north-of-sleeper-gold-mine-awakening-mining-district-nevada)
With falling discovery rates in mature, exposed search spaces, Nevada Exploration is leading North American explorers with the latest science and technology to identify new exploration projects, and has completed the largest geochemistry-based generative exploration programs in Nevada in recent history. The resulting state-wide database allows Nevada Exploration to map the location of dissolved gold and indicator minerals in the groundwater surrounding known mines as well as across new prospective areas, from which the Company has built a valuable portfolio of new targets.
This strategy of using new exploration technology to open up new search spaces is building momentum in major jurisdictions around the world.  Most recently, in September 2020, the world's largest miner, BHP Billiton (NYSE:BHP), signed an option agreement with Encounter Resources (ASX:ENR) on the Elliott copper project, a project that Encounter identified by integrating new groundwater data with conventional geologic tools to shine the light on the potential for new mineralization under cover in a place where the ground contains the key conceptual criteria for the formation of mineralization.  Like Nevada Exploration, Encounter Resources is moving aggressively to secure first-mover opportunities in new undercover frontiers within the world's largest jurisdictions.
GENERAL NOTICE AND DISCLAIMER – PLEASE READ CAREFULLY. We are engaged in the business of marketing and advertising companies for monetary compensation. All content in our publication is for informational purposes only and should not be construed as an offer or solicitation of an offer to buy or sell securities. Neither the information presented nor any statement or expression of opinion, or any other matter herein, directly or indirectly constitutes a solicitation of the purchase or sale of any securities.
Viewers should always consult with a licensed securities professional before purchasing or selling any securities of companies profiled or discussed in our releases. It is possible that a viewer's entire investment may be lost or impaired due to the speculative nature of the companies profiled.