FIRST PERFECT 100-BAGGER SO WHAT'S NEXT?
Maven Buys: Gold Bull Resources (TSXV: GBRC) (OTC:GBRCF)
Maven Letter: Gwen Preston
I was working through another segment in the Full Portfolio Review this evening when my phone started to buzz: Kinross is buying Great Bear Resources for $29 a share. I love the price – it values the Dixie project at $1.8 billion, a value only a true Tier One asset (capable of producing 500,000 oz. gold a year for 15 years) in a great jurisdiction can command…
I also love the offer price because it represents a perfect 100-bagger on my initial buy and writeup, in December 2017 at $0.29.
I get asked all the time for my favorite stock of the moment. It's part and parcel of my job. I realized that, in the last few weeks, the stock I've been mentioning is one that I have not yet mentioned in this newsletter! 
There is a reason. I invested in the stock via a financing in November. At the time gold was all over the place day-to-day. Worried things were going to slide further before staging a classic December bottom, I postponed writing it up here. 
There are no guarantees gold has stabilized. But I wanted to get this opportunity out before drilling started. 
Gold Bull Resources is a great example of the kind of cheap buying opportunity I want to take advantage of in this downtrodden market moment. Gold Bull has: 
Very good management.

I've gotten to know CEO Cherie Leeden over the last year and I am impressed. She's a proven geologist with deep knowledge of and connections within Nevada and she's a focused, reliable, clear manager who has attracted a great group of geologists to the GRBC team. Gold Bull is also part of the Inventa Capital group, which means guidance from chair Craig Parry (a proven capital markets operator with a long list of successes) and good access to capital. 

Half a million ounces of inferred resource at the Sandman project that is at surface and leaches easily.

The known deposits have grown via drill hits since that resource and I think it very likely Gold Bull defines a million ounces of leachable gold at the project in the near term. 

A very exciting exploration thesis at Sandman:

that gold on surface has distracted explorers to date from the real target, which is at a deeper rock contact. The nearby Sleeper mine, which has produced almost 5 million ounces, was similarly discovered because of moderate grade oxide gold at surface but in time geologist realized that the real prize was deeper, where the overlying tertiary volcanics contacted the basement rocks. It was at this contact where gold coming up faults first dumped out. Gold Bull will test this contact for the first time this winter. 

A 'swing for the fences' chance at Big Balds

, a second project with a never-been-drilled target where the Carlin Trend crosses the Bida trend. The target is a large intrusion that, if mineralized, could be another Bald Mountain, which is just 10 km away and hosts 5 million ounces of gold. GBRC has been prepping this target for drilling for a year now; it will see 8 wide-spaced holes testing the intrusion as soon as the drill finishes at Sandman. 

Low valuation

. Gold Bull is one of the many gold stocks that has not managed to attract attention in the last year. A lot of peer Nevada gold explorers are worth more, and often without a defined resource. 
I could take several pages running through Gold Bull's new deep gold theory at Sandman, but I won't. I think the theory makes sense. John Wood, a Sleeper deposit expert, led GBRC to this new theory and it absolutely deserves testing. If the surface zones are just what was left over after gold-bearing fluids came up structures and dumped most of their metals at the contact between the basement rocks and the volcanics, then the contact zones could be very nice.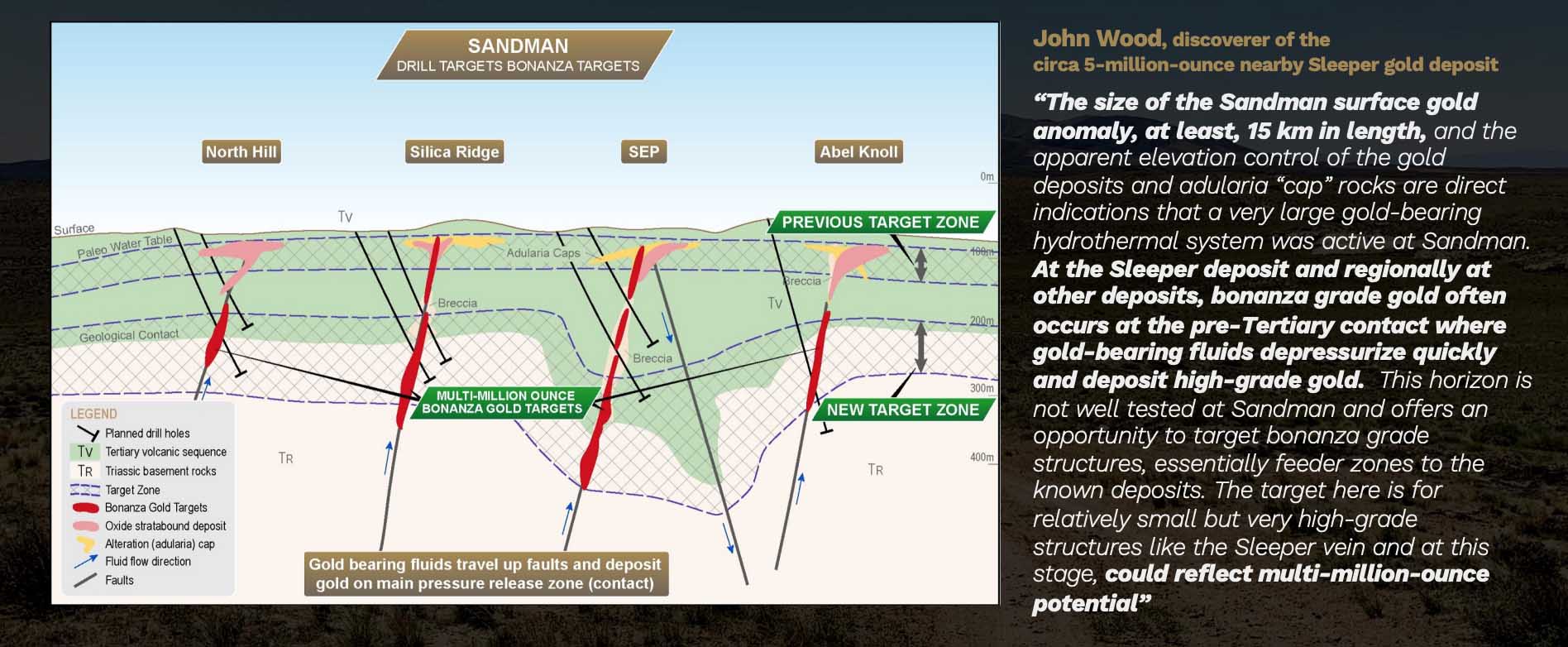 The 'deep' targets are also not terribly deep (150 to 400 metres). And each hole has been designed such that it will test to expand surface zones and then hit a deep structure downhole. 
I should also stress that those surface zones are worth expanding. At this point the four deposits offer up 13 million indicated tonnes of oxide resource grading 0.63 g/t gold plus 2.4 million inferred tonnes of slightly lower grade. And the gold leaches very easily. That kind of mineralization matters in Nevada, especially if the count gets up to a million ounces. 
I should also note that Sandman has a full Plan of Operations, the kind of permit that takes several years to obtain in Nevada. The POO means Gold Bull can basically drill wherever they want to within the property boundaries, which is important. 
Gold Bull currently has 98 million shares out (plus 22.6M warrants, though they carry an average exercise price of $0.56 so not much of a concern!). It has been trading between $0.20 and $0.24 for the last two months, giving it a market cap around $21.5 million. Notably, the November financing put $6.1 million in the bank and was upsized from $3 million because of interest. I was far from the only person who saw value in the story. 
What do I want in an exploration bet? 
Low valuation because that reduces the downside risk. In play, especially relative to Nevada peers.

•

Foundational value. Check – half a million leachable ounces in the ground, near surface in Nevada with multiple successful expansion holes already and potential for more (1M oz. very likely)

•

Near-term catalysts. Yes: GBRC will start drilling at Sandman in January, in a program designed to both expand the known near-surface resources and test the deep targets at the basement contact.

•

Good management focused on creating shareholder value with strong technical capabilities and deep capital markets access/backing. 
GBRC meets all these requirements. I bought in the financing at $0.20, which is where it closed.
If you want to learn more about the value of Gold Bull and the potential for further gold discoveries in Nevada visit https://investor.goldbull.ca/

---
EDITORIAL POLICY AND COPYRIGHT: Companies are selected based solely on merit; fees are not paid. This document is protected by copyright laws and may not be reproduced in any form for other than personal use without prior written consent from the publisher. 
DISCLAIMER: The information in this publication is not intended to be, nor shall constitute, an offer to sell or solicit any offer to buy any security. The information presented on this website is subject to change without notice, and neither Resource Maven (Maven) nor its affiliates assume any responsibility to update this information. Maven is not registered as a securities broker-dealer or an investment adviser in any jurisdiction. Additionally, it is not intended to be a complete description of the securities, markets, or developments referred to in the material. Maven cannot and does not assess, verify or guarantee the adequacy, accuracy or completeness of any information, the suitability or profitability of any particular investment, or the potential value of any investment or informational source. Additionally, Maven in no way warrants the solvency, financial condition, or investment advisability of any of the securities mentioned. Furthermore, Maven accepts no liability whatsoever for any direct or consequential loss arising from any use of our product, website, or other content. The reader bears responsibility for his/her own investment research and decisions and should seek the advice of a qualified investment advisor and investigate and fully understand any and all risks before investing. Information and statistical data contained in this website were obtained or derived from sources believed to be reliable. However, Maven does not represent that any such information, opinion or statistical data is accurate or complete and should not be relied upon as such. This publication may provide addresses of, or contain hyperlinks to, Internet websites. Maven has not reviewed the Internet website of any third party and takes no responsibility for the contents thereof. Each such address or hyperlink is provided solely for the convenience and information of this website's users, and the content of linked third-party websites is not in any way incorporated into this website. Those who choose to access such third party websites or follow such hyperlinks do so at their own risk. The publisher, owner, writer or their affiliates may own securities of or may have participated in the financings of some or all of the companies mentioned in this publication.