In this backstage interview at the Metals Investor Forum (MIF) in Vancouver, John Kaiser of Kaiser Research picked a gold explorer with the largest drill program in Western Canada and probably the smallest market cap at the show. Taiga Gold Corp. (CSE: TGC) was unknown until President and CEO Tim Termuende presented this sleeper stock to an attentive investment audience. A 12,000 meter drill program has commenced focusing on the 100% owned Fisher property in Saskatchewan. The highly prospective property is adjacent to the Seabee Gold Operation and the operator SSR Mining (NASDAQ/TSX: SSRM) is also under option and fully financing exploration on the Fisher property.
John Kaiser: I'm John Kaiser, I'm at the Metals Investor Forum in Vancouver. It's January 18, 2020. I am here with Tim Termuende, CEO and President of Taiga Gold Corp. Tim, welcome to Vancouver.
Tim Termuende: Thanks very much John, good to see you again.
John Kaiser: Tim, your Taiga Gold's Flagship project is the Fisher Project, it is under option to, SSR Mining. You staked at the well before SSR acquired the Seabee and Santoy Mine and a transaction worth half a billion dollars. What prompted you to stake that 25 kilometer plus land package?
Tim Termuende: Yeah, it's interesting. It's one of the… Nobody likes these bear markets, but one of the opportunities that they provide for a company like Eagle Plains is, you get opportunities that don't usually come along.
Tim Termuende: And back in 2012, the Saskatchewan Government decided to implement an online map staking system in Saskatchewan, which was new to them. In the old days, you used to have to go out in helicopters, airplanes, it was very expensive to acquire ground and risky too because you didn't know if you were going to get there first, or whatever lots of complications.
But we were pretty excited about the online transition and we basically had a couple of geologists research Saskatchewan for about a month. We locked him in the basement and said, find the best projects, best targets in Saskatchewan.
And they came up with an area of ground just South of the operating Seabee Gold Complex, just South of the Santoy Deposit and said, this is open for staking.
We were quite surprised to be able to get in that close, like where a kilometer and a half from the decline on the Santoy Deposits. So we staked that ground, we worked on it for a couple of years and then SSR, then Silver Standard, bought out Claude Resources to get at the Seabee Gold Complex.
And soon after that transaction was completed, they came to us to ask if our ground was available for option. So we did the option deal with SSR or Silver Standard then, now SSR Mining.
They've also done some significant upgrades to the Seabee Mill and the Seabee infrastructure and those upgrades basically have resulted in almost a double in their production rate, which also creates a hungry mill that needs ore feed. And so SSR has been very aggressively exploring the Fisher property in the hopes of finding more ore to feed their mill.
John Kaiser: SSR in the last few years has spent almost $8 million on the property that has included drilling. They're gearing up to drill another 12,000 meters this year. What has SSR accomplished so far? And what do they hope to accomplish in 2020?
Tim Termuende: SSR had a very systematic approach to their exploration, they have done a lot of till sampling, soil sampling, geological mapping. They've basically extended the Santoy shear, which is the host of the ore at the Santoy Deposit.
They've extended it from the property boundary, which is all we knew it did extend to originally, they've traced it now 25 kilometers South through the whole length of our property.
So it's created at a long belt of explorable area, within that long belt they've done 21,000 meters, almost 70,000 feet of drilling in 48 holes and have basically narrowed down their search to two or three areas now along this long belt. There's still 10 or 15 kilometers South of the latest drilling that is totally unexplored, so there's a lot of blue sky on the property as well.
But they've narrowed down on the Santoy shear, the most interesting area they found right now they call, The Mac Zone. The last hole in the Mac Zone of the last program last winter, they actually hit ore grade mineralization and quite a bit of VG over about six meters in that hole.
So, that is the focus of this next drill campaign. They've got two drills on the ground just of the last day or two, the drills were mobilized to site, they've expanded the camp to a 40 man camp from a 20 man camp. So they're going to hit it hard.
And yeah, the money they've spent so far has been well spent, but they haven't come up with ore reserves yet. They're hopeful this next drill campaign will resolve in our reserves.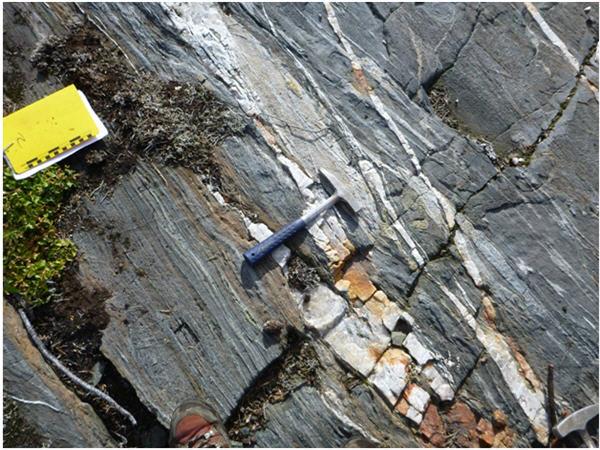 John Kaiser: Now SSR has spent more than is required to vest for 60% and then make a decision as to whether to make a cash payment to go to 80% and this year's program probably four million bucks or so based on costs in that area. Why have they not vested for 60% and just bought this? Why are they potentially spending 12 million-dollars before making any such decision?
Tim Termuende: It's a, it's a very good question and I can't really speak for SSR, but I suspect the reason that they're spending so much more than they have to meet the 60/40 JV requirement, they only have to spend $4 million and make a $400,000 cash payments to us.
They've already spent almost eight million, as you say, they'll probably get up to well over 10, 12 million before they're in a position to trigger that. But I suspect why they haven't triggered the 60/40 JV is once they do, it lights a fuse, they've only got one year to decide whether to go to 80%.
If they do go to 80% they make a $3 million cash payment to Taiga. And I think, I think that what they want to do is have quite a bit of certainty on the Fisher property when they trigger that 60 to decide whether or not to go to 80, they've only got one year, so.
John Kaiser: Now suppose they go to 80% and you'll have to cough up 20% of ongoing expenses on the project, which assuming they're going to that level, there's something substantial there that'll be a pretty good a spending requirement.
But the market will price you as 20% of whatever it is that the Fisher is worth and becomes a waiting game for, when does SSR take out Taiga gold?
But you have other properties in that area, and if we are really at the beginning of a new bull market for resource juniors and money's available, what can you do with these other projects that could make you a priced on 100% type of basis?
Tim Termuende: Yeah, another good question. We staked not just the Fisher property, we've acquired three or four other projects in that area along the Tabbernor sheer structure, which is the structure that is responsible for ore at Santoy and Seabee.
And these projects, there's three of them, it's called, Chico, Leland, and the Orchid Property. The Chico is under option right now to Aben Resources (TSXV: ABN), who is ready to advance that project. We've also got 100% ownership of the Orchid and the Leland property.
We've worked on both of them, this year alone, we spent a quarter million dollars on the Leland property, found some really nice gold mineralization that is basically in our pipeline for advancement exploration wise.
So we'll do like any other junior while we've, while we're waiting to see what happens with Fisher or participating on an 80/20 basis, we'll already have three and a half million in the bank from the cash payment from them and the cash we have now.
So we're not worried about keeping up with SSR on an 80/20 basis, while that's going on, we will certainly be advancing our other projects in the area on our own terms or with other partners, whatever. If the markets are good and it's non-dilutive, we can raise money without suffering too much dilution. We'll do our own drilling on Orchid and Leland, not a problem.
John Kaiser: Now supposing this geology has a potential similar to a Seabee and Santoy, what's the sort of tonnage and grade type of deposits you could hope to find in this region based on the past experience?
Tim Termuende: Well, right now at the Seabee Santoy complex, which is basically two deposits, a Seabee deposit and a Santoy Deposit. They've mined out the Seabee it was, it produced roughly a million ounces, something like that.
At Santoy right now in various reserve/resource categories they're approaching two million ounces. So when they bought, when they bought the Seabee gold complex, I think they had four or five years of reserves, now they're up to seven, eight, maybe even more, I think they're going to announce a new reserve, resources later this year.
But they're sitting on a three million ounce system there right now with lots of blue sky to expand it. We have no idea what we could be seeing South of the Fisher-Seabee border and we're very close to the Santoy Deposit. We have the same geology, we know it's the same structure they've confirmed to us it's the same structure.
There's very, very many similarities to the Santoy Deposit on our property right now. It's a function of drilling and a function of success in that drilling and how big it can be, I don't know, sky's the limit.
That the Tabbernor structure actually is a thousand plus kilometers long, it actually goes Southward through Saskatchewan and daylights again in South Dakota, not very far from the Homestake deposit, which is structurally thought to be related to the Tabbernor, the Homestake deposits, 40 million ounces.
So as far as we're concerned, the sky's the limit, we've got a huge property, it's 15 kilometers wide at it's widest spot and 40 kilometers North to South, so there's a lot of room to do a lot of work.
John Kaiser: And one last question, the Fisher play is this very long regional play, lot of work being done on that, but the Riddler extension is where your property butts up very close to the Santoy mine.
What's happening there? Is it possible that as they keep doing their brown fields exploration, it extends onto your property?
Tim Termuende: It looks very likely at this point, they're very excited about… they call it the Batman Lake area, just North of the property boundary. They're showings within the Batman Lake area are the Riddler, The Joker on that theme, they suspect and we suspect and we certainly hope that those extensions come across the line onto our property.
There's indications that it does, it hasn't been proven yet by drilling, but that's what this program, this winter is going to do. Their program now is with two drills and the budget they have I believe is the biggest project in Western Canada underway right now and so they're taking it very seriously and, and we're watching very intently.
It doesn't cost us a nickel to enjoy the results of their program, so I think we're in a very, very good position right now, we're just waiting for news.
John Kaiser: Oh, I'm looking forward to this year's results, I think this'll be the watershed year for this story.
Tim Termuende: It's a turning point year.
John Kaiser: Thank you, Tim. I have been in, in Vancouver at the Metals Investor Forum, talking to Tim Termuende, of Taiga Gold Corp.
Tim Termuende: All right, thanks very much.
Visit Kaiser Research Online, an information portal featuring all resource companies listed on the ASX, TSX, TSXV and CSE. Kaiser Research Online (KRO) is a fee based research portal owned and operated by John Kaiser from Moraga, a suburb in the San Francisco area of California. It specializes in high risk Australian and Canadian resource sector companies listed on the ASX, TSX and TSXV. Our goal is to provide investors with a framework for intelligent speculation. KRO is not sponsored by any companies.