Share Price: C$0.24 | Market Cap: C$18.6M |Shares Outstanding: 81.00M | Free Float: 63.59M
52W High-Low: 0.31 / 0.07 | YTD Price Return: 119.05% (Market data as of 1st December 2020.)
Q3/20: Gold Discoveries Warrant Further Exploration
Event: Drilling resumes in location of latest gold discovery [POSITIVE]
Company & Property Overview
Taiga Gold was formed from the spin-out of assets of Eagle Plains Resources in April 2018 (At a 2:1 stock split basis, i.e. two shares of Eagle Plains gave 1 share of Taiga). Taiga Gold is engaged in the acquisition and exploration of gold resource properties in the province of Saskatchewan. Its flagship project is the Fisher property where, as of today, 4 separate high-grade gold discoveries have been made.
The 34,000-hectare Fisher property is contiguous with SSR Mining's Seabee Gold Operation property and is located ~1.5km from the Santoy Mine, which is currently producing high-grade gold from a structure common to both properties, the Santoy Shear. Both Fisher and the Seabee Gold Operation are located within the Trans Hudson Corridor, specifically within the Pine Lake Greenstone Belt. The Fisher property is under option to SSR Mining where they are undertaking significant exploration including drilling with the intent of locating gold deposits for development into potential reserves. 
The below map lays out the Fisher Project location.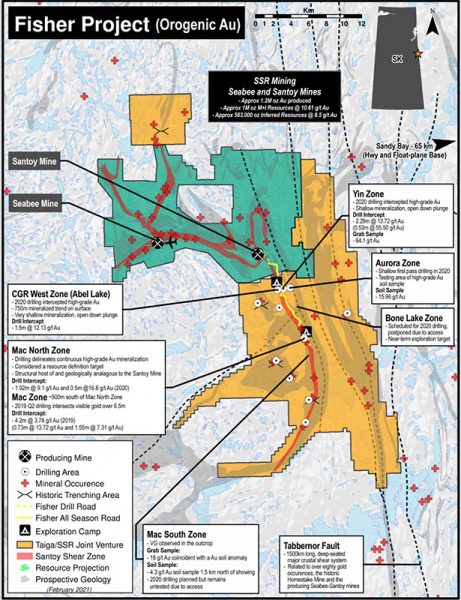 Taiga Gold – SSR Mining JV Overview
In May 2016, Silver Standard Resources, now known as SSR Mining (TSX & NASDAQ listed under the ticker "SSRM") acquired Claude Resources and with it, its Seabee gold operation in Saskatchewan for a consideration of C$337 million in cash and shares. In October 2016, the Fisher project was optioned and as part of the option deal, SSR Mining paid C$100,000 cash up-front and agreed to spend at a minimum of C$4 million for exploration over a 4-year period. This amount would be in addition to annual cash payments of $75,000 over the option period. On November 12th, 2020 they notified Taiga Gold of their intention to exercise its option to earn 60% of the Fisher property after spending nearly $12 million in exploration.
By doing so, SSRM triggered a one-year window in which they can decide whether they would want to purchase another 20% of the property by making a one-time payment of C$3 million to Taiga Gold. After this deadline of November 2021, both companies will advance the Fisher by investing proportionately based on their respective interest.  SSRM will make additional annual payments of C$100,000 to Taiga Gold as an advance royalty until commercial production begins.
Since 2016, SSR Mining has completed extensive systematic exploration including prospecting, soil geochemical sampling, detailed geological mapping, and geophysical surveys. It has completed a total of 33,251m (109,091') of drilling across 86 holes at a total expenditure of nearly $12 million. (3x the required amount). This sizeable investment has paid off for SSR Mining with 3 new discoveries made in Q1 2020, 2 near the border with the Santoy Mine (Yin & Abel Lake zones), and the other, ~6km south at the Mac North Zone. Another high-grade discovery was made in Q1 2019 at the Mac Zone.
SGO (Seabee Gold Operation) Overview
SSR Mining acquired the Seabee Gold Operation, a high-grade underground mine on May 31, 2016 as a result of its acquisition of Claude Resources. Commercial production at the Seabee underground mine commenced in 1991 and exhausted Mineral Resources in 2018. Since 1991, the Seabee Gold Operation has produced over 1.57 million ounces of gold from the Seabee and Santoy deposits. In 2019, the Seabee Gold Operation produced 112,137 ounces of gold at cash costs of US$464 per ounce. 
Below are some of the salient highlights of this operation
Mineral Reserves:

Proven and Probable Mineral Reserves of 500,000 ounces of gold at an average grade of 10.17 g/t as at December 31, 2019

Potential for mine life extension:

Measured and Indicated Mineral Resources of 1,050,000 ounces of gold at an average grade of 10.61 g/t

Exploration potential:

2020 Exploration programs focused on expansion of the Santoy Gap Hanging Wall, as well as surface drill programs at the Seabee and Fisher properties

Fisher Property Exploration

: To Dec 2020, 4 high-grade gold discoveries have been made during drilling at four separate zones of the Fisher. In the fall of 2020, a 3800m drill program was carried-out to follow-up one of these at the Mac North Zone. SSRM's methodical approach to exploration has resulted in an impressive trajectory of discovery along the Santoy Shear during the last two drill programs. Assays are pending for the most recent 3800m program at the Mac North zone. 
As per SSRM's preliminary economic assessment of the operation, it expects gold production to average 100,000 ounces per year over the period from 2018 to 2023, a 29% increase from 2016 production levels. It also expects to reduce capital investments (C$90 million to date) given the ongoing development near existing infrastructure. 
The Fisher property is bisected by the Santoy Shear zone, the same structure that hosts SSRM's Santoy Mine approximately 1.5km to the north, hence the  huge exploration potential along this structure  given the success seen a short distance away at the Santoy Mine.
Taiga Gold Investment Thesis
Restart of drilling operations: This year's exploration plan for the Fisher property was partially derailed by the global pandemic. The 2020 Q1 drill program was suspended in March after completing most of the planned footage while the summer surface exploration program was cancelled. Drilling operations restarted in September 2020 with a 3800m drill program at the Mac North discovery area, assays are pending. The Fisher exploration camp has been expanded to host up to 42 people from an earlier capacity of 24). 
Underdeveloped region: The area of Saskatchewan where all of Taiga's properties are located is underexplored relative to other greenstone belts in Canada. This area holds extremely high geological potential and meaningful discoveries at any of Taiga's other properties can greatly enhance shareholder value. Taiga has conducted fieldwork at its SAM property focusing on structurally hosted gold mineralization and has an option partner (SSKR Exploration) for its Leland Project, where a 1,500m winter diamond drilling program is being planned. Taiga is also planning exploration programs for its other two properties, the Orchid & the Mari Lake Property.
Eagle Plain's lineage of rewarding shareholders: Eagle Plains is a project generator and once it identifies a strong project, it spins-out the project into a separate company directly benefitting shareholders. It has done this in the past with Copper Canyon Resources, a one for one spin-out which was subsequently taken out in a hostile turned friendly acquisition. Copper Canyon shareholders benefitting about $65 million on the transaction. This resulted in a multi-bagger for the Company's shareholders. 
SSR Mining's aggressive exploration activity: SSR Mining has committed approximately 3x more ($12 million) than the required exploration capex ($4 million) that formed part of the option agreement. This tells us they're extremely bullish on Taiga's prospects, and in particular, the Fisher Project. Investors can take some relief in the fact that Taiga's intent is to be acquired, thus monetizing the company's assets for the shareholder. This strategy, in essence, provides for a replacement share of a larger, more liquid, company at a premium based on exploration success and negotiation.  The intent is to repeat the success of the sale of Copper Canyon Resources.
Risk Factors
Exploration guarantee: As is the case with all mineral companies, investors should be aware that there is no guarantee that Taiga will continue to expand on discoveries or commence production at any of its properties. Therefore, though the Company is quite comfortable for the time-being with sufficient capital, inability to raise further funding in the future may limit its ability to continue exploration activities in the longer term
Reserve and resource calculations: There is a degree of uncertainty attributable to the calculation of reserves and resources and the corresponding grades. Reserve and resource estimates are dependent partially on statistical inferences drawn from drilling, sampling, and other data. There is no certainty that the mineral deposits would yield the production of metals indicated by reserve and resource estimates. 
Price volatility: Market prices of precious metals such as gold are extremely volatile. There is no assurance that if commercial quantities of gold, copper and other metals are discovered, a profitable market may exist or continue to exist. 
Conclusion
2020/2021 could prove to be the turning point for Taiga Gold. SSR Mining now has till November 2021 to decide whether it wants to shell out C$3 million for an additional 20% stake.  If it does decide to acquire, Taiga will retain a Net Smelter Royalty of 2.5%, which can be reduced at any time by 1% with a C$1 million payment by the joint venture. With a manageable cash-burn rate and strong treasury, Taiga Gold is well positioned to capitalize. 

FULL DISCOLOSURE: Taiga Gold Corp. is an advertising and marketing client of Streetcents Investor Media Ltd.
GENERAL NOTICE AND DISCLAIMER – PLEASE READ CAREFULLY. We are engaged in the business of marketing and advertising companies for monetary compensation. All content in our releases is for informational purposes only and should not be construed as an offer or solicitation of an offer to buy or sell securities. Neither the information presented nor any statement or expression of opinion, or any other matter herein, directly or indirectly constitutes a solicitation of the purchase or sale of any securities.
Streetcents Investor Media Ltd., and gold-report.com (collectively "Streetcents"),  sponsored advertisements do not purport to provide an analysis of any company's financial position, operations or prospects and this is not to be construed as a recommendation by Streetcents or an offer or solicitation to buy or sell any securities. None of the owners of Streetcents, or any of its members, officers, directors, contractors or employees is a licensed broker-dealer, account representative, market maker, investment banker, investment advisor, analyst or underwriter. Investing in securities, including the securities of those companies profiled or discussed on this website is for individuals tolerant of high risks.
Viewers should always consult with a licensed securities professional before purchasing or selling any securities of companies profiled or discussed in our releases. It is possible that a viewer's entire investment may be lost or impaired due to the speculative nature of the companies profiled. Streetcents makes no recommendation that the securities of the companies profiled or discussed in our releases or on our website should be purchased, sold or held by investors.
Streetcents makes no representations, warranties or guarantees as to the accuracy or completeness of the information provided or discussed. Viewers should use the information provided by us regarding the profiled companies as a starting point for additional independent research on the companies profiled or discussed in order to allow the viewer to form his or her own opinion regarding investing in the securities of such companies. Factual statements, or the similar, made by the profiled companies are made as of the date stated and are subject to change without notice and Streetcents has no obligation to update any of the information provided, nor is it responsible for errors and omissions.
From time to time certain content in our releases or website is written and published by our employees or third parties. In addition to information about our profiled companies, from time to time, our releases and website will contain the symbols of companies and/or news feeds about companies that are not being profiled by us but are merely illustrative of certain activity in the stock market that we are highlighting. Users are advised that all analysis reports and news feeds are issued solely for informational purposes. Any opinions expressed are subject to change without notice. It is also possible that one or more of the companies discussed or profiled in our releases or on our website may not have approved certain or any statements within the release or website. Streetcents encourages viewers to supplement the information obtained from any release or our website with independent research and other professional advice. By accessing, viewing, or using our website or communications originating from our website or any release therein, you agree that Streetcents, its owners, officers, directors, contractors and employees, are not responsible for any content, associated links, resources, or services associated with a third party website. You further agree that Streetcents, its owners, officers, directors, contractors and employees shall not be liable for any loss or damage of any sort associated with your use of third party content. Links and access to these sites are provided for your convenience only. Streetcents uses third parties to disseminate information to subscribers. Although we take precautions to prevent others from obtaining our subscriber list, there is a risk that our subscriber list, through no wrong doing on our part, could end up in the hands of an unauthorized party and that subscribers will receive communications from unauthorized third parties. It should also be noted that we may share our subscriber data with the client company featured in the report and affiliated third parties. You agree to hold Streetcents, its operators, owners and employees harmless and to completely release them from any and all liability due to any and all loss (monetary or otherwise), damage (monetary or otherwise), or injury (monetary or otherwise) that you may incur arising out of the use of our website or the information in our press releases, profiles and opinions. You agree that use of our website is at your sole risk. Streetcents disclaims all warranties of any kind, express or implied.
We encourage viewers to invest carefully and read the investor issuer information available at the Sedar web site. Questions regarding any information contained in this website may be sent to info@Streetcents.com. 
Some of the statements contained herein that look forward in time which include everything other than historical information, involve risk and uncertainties that may affect the company's actual results of operation. The company's actual performance could greatly differ from those described in any forward looking statements or announcements mentioned in our releases. A company's past performance does not guarantee future results. Further specific financial information, filings and disclosures as well as general investor information about the profiled companies, advice to investors and other investor resources are available at www.sedar.com
The content in this release is based on sources which we believe to be reliable but is not guaranteed by us as being accurate and does not purport to be a complete statement or summary of the available data. This release may provide hyperlinks to third party websites or access to third party content.
Streetcents, its owners, officers, directors, contractors and employees are not responsible for errors and omissions nor does Streetcents control, endorse, or guarantee any content found in such sites.