The new target is pointed at very high-grade structures like the
Sleeper vein which, at this stage, could reflect
multi-million-ounce gold potential

Gold Bull Resources (TSX-V: GBRC) (OTCQB:GBRCF)
Expanded Mineral Resource Estimate by 60%
First drill hole intersected a broad width of 144.8m at 1.67g/t Au
Re-assayed coarse gold results in 19.76g/t Au
Gold Bull shares quickly rose on the acquisition of the Sandman project in Nevada and immediately delivered a 60% resource expansion, and a rapid series of results—including broad widths of gold mineralization and high-grade hits at their new project.
The gold price was near record highs when Newmont sold the non-core asset in an all-cash deal. Sandman is located in Humboldt County, Nevada, 30 kilometers northwest of the mining town of Winnemucca, and 23 kilometers from the 4.8-million-ounce Sleeper Gold Mine, which produced 1.7 million ounces from 1986 to 1996. Sleeper has a remaining measured and indicated mineral resource of 3.14 million ounces (297 Mt at 0.33 g/t Au).
In the current market, gold is at a reasonable price which underpins the deep value in Gold Bull. The gold resource at Sandman sits right at surface and they are expanding it very rapidly. It is an exciting story for the time with their ambitious goal of discovering and acquiring 5 million ounces.
The maiden drill program at Sandman started off with spectacular drill results in Gold Bull's first drill hole at the Abel Knoll resource. This was to test the depth extension, width and grade of the mineralized diatreme breccia in the vicinity of a historic drill hole that ended in high grade gold mineralization (AK06-023 ended in 9.6 g/t gold)
Abel Knoll
Drill hole SA-0001 intersected

144.8m at 1.67g/t Au

from 65.5m including:

5m at 2.23g/t Au from 96m

6.1m at

10.75g/t Au

from 143.3m
The drill rig was subsequently moved to the North Hill deposit where drilling confirmed the grade, width and continuity of high-grade gold zones, intersected by historic drilling.
North Hill
Drill hole SA-0004 intersected

10.7m @ 3.28 g/t Au

from 19.8m and

13.7m @ 10.95 g/t Au

from 41.1m, including:

3.0m @ 31.57 g/t Au from 44.2m

Drill hole SA-0005 intersected

9.1m @ 4.94 g/t Au

from 50.3m and 6.1m @ 0.55 g/t Au from 22.9m including:

4.6m @ 9.53 g/t Au

from 53.3m

Drill hole SA-0002 intersected

25.9m@ 4.48 g/t Au

from the surface (0.0m) including

1.5m @ 55.33 g/t Au

from 22.86m and 12.2m @ 0.95 g/t Au from 32.0m
---
Gold Bull CEO, Cherie Leeden "Our team investigated the geology beneath the historic mine head frame at Ten Mile and have come up with some sensational high grade gold numbers."

There are four known pit-constrained gold resources located within the Sandman Project, consisting of 21.8Mt @ 0.7g/t gold for 494,000 ounces of gold; comprising of an Indicated Resource of 18,550kt @ 0.73g/t gold for 433kozs of gold, plus an Inferred Resource of 3,246kt @ 0.58g/t gold for 61kozs of gold.
A major breakthrough came when visible gold was observed in the reverse circulation (RC) drill samples. It became apparent that the laboratory's assaying method was missing some of the coarse-grained gold. Upon reviewing unique projects with similar gold of this nature, the lab's technique was improved which resulted in a significant increase in gold values.
The new lab results for drill holes SA-0004 averaged 19.76 g/t Au from 41.1 m to 54.9 m, versus 10.95 g/t Au previously reported. Now Gold Bull can add ounces to the mineral resource estimate that might otherwise have been excluded, while also improving the accuracy of data used in the mineral resource estimate.
Secret Weapon. Gold Bull initiated the first stage of drilling with relatively safe targets. Drilling close to known gold mineralization made the first holes less risky, but the big reward is going to come from new discoveries in untested areas.
Sandman was acquired for its exploration potential. Selecting new high priority targets has its challenges since there is no outcropping to show where the right rocks are. That's where this largely Australian team (including VP Exploration David Johnson) believes they have an advantage. Similar to the continent of Australia, 70% of the Sandman property is covered by sand and gravel making any underlying mineralization blind to traditional exploration tools. This untapped covered area presents a good opportunity to leverage the team's expertise in deploying geophysics under cover.
The next phase of drilling is combining scientific datasets from geophysics (3d IP surveys) and utilizing their secret weapon, John Wood, the geologist who discovered the nearby Sleeper deposit. The man who identified the 5-million-ounce deposit has already recognised direct indications here at Sandman that a very large gold-bearing hydrothermal system was also active at the property.
"At the Sleeper deposit and regionally at other deposits, bonanza grade gold often occurs at the pre-Tertiary contact, where gold-bearing fluids depressurize quickly and deposit high-grade gold."
Has historic drilling missed the bigger picture? Going back to the 80s, near-surface mineralization has motivated the bulk of drilling to target the top 100 meters. While the current resource is substantial, the Gold Bull team is interested in generating multi-million-ounce discoveries and John Wood has shone a light on where the bonanza deposit would be formed.
And it's not at the surface. The first zone of deposition occurs deeper, around 200 to 400 meters at the contact of the younger pre-Tertiary rocks and the older basement rocks, which are essentially feeder zones to the known deposits.
If there is another Sleeper deposit laying beneath the surface at Sandman, this next round of drilling will be an eyeopener.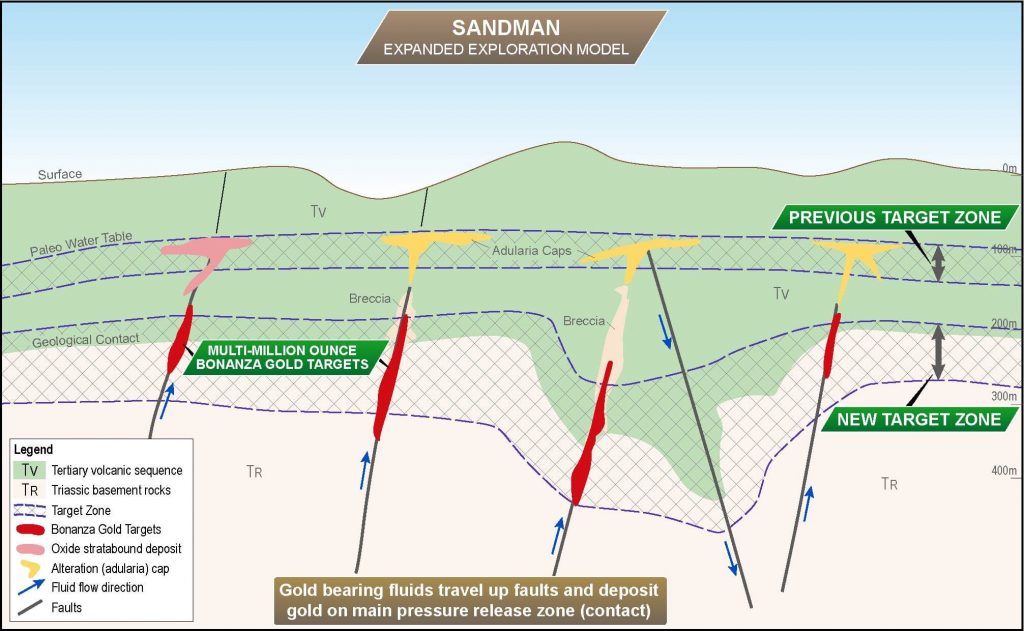 Gold Bull is in a unique position to be underpinned by 494,000 ounces of gold (comprised of 433,000 ounces of Indicated, plus 61,000 ounces of Inferred). Nevada has some good examples of shallow oxidized gold deposits with simple heap leach extraction. The value of half a million ounces should give shareholders some security for the potential of a small operation, but that's not on the horizon for insiders.
Founder of Inventa Capital, Craig Parry has much larger ambitions for growing resources organically and acquiring ounces towards a 5-million-ounce gold asset. Mr. Parry has the financing strength to make deals happen and has structured Gold Bull Resources to become a US-focussed mid-tier gold development company. People may know him from NexGen Energy, IsoEnergy, Skeena, and Vizsla, amongst others.
"Of all of the companies I'm involved with or a founder, this represents the most extraordinary value today because we've got a very significant resource base they're growing all the time. Of course, this sort of blip in the market that we're seeing at the moment in a correction in precious metals is presenting a further opportunity. Gold Bull is trading in deep value territory."
*Parry is a geologist and has served as CEO, President & Chairman for several Australian and Toronto Venture Stock Exchange listed mining companies.
Positioned at the helm is Gold Bull's CEO, Cherie Leeden, who has the right pedigree to make Gold Bull's development happen. Both Mr. Parry and Ms. Leeden originate from Rio Tinto where they met more than 15 years ago. While her Nevada-based team of geologists are expanding the known resource and drilling new targets at Sandman, Ms. Leeden has sharpened her pencil to prospect for projects which may be non-core assets for the world's largest gold company.
After reviewing hundreds of projects, Ms. Leeden has generated a shortlist of assets: "It takes us as much time and energy to develop a 200,000-ounce project as it does a 10-million-ounce project. So, we're looking for big projects and we're going to keep rolling the dice until we get one."
Gold Bull Resources pursues properties that might not necessarily be deemed "high value" to others, but in the hands of the right team, CEO Leeden points out, can become "an extremely valuable asset…we firmly believe that big discoveries are going to be those undercover deposits… and worth the additional costs involved with going to the extra effort."
In addition to their past successes of employing their exploration expertise in various junior companies, the industry and shareholder excitement over Gold Bull is evident in their overall corporate strategy of combining smart acquisitions with their expert exploration. CEO Leeden, along with chairman Parry and Exploration VP Johnson are focusing on getting those ounces at the best value, whether through exploration or acquisition, as their core team operates fluently with either approach when deciding which will generate the best value per ounce.
If you are interested in an early investment and want to understand the potential for making the next Nevada gold discovery and adding ounces through M&A we encourage you to visit goldbull.ca to learn more. Don't make an investment before consulting with your financial advisor and read company profiles on www.SEDAR.com for important risk disclosures.
---
Securities Disclosure: At the time of writing, the author holds direct investment interest in Gold Bull Resources and other companies mentioned in this article and may choose to buy or sell at any time without notice. I was paid by Gold Bull Resources for this article.
Important Disclaimer: The work included in this article is based on current events, technical charts, company news releases, and the author's opinions. I am not a certified financial analyst, licensed broker, fund dealer, exempt market dealer nor hold a professional license to offer investment advice. We provide no legal opinion in regard to accounting, tax or law. Nothing in an article, report, commentary, interview, and other content constitutes or can be construed as investment advice or an offer or solicitation to buy or sell stock or commodity. Information is obtained from research of public media, news, original source documents and content available on the company's website, regulatory filings, various stock exchange websites, and stock information services, through discussions with company representatives, agents, other professionals and investors, and field visits. While the information is believed to be accurate and reliable, it is not guaranteed or implied to be so.