Written By: James McClelland
Desert Star Resources Ltd. (TSX: V.DRS, Forum) has taken a major step forward by completing the acquisition of the Kutcho copper-zinc-silver-gold project in northern British Columbia.
Desert Star, which is changing its name to Kutcho Copper Corp., has acquired a 100% interest in the Kutcho project from Capstone Mining Corp. six months after announcing a cash ($28.8 million) and stock deal that resulted in Capstone agreeing to own a 9.9% stake in Desert Star.
Desert Star's stock symbol will also change to KC on the TSX Venture Exchange.
The acquisition of the Kutcho project represents a transformational growth opportunity for Desert Star and its shareholders, said the company's President and CEO Vince Sorace. Closing of the transaction is yet another sign that promising mining projects are finding a clear path towards production as sentiment in metal market improves.
Backed by a $100 million financing package arranged with Wheaton Precious Metals Corp. (TSX: WPM, WPM NYSE, Forum) Kutcho is an exceptional opportunity with significant near-term upside potential in both the project economics and expansion of existing mineral reserves and resources, Sorace said.
The project is located approximately 100 kilometres east of Dease Lake and from Highway 37 it's roughly 6 hours to truck concentrates from to the port facilities at Stewart.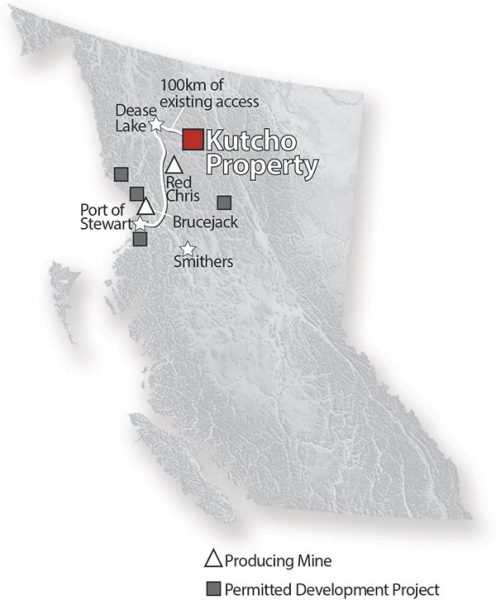 Mineralization on the 17,060-hectare property is hosted in three known volcanic massive sulphide (VMS) deposits. The largest is the Main deposit. The other two are Sumac and Esso.
According to an updated pre-feasibility study that is based on a 1% cut-off copper grade, measured an indicated reserves at the site stand at 16.8 million tonnes grading 1.89% copper, 2.87% zinc, 0.36 grams per tonne gold and 32.8 grams silver per tonne.
In addition to that is an Inferred mineral resource of 5.8 million tonnes grading 1.33% copper, 1.64% zinc, 0.24 grams per tonne gold and 23.2 grams per tonne silver for a 1.79% copper equivalent.
By lowering the resource cut-off grade to 1% copper from previous estimates at 1.5% the company increased the measured and indicated resource by 50% or 5 million tonnes, currently not included in the project economics.
The updated pre-feasibility study used the same mine plan as an earlier pre-feasibility study based on copper cut-off grades of 1.5% for Main zone and 1.0% for Esso zone. This pegs the probable mineral reserve at 10.4 million tonnes, averaging 2.01% copper, 3.19% zinc, 0.37 gold per tonne and 34.61 grams silver or 2.71% copper equivalent.
The current probable reserve is expected to support a 12-year mine life with a 2,500 tonne-per-day production rate. Total payable production over the life of the mine would be 378 million pounds of copper, and 473 million pounds of zinc, plus by-product gold and silver.
Average annual production is forecast at 33 million pounds of copper and 42 million pounds of zinc, plus by-product gold and silver. However the company aims to double the production rate from 2017 forecasts to 100 million pounds of copper equivalent annually.
Initial capital costs, including a 15% contingency, are estimated at $220.7 million.
The company said the $50 million spent on the project to date has provided the basis for the prefeasibility studies as well as updates utilizing lower copper cut off grades. That work has already pointed to several drill ready targets that are prospective for the discovery of new deposits.
Desert Star will be able to complete the Kutcho acquisition after lining up financial backing from Wheaton Precious Metals, the world's largest silver and gold streaming company.
Under an agreement announced in August, 2017, Wheaton will pay Desert Star US$65 million in cash for up to 100% of the payable silver and 100% of the payable gold from Kutcho.
In addition, Wheaton has agreed to make ongoing payments to Desert Star equal to 20% of the applicable spot prices of silver and gold delivered. Desert Star would also receive and additional US$20 million should the processing capacity of the mine increase to 4,500 tonnes per day or more within five years after the mine enters the commercial production stage.
That would mark an increase from the 2,500 tonnes per day contemplated in the 2017 prefeasibility study.
Under the precious metals purchase agreement, Wheaton committed to advance a US$7 million early deposit to fund expenses tied to a feasibility study.  Desert Star will receive the balance of the US$65 million in a series of installments during the construction phase.
Wheaton also pledged to participate to a maximum of $4 million in an equity financing. Proceeds were earmarked in part to fund the Kutcho Project acquisition.
As a result, the total financing package agreed to with Wheaton now exceeds $100 million and includes a $20 million subordinated secured convertible term debt loan.
In addition to paying project acquisition costs, the package will enable Desert Star to finance the completion of a feasibility study and project permitting.
On December 8, 2017, Desert Star said it has closed a $14.6 million private placement comprised of 22,498,807 subscription receipts of the company's wholly-owned subsidiary Desert Star Holdings Corp., which was previously announced on November 2, 2017.
The subscription receipts were priced at $0.65 which entitled the holder to receive one unit of the company consisting of one common share and one half of one common share purchase warrant. Each whole warrant entitles the holder to acquire an additional common share of the company at $1 per share for 36 months following conversion of the subscription receipts into underlying units.
Priced at 45 cents, Desert Star shares have been halted since they announced their plans to acquire the high-grade Kutcho project in June. Investors have been anxiously awaiting today's announcement and expect trading to resume in a couple days.