Share Price: C$0.77 | Market Cap: C$42.9mm |Shares Outstanding: 55.79mm | 
Stock Options: 4.30mm | Insider Ownership: ~45% | Cash & Cash Equivalents: C~$5.6M
52W High-Low: 0.95 / 0.40| YTD Price Return: 16.32% (Market data as of 16th February 2021.)
Company & Property Overview
E79 Resources is a mineral exploration company focused on exploring for Fosterville-type gold mineralization at its Beaufort and Myrtleford properties in the Victorian Goldfields, Australia, which were acquired in October 2020. The Company continues to evaluate corporate development opportunities in the underexplored and historically prolific Victorian Goldfields. See the map below for a layout of the region.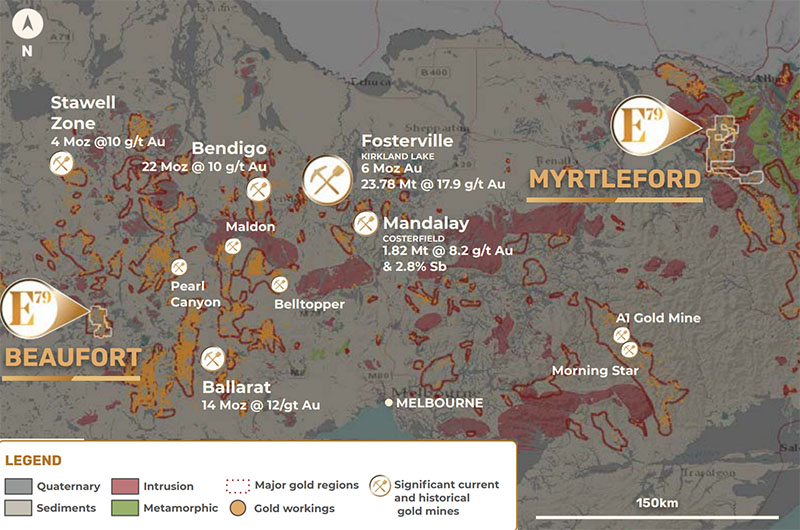 What is so special about this goldfield? Well, the region is a Tier-1 gold jurisdiction with a rich history producing 80 million ounces ("Moz") of gold. The region has only recently been reactivated following decades of underinvestment. 
The newfound attention is largely due to the world-class Fosterville gold deposit, which is one of the highest-grade deposits globally (23.87 M/t @17.9 g/t). The active mine is owned and operated by Kirkland Lake and is expected to produce between 400-425,000oz in 2021 at an operating cash cost of $230-$250/oz.
Beaufort Property (Flagship Property)
Beaufort is a granted exploration tenement located in the southwest of Victoria approximately 145km west of Melbourne, the capital of the State of Victoria. It is approximately 48km west of the regional town and historic gold mining centre of Ballarat.
At Beaufort, there is an opportunity to explore for a hard rock source of a major alluvial goldfield along a structure that is known to host gold in the region. Alluvial is a term that refers to soil sediments and other deposited matter that is left behind by flowing water. When the beds of rivers or streams are scooped and panned for gold dust, the product is referred to as alluvial gold.
This Goldfield has been extensively mined in the past almost exclusively for alluvial gold, with an estimated 1.16 Moz of historical production. Local primary sources for the alluvial gold have not yet been identified, which presents a huge opportunity going forward.
Just last month, the Company defined the first drill targets at the field and announced the commencement of new soil grid sampling at Beaufort in support of a new gold target area. The new grid has been designed to test an area over which gold nuggets up to 1.9g have been recovered by the exploration team (see image below). The nature and size of this discovery has led the exploration team to believe it is from a proximal source.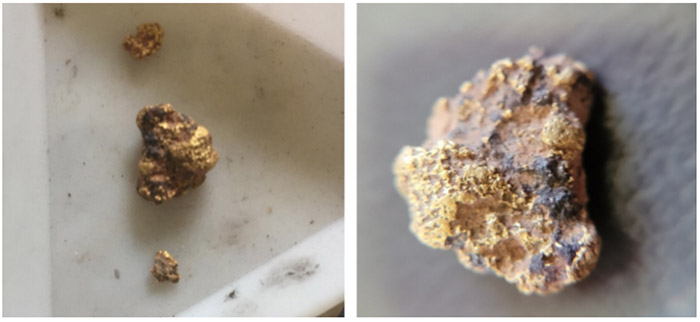 Just like old time prospectors, present day geologists find evidence of gold which has not travelled far.
E79 Resources Investment Thesis
Strong Area Play: The Fosterville Gold mine is currently the highest grade and lowest cost gold mine in the world but the deposit started as a low-grade oxide shallow gold mine which didn't garner much attention at first. It was only till Kirkland Lake began exploring down plunge at depths following the hard rock source that it found gold deposits which kept getting richer and richer as they kept exploring.
Today it is considered as one of the most profitable mines in the world. This tier one asset has attracted a lot of explorers to the area and what we are seeing at Beaufort in particular, is the classic gold-arsenic-antimony signature, similar to the fingerprint we see at Fosterville. Following these high-grade shoots could be extremely rewarding in the near future.
Limited Exploration Work Till Date: Exploration tenements for the Beaufort goldfield have been held almost continuously since the 1960s. However, despite the attractiveness of the target area, exploration work for bedrock sources of gold has consisted of limited and unsystematic soil sampling, rock sampling, mapping, limited ground magnetics and shallow drilling (mostly up to 20 metre depths), with only a few reverse circulation holes penetrating the oxide zone.
This represents a unique opportunity for the Company to systematically evaluate and drill test the target area and associated anomalies which the management believe is the source of the alluvial production.
Proficient & Competent Leadership Team: These properties were secured by their partner who first got a look at Beaufort when he was at BHP in the 90s. BHP exited the gold sector so he jumped on the asset in 2017/2018 following the big Swan Zone discovery at Fosterville.
The Company is backed by extremely talented and accomplished leaders. The CEO, Rory Quinn, has over 15 years of market experience in the global gold mining space. As the former Director, Investor Relations, at Wheaton Precious Metals, Rory has been involved in reviewing hundreds of mining companies & assets to find high-quality investment opportunities globally. 
The Technical Director of the Company, Martin Pawlitschek, is an International mining professional with over 20 years experience. He has held key management positions with several junior explorers, private equity investment funds, majors (BHP) as well as development companies (MDL, Teranga).
Roadmap Going Forward
2021 will be a busy year for E79 Resources. Just last week the Company announced that it has secured the services of a Victorian-based exploration drilling company. The Company plans to commence the maiden diamond drilling program at its high-priority Happy Valley gold target on the Myrtleford Property in Q1 2021.
Upon completion of the Happy Valley drill program, the drill rig will be mobilized to undertake the maiden drilling campaign at the Beaufort Property. This is in line with the Company's plan to drill test its highest priority targets on an aggressive timeline throughout the remainder of the year. 

The Bottom Line
E79 Resources is a new company which currently might not be on an investor's radar. However, this will change once drilling starts. Having closed a C$6M financing in December, E79 Resources is well capitalized to see through its drilling & exploration schedule for the year. 
E79 now has the opportunity to apply modern exploration techniques and technology in highly underexplored districts within a major gold province. This Company could be a good play for investors who are not completely risk averse. Given the historic significance of the Victorian Goldfield, the potential payout in case of successful discoveries here could be massive.
Securities Disclosure: At the time of writing, the author holds no direct investment interest in any company mentioned in this article. I was paid by one of the companies for this article.
Important Disclaimer: This is a paid advertisement and is intended solely for informational and educational purposes. The work included in this article is based on current events, technical charts, company news releases, and the author's opinions. I am not a certified financial analyst, licensed broker, fund dealer, exempt market dealer nor hold a professional license to offer investment advice. We provide no legal opinion in regard to accounting, tax or law. Nothing in an article, report, commentary, interview, and other content constitutes or can be construed as investment advice or an offer or solicitation to buy or sell stock or commodity. Information is obtained from research of public media, news, original source documents and content available on the company's website, regulatory filings, various stock exchange websites, and stock information services, through discussions with company representatives, agents, other professionals and investors, and field visits. While the information is believed to be accurate and reliable, it is not guaranteed or implied to be so. The material on this site may contain technical or inaccuracies, omissions, or typographical errors, we assume no responsibility. Gold-report.com is a wholly-owned domain of Streetcents Investor Media Ltd. ("Streetcents"). Streetcents has been paid a fee for E79 Resources Corp. advertising and digital media from the company. There may be 3rd parties who may have shares of E79 Resources Corp. and may liquidate their shares which could have a negative effect on the price of the stock. This compensation constitutes a conflict of interest as to our ability to remain objective in our communication regarding the profiled company. Because of this conflict, individuals are strongly encouraged to not use this editorial as the basis for any investment decision. Streetcents does not warrant or make any representations regarding the use, validity, accuracy, completeness or reliability of any claims, statements or information on this site. It is provided in good faith but without any legal responsibility or obligation to provide future updates. I accept no responsibility, or assume any liability, whatsoever, for any direct, indirect or consequential loss arising from the use of the information. All information is subject to change without notice, may become outdated, and will not be updated. A report, commentary, this website, interview, and other content reflect my personal opinions and views and nothing more. All content of this website is subject to international copyright protection and no part or portion of this website, report, commentary, interview, and other content may be altered, reproduced, copied, emailed, faxed, or distributed in any form without the express written consent of Streetcents Investor Media Ltd.
Always thoroughly do your own due diligence and talk to a licensed investment adviser prior to making any investment decisions. Junior resource companies can easily lose 100% of their value so read company profiles on

www.SEDAR.com

for important risk disclosures.