The world's largest gold miners are joining forces as part of a major overhaul of the global gold industry, and Nevada is at the epicenter. It's no surprise — the state is recognized as one of the world's top jurisdictions for gold, and the precious metal is Nevada's most valuable export. Total gold production to date is more than 225 million ounces, from some 600 past and current gold mines.
The numbers back up Nevada's continuing importance. Current annual production of 5.6 million ounces (2017) is higher than other top jurisdictions such as Canada, South Africa, and Mexico. About 4.1 million of those gold ounces come out of the three mine complexes that comprise the new Barrick/Newmont joint venture, now called Nevada Gold Mines. In fact, Nevada produces more gold annually per square kilometre than any other jurisdiction on Earth.
And it's not just about the ounces. Nevada has become an important profit center for both Barrick and Newmont, Nevada's two largest players. The Nevada JV will produce some 4.1 million ounces of gold annually at low cash costs, according to Barrick, not to mention JV synergies of $5 billion. Cost savings are a primary motivator for a challenged sector and Nevada has been a top jurisdiction for large scalable operations.
Nevada's 2017 production of 5.6 million ounces is impressive. However, it's only part of the story. Gold output in Nevada has actually declined 40% since peak production levels in 1998. And that statistic reveals a lesser-known part of the Nevada gold story.
A valuable but depleting resource
During the last 160 years, since the first rush of prospectors in 1859 to Nevada's famous Comstock Lode gold and silver discovery, geologists have effectively and exhaustively explored and banged on virtually every rock they can see at or near the surface, the results of which are the 600 past and current producing gold mines in the state.  While the total number of mines is large, in terms of the total number of ounces, the vast majority of Nevada's gold production has come from a much smaller number of large deposits, specifically Carlin-type gold deposits (CTGDs).  Nevada CTGDs have a combined endowment of more than 250 million ounces, which is even more concentrated when you realize 85% of these CTGD ounces come from only four clusters or "camps" of deposits: Carlin, Cortez, Getchell, and Jerritt Canyon.
Bulk of Nevada gold produced from four clusters
Total CTGD endowment = 250Moz Au
600 mines scattered statewide
85% of gold production centered around 4 clusters
Most investors are well aware of Nevada's mineral wealth and its now famous CTGDs, but they may not know why the state is so well-endowed. Nevada's incredible CTGD endowment is the product of unique geology — the right host rocks in contact with the right structures that have brought up the right hydrothermal fluids that contain enough gold to be concentrated over time – which together provide the perfect setup to create these monster gold deposits.
CTGD gold is so fine it's not visible to the naked eye, which explains why these deposits were passed over and remained unknown for the first 100 years of Nevada's mining history. But once exploration geologists identified how these building blocks come together as the source of the richest gold mineralization in Nevada, they quickly went to work.
Armed with this knowledge, during the 1980s and 1990s, explorers discovered large new CTGDs in Nevada every couple of years. While Nevada is still a beehive of gold exploration, after more than three decades of intense exploration for CTGDs, the rate of major discoveries has now fallen to only about one per decade, and in fact the last near-surface CTGD discovered was Long Canyon, almost 20 years ago (in 2011 Newmont paid CA$2.3 billion to acquire Mark O'Dea's Fronteer Gold and the Long Canyon project).
With such a radical decrease in discoveries and only about 108 million ounces of remaining gold reserves, Nevada's mines have only about 20 years of production left at current levels. This lack of new major discoveries is much bigger than just a Nevada problem — it's no secret that new gold discoveries are lacking worldwide. Many analysts believe the world is heading to peak gold production as early as 2021.
Where is Nevada's real potential to uncover Carlin-type gold deposits?
Nevada is uniquely made up of an alternating landscape of parallel mountain ranges and valleys, known as basin and range topography. The valley basins make up more than half of Nevada's land area, where over time the erosion off the mountains has covered the bedrock under 10s to 100s of meters of sand and gravel.
Most of the gold produced to date from Nevada has been discovered in near-surface bedrock areas surrounding the mountain ranges, where the bedrock rises up from beneath the sand and gravel in the valley basins. With a strong understanding of the building blocks of CTGDs and modern exploration tools, geologists built effective tools for exploring near-surface bedrock areas largely sticking out of the ground, and have tirelessly evaluated virtually every scrap of visible bedrock along Nevada's mountain ranges. But what these explorers have mostly skipped is exploring the bedrock that is buried under sand and gravel in its valley basins.
The geology and prospectivity of the bedrock beneath Nevada's valley basins is equally prospective to that of its near-surface bedrock, though because cost-effective tools to detect gold mineralization under cover have simply not existed, these vast basins (that make up more than half of Nevada) remain largely unexplored. The consensus among experts is there is no reason not to believe another 200+ million ounces is yet to be discovered beneath Nevada's valley basins, representing an incredible opportunity for explorers able to develop new under cover exploration technology.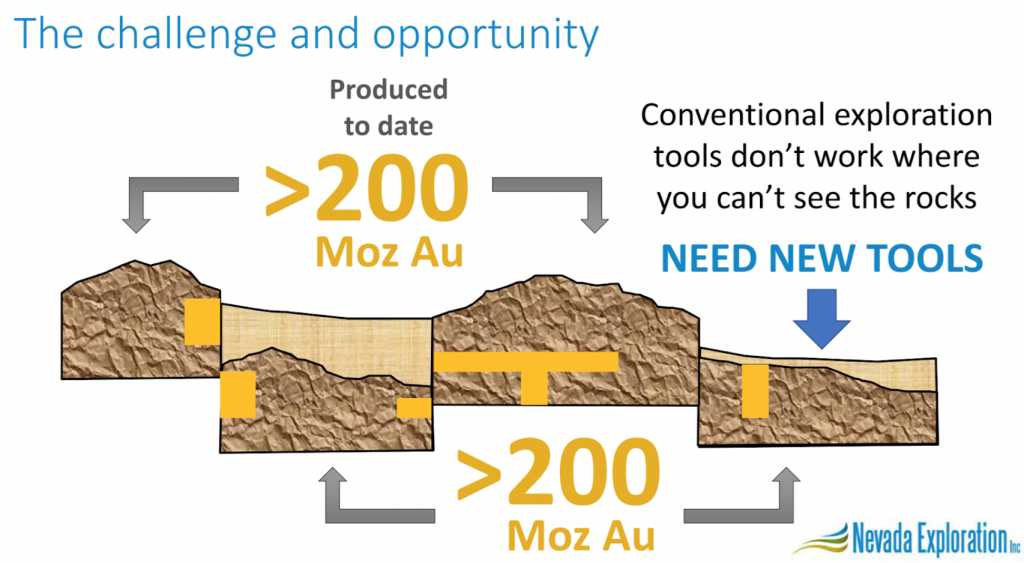 With incredible riches hiding beneath the covered valleys in Nevada, as well as across other large covered areas in most of the world's mature mining jurisdictions, it's not surprising that eventually science would find new techniques to open up these new exploration search spaces under-cover. And many of the world's largest mining companies, such as BHP, are allocating big money towards the strategy. Jean des Rivieres, BHP's VP of exploration for copper, recently told Mining Journal that they have made the decision to spend 85% of the company's global exploration budget on searching for new, large and high-quality deposits under cover.
Enter junior mining company Nevada Exploration Inc. (NGE:TSXV), which has invested more than $20M to become a leader in under-cover exploration, specifically targeting new CTGDs hidden beneath Nevada's valley basins. Nevada Exploration has developed new exploration technologies to build a complete under-cover toolbox to systematically open up Nevada's valleys for gold exploration. With these technologies, the company is now using gold and other pathfinder trace elements directly present in groundwater as a detection tool to explore for the next round of multi-million-ounce CTGDs in Nevada under cover – effectively Nevada 2.0.
The leader in a new geological race
In the last several years Nevada Exploration has built the largest groundwater chemistry ("hydrogeochemistry") database in Nevada, consisting of more than 6,000 water samples collected by the company plus 50,000 government samples. Nevada Exploration has tested and oriented its hydrochemistry technology at more than 30 gold mines in Nevada, and with recent exciting results from the Phase 1 diamond drilling program at its most advanced project, South Grass Valley, the company has demonstrated the effectiveness of its technologies in potentially unlocking a new wave of under-cover discoveries — not just in the state, but globally.
Nevada Exploration has lined up a talented team as it executes its strategy. The management team has a combined 69 years of experience in Nevada alone, including involvement in finding over 37 million ounces of gold. Wade Hodges, Nevada Exploration's CEO, was the senior exploration manager for Sante Fe Pacific Gold prior to the US$2.5-billion merger with Newmont.
Dennis Higgs, an industry veteran of over 30 years, came on board as chairman in 2015. Before joining Nevada Exploration, Higgs was executive chairman of Uranerz Energy, which was purchased for $175 million by uranium producer Energy Fuels. Higgs says he signed on because of the potential in Nevada Exploration's science-based approach. "I think it's one of the most promising gold exploration companies I've seen in my career, because they've built this incredible database."
The latest addition is Simon Griffiths, who joined Nevada Exploration as a technical advisor in February, 2019. Mr. Griffiths has relevant experience as Barrick's former Chief Geochemist Global, where he worked closely on improving the exploration model for CTGDs based on the large datasets that Barrick has built at their Nevada projects.
With a combined 30% ownership of the stock, Nevada Exploration insiders have a big incentive to create shareholder value by delivering a discovery.
Today, the company is using its growing exploration database to vector in on new exploration targets across its three district-scale projects in the heart of Nevada's CTGD country, which together cover more than 150 square kilometers. Building from the momentum from its recently completed Phase 1 drilling program at the South Grass Valley, Nevada Exploration has begun its Phase 2 drilling program at the project and is gearing up for a busy 2019 summer field season.
To follow the hunt for the next multi-million-ounce gold deposit in Nevada, subscribe here.
---

Securities Disclosure: At the time of writing, the author holds no direct investment interest in any company mentioned in this article. I was paid by one of the companies for this article.
Important Disclaimer: The work included in this article is based on current events, technical charts, company news releases, and the author's opinions. I am not a certified financial analyst, licensed broker, fund dealer, exempt market dealer nor hold a professional license to offer investment advice. We provide no legal opinion in regard to accounting, tax or law. Nothing in an article, report, commentary, interview, and other content constitutes or can be construed as investment advice or an offer or solicitation to buy or sell stock or commodity. Information is obtained from research of public media, news, original source documents and content available on the company's website, regulatory filings, various stock exchange websites, and stock information services, through discussions with company representatives, agents, other professionals and investors, and field visits. While the information is believed to be accurate and reliable, it is not guaranteed or implied to be so. The material on this site may contain technical or inaccuracies, omissions, or typographical errors, we assume no responsibility. Gold-report.com is a wholly-owned domain of Streetcents Investor Media Ltd. ("Streetcents"). Streetcents has been paid a fee for Nevada Exploration Corp. advertising and digital media from the company. There may be 3rd parties who may have shares of Nevada Exploration Corp. and may liquidate their shares which could have a negative effect on the price of the stock. This compensation constitutes a conflict of interest as to our ability to remain objective in our communication regarding the profiled company. Because of this conflict, individuals are strongly encouraged to not use this editorial as the basis for any investment decision. Streetcents does not warrant or make any representations regarding the use, validity, accuracy, completeness or reliability of any claims, statements or information on this site. It is provided in good faith but without any legal responsibility or obligation to provide future updates. I accept no responsibility, or assume any liability, whatsoever, for any direct, indirect or consequential loss arising from the use of the information. All information is subject to change without notice, may become outdated, and will not be updated. A report, commentary, this website, interview, and other content reflect my personal opinions and views and nothing more. All content of this website is subject to international copyright protection and no part or portion of this website, report, commentary, interview, and other content may be altered, reproduced, copied, emailed, faxed, or distributed in any form without the express written consent of Streetcents Investor Media Ltd.
Always thoroughly do your own due diligence and talk to a licensed investment adviser prior to making any investment decisions. Junior resource companies can easily lose 100% of their value so read company profiles on www.SEDAR.com for important risk disclosures.