J Taylor's Gold, Energy & Tech Stocks reviews Klondike Gold's $2 million 2019 drill program near Dawson City, Yukon
Review & Update:
Klondike Gold Corp.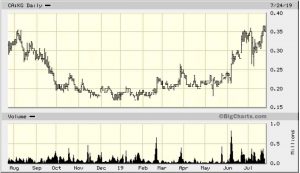 Klondike Gold (108.7 million shares @ C$0.35 = C$38 million market cap) – This is another of my personal favorites and top holdings. On July 22, Management provided  information about its drill program on its Klondike Property that is underway. Ongoing exploration work on the property over the past few years has led to an understanding of high-grade structural controls that if correct should give this stock a real shot in the arm. With the current program underway we shouldn't have to wait too long to find out if Peter Tallman and his team have figured out the puzzle.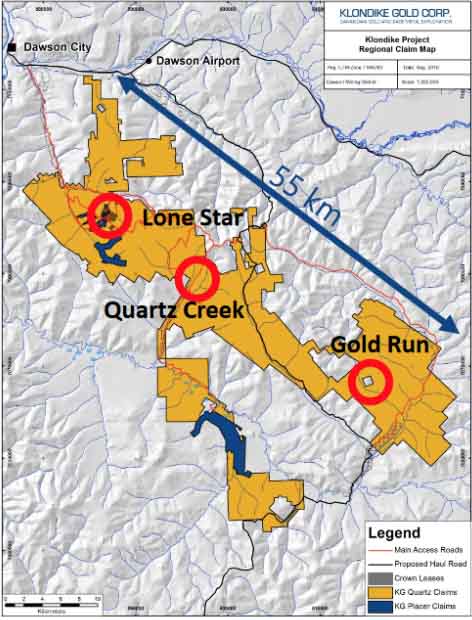 The program at Lone Star is calling for 15 to 20 holes over a total of between 1,500 to 2,000 meters. The program will target a 1-kilometer strike length to the east, with the objective of doubling the drilled length of gold mineralization.
The company has begun drilling on the Lone Star Zone, which is just one of many targets on the 576-sq.-km Klondike district scale property. The Lone Star Zone is located 20 kilometers from Dawson City, Yukon, by government-maintained road. Management can now confidently say that "it is hosted by Permian-age rocks of the Klondike schist unit and affected by younger orogenic thrust faulting, which has introduced gold mineralization." Peter Tallman and his team are also confident in saying, based on recent academic work, that "the Lone Star Zone is the significant bedrock source of alluvial placer gold mined from Bonanza Creek continuously since discovery in 1896." 
The last two holes drilled in 2018 on the east end of the Lone Star Zone intersected extended lengths of gold mineralization starting at or near surface, as outlined in the attached table.

Work at the Lone Star Zone from 2016 through 2018 has included 114 holes systematically drilled along a 1,000-meter length by 250-meter width (nominally) at 50-meter spacing, which have intersected disseminated gold over broad widths; 102 of these intersected extended intervals of interesting gold mineralization and 12 holes determined the upper and lower edges of the zone.
The Lone Star Zone is within a coincident 3.5-kilometer area of gold in bedrock known from prospecting and mapping. Note in the map above the presence of numerous adits/shafts and newly discovered gold mineralization from prospecting rock grab samples from the west end, which assay from 0.6 gram per tonne to 6.8 grams per tonne gold; and 10 prospecting samples from the east end, which assay from 4.1 grams per tonne to 38.5 grams per tonne gold.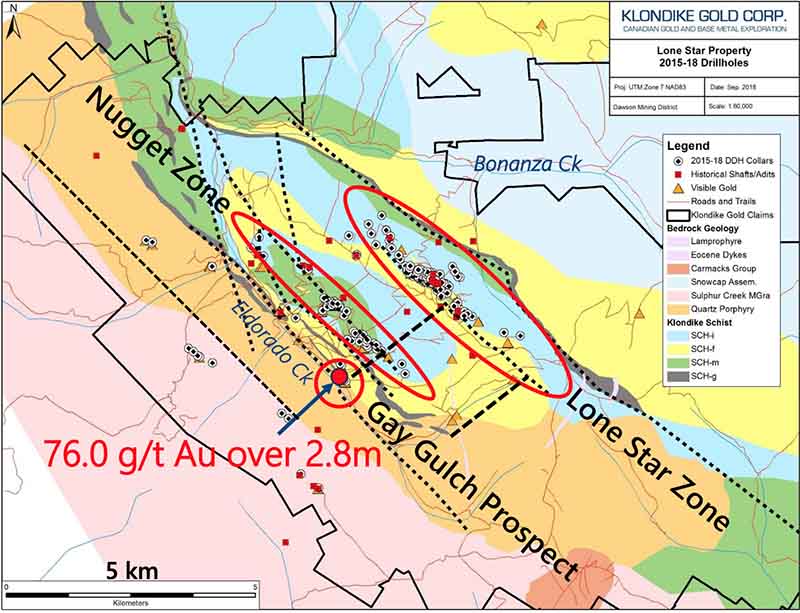 Work to date has established the existence of lower-grade disseminated gold mineralization exists that compares with the nearby Coffee Deposit owned by Newmont Goldcorp. But keep in mind, as Peter noted on my radio show, the theory of structural controls containing high-grade mineralization is where the major NW/SE fault intersects with smaller NE/SW trending structures, such as with the 76.0 g/t gold intersection over 2.8 meters shown in the illustration above. Drill results to come soon could drive this stock much higher.
---
J Taylor's Gold, Energy & Tech Stocks (JTGETS), is published monthly as a copyright publication of Taylor Hard Money Advisors, Inc. (THMA), Tel.: (718) 457-1426. Website: www.miningstocks.com. THMA provides investment ideas solely on a paid subscription basis. Companies are selected for presentation in JTGETS strictly on their merits as perceived by THMA. No fee is charged to the company for inclusion. The currency used in this publication is the U.S. dollar unless otherwise noted. The material contained herein is solely for information purposes. Readers are encouraged to conduct their own research and due diligence, and/or obtain professional advice. The information contained herein is based on sources, which the publisher believes to be reliable, but is not guaranteed to be accurate, and does not purport to be a complete statement or summary of the available information. Any opinions expressed are subject to change without notice. The editor, his family and associates and THMA are not responsible for errors or omissions. They may from time to time have a position in the securities of the companies mentioned herein. No statement or expression of any opinions contained in this report constitutes an offer to buy or sell the shares of the company mentioned above.  Under copyright law, and upon their request companies mentioned in JTGETS, from time to time pay THMA a fee of $250 to $500 per page for the right to reprint articles that are otherwise restricted solely for the benefit of paid subscribers to JTGETS.
To Subscribe to J Taylor's Gold, Energy & Tech Stocks Visit: https://www.miningstocks.com/select/gold