Tim Termuende, CEO of Taiga Gold (TGC, CSE), has kissed a lot of frogs in his 30+ year career as a geologist and exploration company executive.
Let's put it this way, Termuende has kissed so many frogs over the years that he's lost count! That's the way it works in metals and mining exploration. Nobody gets lucky until they've kissed a lot of frogs (and that assumes they ever get lucky at all, which is a huge assumption).
You learn to like it after awhile.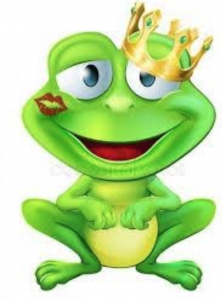 On those super rare occasions when a frog turns into a prince it's really something to behold. Finding a gold mine underneath a swamp or patch of what was previously thought to be moose pasture is very-very special indeed, almost miraculous.
I'm not being overly dramatic either because most geologists and exploration company executives never find a mine, ever. Despite their best effort they never-ever make a discovery that becomes a mine.
Can you imagine working hard your entire life only to never find what you were looking for?
Talk about frustration, that'd be freaking frustrating!
Kinda sad in a way too, but if every geologist discovered a gold mine then gold mine's wouldn't be super rare and valuable would they.
Although Tim hasn't found a "mine" yet, he and his management team have delivered some spectacular gains (four greater than ten-baggers for investors over the years) including several spin-outs. They're a very responsible group having never rolled-back any of their companies including the 25 year old mothership, Eagle Plains Resources (EPL-TSX-V).
You're reading this because you're doing some exploratory work of your own. You're mining the market (like I do) to find stocks with better than average odds of making a discovery.
You've probably even kissed a few frogs over the years, searching for that princely reward.
So don't stop reading now because you're only 3 feet from gold with Taiga. If you don't already own TGC, like I do, by the time you're done here I think you'll see what I'm seeing with TGC and why I believe the reward/risk equation is heavily stacked in our favor with TGC.
Taiga already found its prince charming in SSR Mining (SSRM, TSX), the world's best mid-tier mining corporation.
Therefore the odds of Taiga getting swept off its feet, living happily ever after, and making you money have been greatly improved.
The End.
Kidding… kidding… I kid. Our story continues. But in all seriousness, having a close working relationship with SSR Mining is a huge deal for Taiga. It separates them from their peer group almost entirely because Taiga is the only explorer that has a working exploration agreement in place with SSR Mining, the world's best mid-tier miner.
Said differently: Taiga's stock (TGC) is perhaps the only and purest way to play SSR Mining and gain significant leverage to SSR Mining from an "exploration-discovery" perspective. Knowing a bit about the industry you understand how great drill results don't really move the needle of a stock like SSRM because its already quite large, $3 billion market cap.
Conversely TGC could really ramp higher on great drill results from SSR Mining because Taiga is quite tiny, $14 million market cap (or 214-times tinier).
To be a successful speculator in exploration and junior mining stocks you've got to sniff out ways to gain leverage cheaply, while stacking the odds in your favor. You've gotta have an angle and Taiga provides that angle via its unique relationship with SSR Mining.
SSR Mining employs some of the smartest geologists in the industry and they know exactly what they're looking for at Fisher (arguably they've already found it too, starting with hole #35 but we'll get to that in a moment). Notice how significantly Fisher expands SSR Mining's land position, as highlighted in their investor presentation.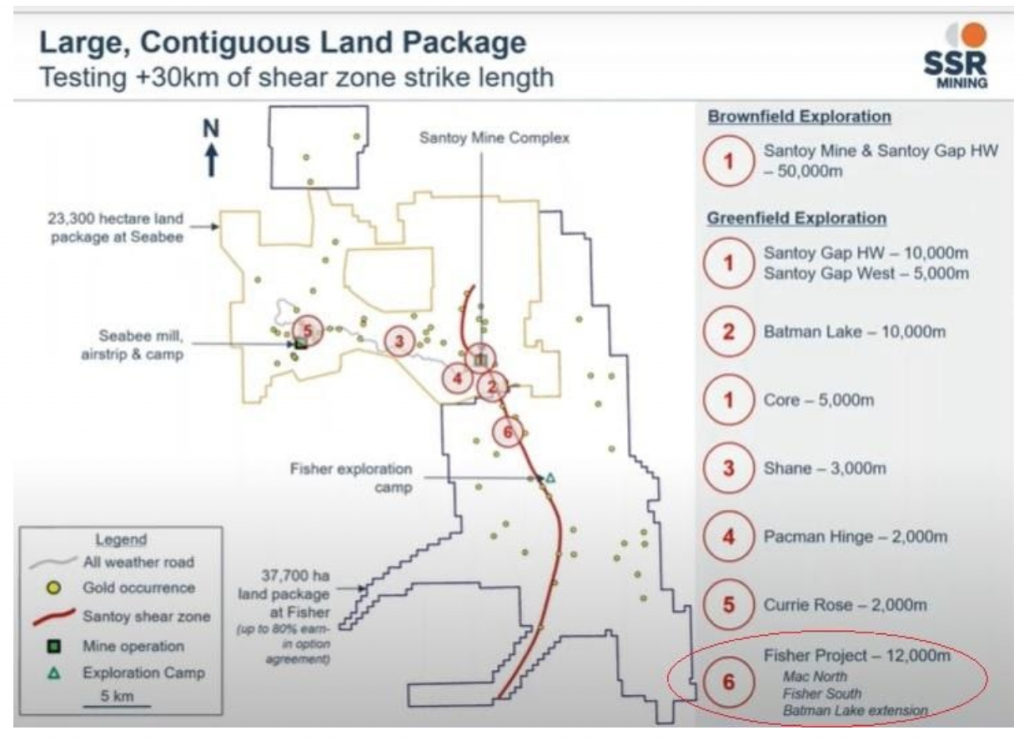 Shortly after buying the Seabee and Santoy mine complex for $337 million SSR Mining approached Taiga. They were interested in doing a deal with Taiga and exploring Taiga's Fisher project for obvious reasons. A 30+ km of shear zone extends from Santoy onto Fisher and gold occurs at surface over a vast area (btw. surface expressions are more easily visible than they would have been after fires burned much of the brush and overburden years ago).
Taiga may be the prince in a sense for SSR Mining, come to think of it, but who kissed who first doesn't really matter. It's been a productive working relationship for both parties. Although they are exploring separately, they are exploring the same geology for the same minerals in the same camp and they are always learning. There's an element of "knowledge sharing" going on between the two which should help lead to a discovery faster, important you realize that.
Since formalizing the Fisher project option agreement SSR Mining has been hitting the ground hard, work to date includes:
⦁ +21,000 Metres of drilling, 5,000+ soil samples, 1,000+ rock samples, 40+ person all season exploration camp in place, $7.8 million spent thus far, and a $4.5+ million budget for 2020
⦁ Numerous gold discoveries along a 13 kilometre trend of the Santoy Shear Zone, which extends directly from SSR Mining's high-grade Santoy Mine onto the Fisher Project.
Hole #35, the final hole drilled in last year's exploration program, suggests an economic discovery was already made. Even though I've sniffed that information out most market participants don't quite realize it yet. Hence the reason for my assessment that 2020 is more a year of "definition drilling" for SSR Mining as opposed to grassroots discovery drilling. And my assessment gains merit directly from comments made by their CEO Paul Benson. He's previously described some of the holes drilled to date as mineable, such as hole #35 that assayed 7.3 g/t Au over 1.5 metres.
A few flashier high-grade numbers over 100+ g/t Au have been in the mix too, but it's important to realize something in the neighborhood of 9+ g/t Au over 1+ metres width are "successful" because that's close enough to what's already in SSR Mining's mine plan.
The first batch of assay results from hole #35 follow up drilling are set to be released soon!
If SSR Mining publishes more results like hole #35 I expect TGC will breakout to new highs. The stock's got a little resistance at 15 and 20-cents, but after that nothing really.
Fisher is a vitally important exploration project for SSR Mining, especially longer term. It's critical they continue to have exploration success at Fisher because the Seabee Santoy mine complex is their most profitable operation (Gold prices in Canada are $2,380 per ounce or 28% higher than in the US). It's not their largest, but on a per-ounce of production basis it's SSR Mining's most profitable and they plan on expanding the mill to 1,050 tpd. Increased tonnage only increases the need for more ore, and Taiga's sitting pretty from that standpoint owning much of the ground surrounding SSR Mining's operation via the Fisher project joint venture, but also 100% owned grassroots projects such as Leland, Orchid, Chico and SAM.
Taiga also holds a 2.5% NSR over the entire Fisher project, which is nothing to sneeze at. Nobody knows what Taiga's 2.5% NSR could ultimately be worth, but given how badly SSR Mining wants to make a discovery and start mining it could be worth more than Taiga's entire $14 million market cap.
One thing we are quite sure of is SSR Mining won't quit until they find a brand new 1+ million ounce deposit — the 3rd prince!
Seabee and Santoy Gap are the first two.
It's a needle in a haystack, but there could be several needles hiding along this 30 km shear zone. Santoy Gap look-alike surface expressions have already been identified at Fisher (again, surface exposure dramatically improved due to fires) so they're in the process of zeroing in on the sweet spot.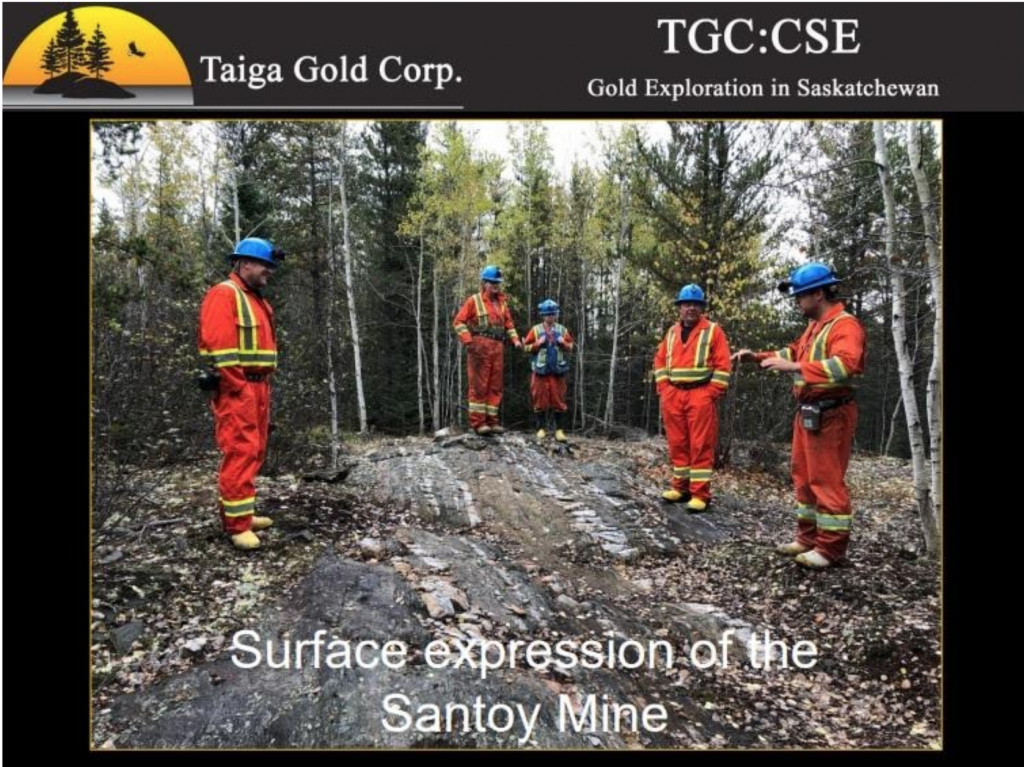 To reiterate, SSR Mining has some of the smartest geologists in the industry and they're gaining a better idea as per what the haystack and needles look like in this region. They won't stop until they find 'em — this is mission discovery!
SSR Mining's CEO Paul Benson about promised as much during a live town hall webinar in March, when he said: "We will be drilling there with enthusiasm for the next 4 or 5 years, at least." So while he wants a discovery ASAP he's publicly stating they've got the patience and persistence to keep trying until they do — this is mission discovery!
30+ g/t Au over 3+ metres would be fantastic, from the next batch of results that's coming soon. But keep in mind, when the news of the results come out, from SSR Mining's perspective success is anything grading 9 grams or better over widths of 1 metre or more. If you start to see more and more results from Fisher similar to those the prospect of SSR Mining buying Taiga outright (or Fisher specifically) improve even further.
All the while Taiga's team of geologists have been able to borrow brilliance here and there from SSR Mining and they've started applying this exploration expertise on 100% owned projects like Leland, Orchid, and SAM (Leland is located closer to their Seabee mine).
Bottom Line: If at first they don't succeed they'll try-try again. Termuende's team, Benson's team, Taiga, and SSR Mining will kiss as many frogs as it takes until they find their 3rd prince in Saskatchewan. It's a big system so geologists know Seabee and Santoy aren't the only 1+ million ounce mines. Collectively they've learned a lot about what not to do and where their discovery isn't, which sounds like a negative but it's really a positive, so it's just a matter of time and money (a little luck never hurt anybody either).
*Catalyst Alert: In early May Taiga Gold is expecting to publish the preliminary results from a 12,000m program planned for 2020
Daniel
(561) 596-5067
About the author: Starting out, Daniel was a stockbroker during his college years. At the age of 23 he founded his own Registered Investment Advisory (RIA) firm. Daniel is a full-time investor and miner of the markets, constantly digging for exceptional opportunities. Helping those companies get discovered and gain traction in the marketplace is Mr. Cook's main objective.
*Daniel is a shareholder of Taiga Gold and Taiga Gold is a sponsor of Daniel's work.
Securities Disclosure: At the time of writing, the author holds direct investment interest in a company mentioned in this article. I was paid by one of the companies for this article.
GENERAL NOTICE AND DISCLAIMER – PLEASE READ CAREFULLY. We are engaged in the business of marketing and advertising companies for monetary compensation. All content in our publication is for informational purposes only and should not be construed as an offer or solicitation of an offer to buy or sell securities. Neither the information presented nor any statement or expression of opinion, or any other matter herein, directly or indirectly constitutes a solicitation of the purchase or sale of any securities.
Viewers should always consult with a licensed securities professional before purchasing or selling any securities of companies profiled or discussed in our releases. It is possible that a viewer's entire investment may be lost or impaired due to the speculative nature of the companies profiled.