Written by Robert Sinn (@Goldfinger) originally published on ceo.ca, Jan 18, 2023
The goal of a mineral exploration company is to test a geological thesis by figuring out the composition of the rocks beneath the surface of the Earth in the most cost-effective manner possible. After all, the geology of the Earth doesn't change much, at least not on the time frame we are concerned with. However, poking countless drill holes into rocks without an intelligent exploration methodology will eventually drill through a lot of shareholder capital in the process.
An early stage exploration company is focused on making a discovery, without a discovery a junior mining company isn't worth much. With a discovery in hand, the next goal is to determine the size and potential economic value (average grade, metallurgy, etc.) of the discovery. Once a discovery is made it usually makes the most sense to gradually step-out in a systematic fashion from the area of known mineralization (the discovery holes). Exploration is an iterative process and each drill hole delivers new data from which to work with. It doesn't make much sense to drill wild step-out holes far away from the areas where the most data exists unless there is a very good reason to do so.
One exploration company that has made a recent discovery (in the last five years) and continues to expand upon that discovery in a cost-effective manner is Westhaven Gold (TSX-V:WHN, OTC:WTHVF). In January 2022, Westhaven delivered a maiden resource estimate (MRE) for the Shovelnose Property at a cost of roughly US$10/oz of gold (the MRE was generated through 145 drill holes for a total of 56,491 meters at an all-in cost of ~$250/meter) ; the MRE totaled 791,000 ounces of gold and 3,894,000 ounces of silver in the  Indicated category, AND 263,000 ounces of gold and 1,023,000 ounces of silver in the Inferred category.
Tuesday morning, Westhaven Gold delivered a monster bonanza grade intercept from the Franz Zone at its Shovelnose Project in southern BC, Canada. Hole SN22-333 intersected multiple intervals of bonanza-grade gold including:
3.70 meters of 39.27 g/t gold and 55.81 g/t silver
(30.00 – 42.00m) 12.00 meters of 39.42 g/t gold and 51.81 g/t silver, including 6.20 meters of 73.51 g/t gold and 92.37 g/t silver.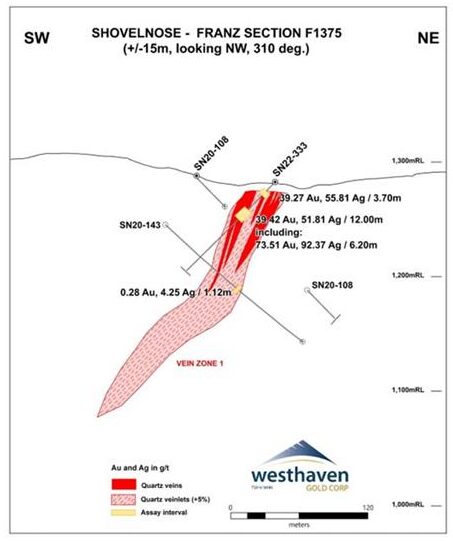 The Franz Zone was originally discovered in 2020 as a result of loggers clearing a significant amount of forest in the area exposing a large outcrop. Several epithermal experts that have been to Westhaven's Shovelnose Project have noted that Franz is the best-looking vein outcrop they have ever seen. Due to weathering, outcrops of this nature are rare as they have often been eroded away. It's likely that the source of the gold that sparked the Fraser River Gold Rush in the 1850s originated on/at surface and eroded into the rivers. There's potential that the gold is coming off one of Westhaven's 4 properties along this belt.
In its first update on the discovery of Franz on October 19th, 2020 Westhaven noted multiple impressive gold intercepts into the zone including 13.10 meters grading 4.86 g/t Au and 31.57 g/t Ag beginning 37 meters downhole.
The drill intercepts reported Tuesday morning (namely holes 333 and 334) serve to demonstrate the subsurface continuity of bonanza grade mineralization extending from immediately beneath the exposed bedrock outcrop to a depth of about 60 meters.
Furthermore, Westhaven now interprets the Franz Zone (originally discovered in 2020 through a vein outcrop at surface) to be a fault offset of the FMN Zone, both of which are part of the Vein Zone 1 structure that hosts other high-grade zones of gold/silver mineralization. There is excellent potential to find similar grades as seen in the news release to the NW of recent drilling along Vein Zone 1.
Westhaven Exploration Manager Peter Fischl explained the process that led to the success at Franz:
"Drilling continued through the Fall on Shovelnose, focusing on the FMN and Franz targets. A series of 50m spaced step-outs were completed on Vein Zone 1, tracing the zone northwestward to the Franz-FMN cross-fault. The zone and flanking rhyolite dykes are displaced by about 170m to the southwest, where they outcrop as the Franz showing. Drilling continued to Franz to confirm and better define higher grade mineralization at surface, immediately west of the cross-fault. This outcropping of Vein Zone 1 at Franz likely represents the uplift of the Franz block by tens of metres on the west side of the Franz-FMN cross-fault. "
Something else to pay special attention to with regards to the Franz Zone is that it's an outcrop and the mineralization starts at surface. Previous grab samples have netted grades up to 51 g/t Au while drilling has demonstrated bonanza grades exist at depth, too. It can be profitable for companies with easily accessible high-grade mineralization to sell it to offsite processing facilities.
Recent drilling at the FMN Zone has been less impressive with several holes returning no significant gold mineralization. However, Westhaven does have a history of drilling bonanza grades at FMN, including last year's hole 212 that returned 23.03 meters of 37.24 g/t gold and 209.52 g/t silver.
Once drilling resumes at Shovelnose in February, Westhaven plans to test the fault offset theory by exploring to the NW of the bonanza-grade hits at Franz, AND the open area to the SE of the FMN Zone.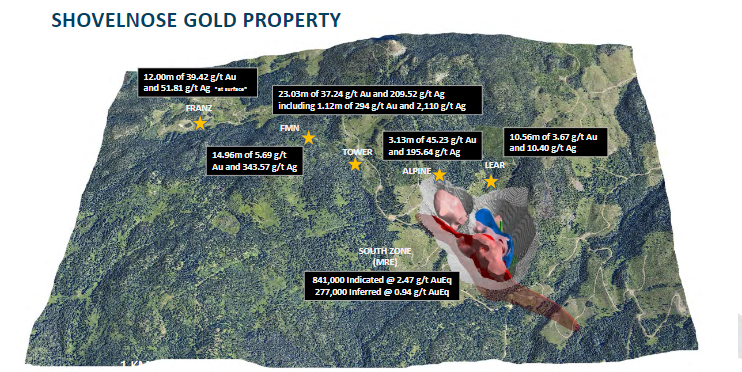 Another quote from Peter Fischl in Tuesday's release:
"The control of higher grades along Vein Zone 1 may in part be due to the presence of syn-mineral cross-structures, some of which may have been reactivated as post-mineral cross-faults, such as the Franz-FMN cross-fault. The higher grades encountered at Franz immediately west of the Franz-FMN cross-fault may be related to the intersection of Vein Zone 1 and this cross-structure. Vein Zone 1 is being reassessed for such structures, for example in the southeastern part of FMN towards the Tower Target, in an area of looser spaced drilling (100m+) that may have missed such mineralization."
Something that stands out to me is that these zones of bonanza grade mineralization are kilometers apart. The source of the bonanza grades is likely at depth and it has mineralized the Franz, FMN and South zone because conduits/faults etc. presented it with an opportunity to precipitate upwards and fall out of solution as temperature/pressures changed.
The most important aspect of the recent results from Westhaven is that exploration drilling at Shovelnose continues to find high-grade mineralized zones across more than 4 kilometers of strike extent. These types of low-sulphidation epithermal systems require a lot of drilling in order to fully delineate their potential, and Westhaven is well funded to do so. Westhaven continues to be an exciting gold discovery play with the choice set of assets in an underexplored gold belt in British Columbia.
---
Robert Sinn, also known as @Goldfinger, is a 19 year veteran trader & portfolio manager focused on US/Canadian equities, precious metals, junior mining, and biotech.
Disclosure: Author owns Westhaven Gold shares at the time of publishing and may choose to buy or sell at any time without notice. Author has been compensated for marketing services by Westhaven Gold Inc.
DISCLAIMER: The work included in this article is based on current events, technical charts, company news releases, and the author's opinions. It may contain errors, and you shouldn't make any investment decision based solely on what you read here. This publication contains forward-looking statements, including but not limited to comments regarding predictions and projections. Forward-looking statements address future events and conditions and therefore involve inherent risks and uncertainties. Actual results may differ materially from those currently anticipated in such statements. This publication is provided for informational and entertainment purposes only and is not a recommendation to buy or sell any security. Always thoroughly do your own due diligence and talk to a licensed investment adviser prior to making any investment decisions. Junior resource companies can easily lose 100% of their value so read company profiles on www.SEDAR.com for important risk disclosures. It's your money and your responsibility.