Klondike Gold Corp. (Toronto-KG/USOTC-KDKGF; 96.8 million shares @ US$0.24 = US$23 million market cap) – It's a sign of the times I'd say.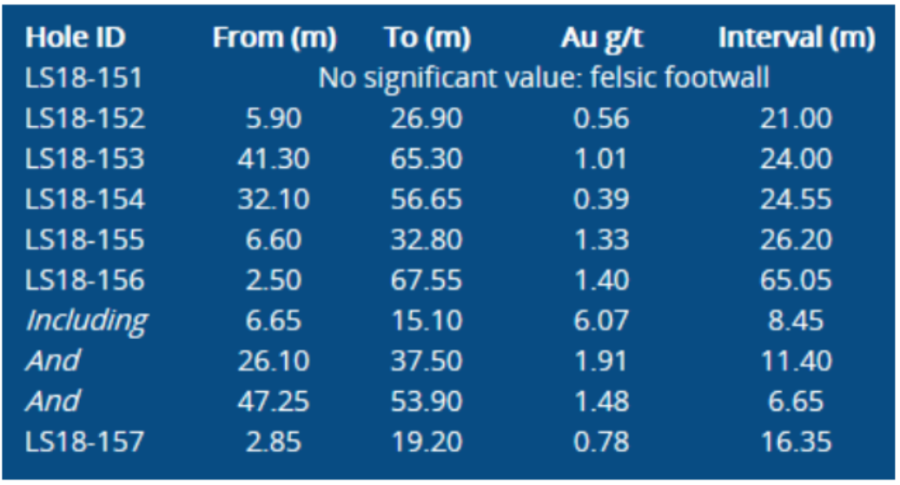 Companies these days have been reporting good drill results only to see their shares get hit hard to the downside. It happened for a second straight week to Klondike Gold Corp.
This week the company reported a headline 65- meter intersection grading 1.4 g/t gold including a 6.07-meter intersection grading 6.07 g/t gold along with a batch of other drill hole intersections showing broad widths of lower-grade disseminated gold.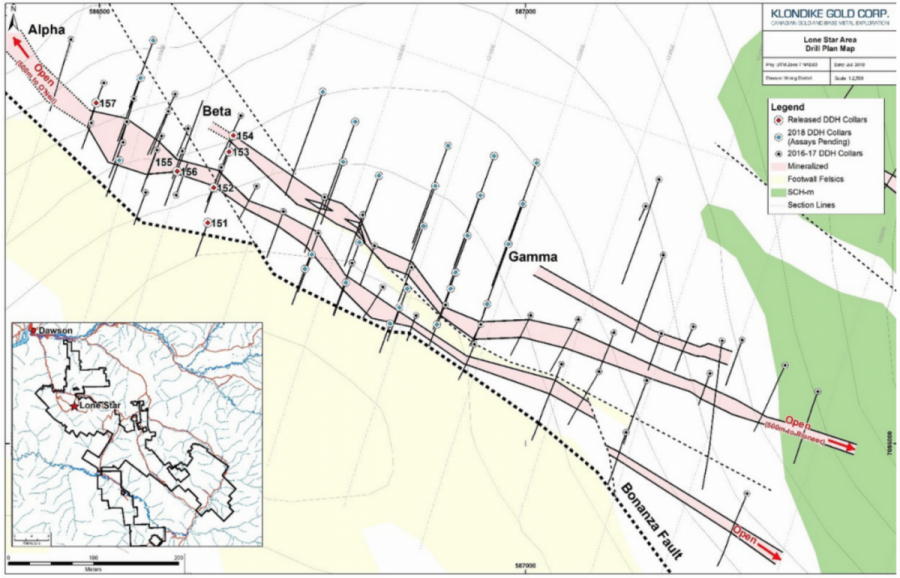 I believe that some of these assays were from drill holes that were drilled in the past but never assayed for disseminated gold in the schist units that surround the quartz veins. It was only a couple of years ago that Klondike Gold discovered disseminated gold on this project even though people have been exploring this project for the past 120 years. This is a real game changer for Klondike because it opens up the possibility of extensive open-pit mining on the project.
Assays from the six drill holes reported this past week are set out in the chart above right, and the location of those holes is shown on the map directly above. The small-time hit-and-run speculators in Vancouver who buy the rumor and sell the news may not be paying attention to this story, but all the big gold miners active in the Yukon are watching it like a hawk. What you see above is only the Lone Star Project, which is just one of several targets.
I spoke to Peter Tallman, the company's president, last week and he thinks the lack of attention to Klondike is simply a function of an almost total lack of interest in gold mining shares at this time. He noted that TSX-V index is near 700, which is the third-lowest point in 30 years, and a good measure of market disinterest and apathy. He also observed that investment in junior exploration stocks is these days almost exclusively provided by private equity (billionaires, etc.) or majors/intermediate mining companies—and the brokerage market/individual investor has all but disappeared. Given that, it broadly makes sense that the day-to-day market yawns on news of the sort that Klondike put out today. Peter Tallman said he imagines the world is sitting at the cottage, drinking lemonade, with their electronic phones unplugged and thrown in the sock drawer.
He went on to say, "With gold price being 'taken out behind the woodshed and thoroughly beaten' at US$1220, there is no positive sector sentiment either. I think this malaise may turn on political news (U.S. mid-term elections) and inversion in the bond market the following spring(?) as two catalysts. In the meantime, we are plugging along."
Then Peter said, "I think the results announced today will be some of the poorest of the Lone Star sectional drilling. It will be very interesting to internally calculate the average grade within the 550-meter strike we are testing this year. Soon we start new holes at Nugget, drilling next to good results, following it along strike like we did last year to begin definition at Lone Star. As I sit here in Dawson, just back from quick logging another visually good hole, I am confident we are on to something that, sooner or later, will wake people up."
J Taylor's Gold, Energy & Tech Stocks (JTGETS), is published monthly as a copyright publication of Taylor Hard Money Advisors, Inc. (THMA), Tel.:(718) 457-1426. Website: www.miningstocks.com. THMA provides investment ideas solely on a paid subscription basis. Companies are selected for presentation in JTGETS strictly on their merits as perceived by THMA. No fee is charged to the company for inclusion. The currency used in this publication is the U.S. dollar unless otherwise noted. The material contained herein is solely for information purposes. Readers are encouraged to conduct their own research and due diligence, and/or obtain professional advice. The information contained herein is based on sources, which the publisher believes to be reliable, but is not guaranteed to be accurate, and does not purport to be a complete statement or summary of the available information. Any opinions expressed are subject to change without notice. The editor, his family and associates and THMA are not responsible for errors or omissions. They may from time to time have a position in the securities of the companies mentioned herein. No statement or expression of any opinions contained in this report constitutes an offer to buy or sell the shares of the company mentioned above. Under copyright law, and upon their request companies mentioned in JTGETS, from time to time pay THMA a fee of $250 to $500 per page for the right to reprint articles that are otherwise restricted solely for the benefit of paid subscribers to JTGETS.
To Subscribe to J Taylor's Gold, Energy & Tech Stocks Visit:
https://www.miningstocks.com/select/gold