May could be the start of the slow season for resource investors, as history suggests, but that's not stopping EMX Royalty Corporation (TSXV:EMX) from making value-creating moves. After all, EMX's success in 2018 allowed its shareholders to enjoy a more than 39% return during the past 52 weeks (based on the current stock price of $1.63). All of which has positioned the Company to accomplish even more in 2019.
EMX Royalty began 2019 with $86.2 million in cash following the sale of a strategic investment in the Malmyzh copper-gold project to Russian Copper Company in late 2018, in which EMX received US$65 million for its stake. EMX Royalty paid approximately US$13 million for this asset just seven years earlier, which equates to a five-fold return.
In 2018, EMX generated royalty revenue of $2.1 million in North America and Turkey, approximately $1.84 million of which was realized from the sale of 1,116 gold ounces, at an average realized gold price of US$1,270 per troy ounce, from the Leeville royalty property that covers portions of Newmont Goldcorp's underground mining operations on Nevada's Northern Carlin Trend. EMX Royalty is encouraged by the potential to increase future revenue from this royalty with additional upside from Newmont's exploration, which extends southeast from the Leeville mining complex and encompasses EMX's royalty position. This coupled with a more positive outlook for the gold price in 2019.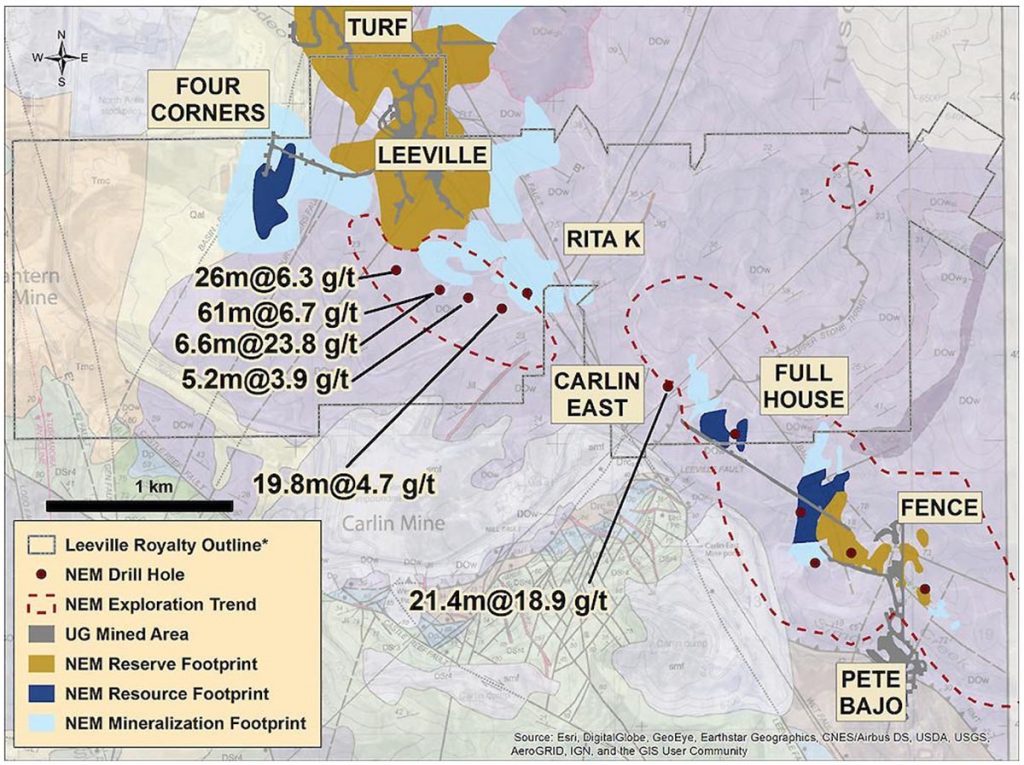 In Turkey, EMX received pre-production payments totaling $1.65 million in 2018 related to the Akarca royalty property. The Akarca agreement entitles EMX Royalty to receive pre-production payments of 500 ounces of gold every six months beginning February 2, 2017, up to a cumulative total of 7,000 ounces of gold. A pre-production total of 5,000 ounces of gold (or the cash equivalent) is still owing to EMX. This Royalty is uncapped and cannot be bought out or reduced. Also in Turkey, the Sisorta royalty property will provide annual payments to EMX Royalty of US$125,000 until commercial production begins.
The 'gem' of EMX's royalty portfolio, however, is the Timok Project royalty property in Serbia. The largest copper discovery in Europe, as often happens with world-class assets, has had multiple owners. In 2006, EMX Royalty sold its Serbian properties, including Brestovac West, to Reservoir Capital Corp. Reservoir Capital later transferred those interests to Reservoir Minerals and EMX subsequently acquired 0.5% NSR royalty interests covering the Brestovac and Jasikovo-Durlan Potok properties. These properties, along with Brestovac West, were included in the Timok Project controlled by Nevsun Resources after its acquisition of Reservoir in 2016.
Then, on September 5, 2018, Nevsun agreed to be acquired by China's Zijin Mining Group Co. Ltd. for C$1.86 billion, rejecting an offer valued at approximately C$1.4 billion from Lundin Mining. Zijin has aggressive plans to develop the area in which Nevsun's updated Pre-Feasibility Study on its Upper Zone estimated a 10-year mine life yielding approximately 1.7 billion pounds of payable copper and 516,000 ounces of payable gold. The Lower Zone, which is being developed in conjunction with joint venture partner Freeport-McMoRan, contains an initial Inferred resource estimate of 1.7 billion tonnes averaging 0.86% copper and 0.18 g/t gold.
EMX's Brestovac royalty covers both the Timok Project's Upper and Lower Zones, which should provide EMX millions in future revenue once the Project is put into production. Initial production is forecast to begin in 2022.
Here's 3 top reasons investors should be excited about EMX Royalty:
EMX has no debt and acquisition cash of $86 million ready to deploy
EMX has a Tier 1 asset in the pipeline
EMX has the exploration upside from completing 46 royalty deals
EMX Royalty's business model gives the Company an advantage over almost every explorer, as EMX has extensive discovery optionality as well as a sufficient cash cushion. EMX partnered another 16 projects in 2018, much more than any of their peers, with nine more added so far in 2019. Ramping up the deal flow is a testament to the team of entrepreneurial geologists leveraging the current markets to secure undervalued and overlooked projects and attract top tier partners. Take mining giant South32, for example. The two companies have come together on several Scandinavian projects and, more recently, in the United States, where EMX has 9000 mining claims. At the end of 2018 the pair formed a Regional Strategic Alliance covering Arizona, New Mexico, and Utah.
One of the most exciting base metals projects in the industry, the Hermosa Project in Arizona, is currently under development by South32. EMX has substantial upside from exploration drilling, which continues to expand the high-grade zinc-lead-silver Taylor Deposit into the adjacent Hardshell Skarn claim block, where EMX has a 2% NSR, uncapped. Investors should be amazed by how many new areas of high-grade mineralization have been added.
Each time EMX partners a project they receive shares and/or cash, a retained royalty, future annual and milestone payments and the partner must adhere to a structured work agreement to advance the project. EMX Royalty expects more than $20 million to be spent by its partners advancing EMX's portfolio during 2019, an increase from the $19 million spend all of last year.
This is an inflection point in EMX's history as the Company's shift from a prospect generator to the royalty model achieves their goal of sustainable royalty generation, royalty acquisition, and strategic investment activities with positive cash flow.
Recent large-scale Mergers & Acquisitions activity in the mining sector will likely create future investment opportunities for EMX Royalty given its substantial cash balance. For example, Barrick Gold said it has identified about $1.5 billion worth of assets that it intends to sell through next year, ones that will likely produce less than 500,000 ounces of gold each year. And, the newly-merged Newmont Goldcorp revealed it will sell $1 billion to $1.5 billion of assets over the next two years, focusing on those that do not have an internal rate of return of at least 15%, according to a Reuters report.
In a speech at the 2019 PDAC convention, Rick Rule said assets sold off by the Majors can turn into company-making acquisitions for resource juniors. Thus, royalty companies such as EMX Royalty can be a crucial source of funding for businesses that don't want to take on debt or shareholder dilution.