by @Goldfinger 
June 14, 2021
This morning's drill results from E79 Resources (CSE:ESNR, OTC:ESVNF) caused me to spit out my coffee upon reading the headline interval. E79 basically drilled into a jewelry store underneath historic mine workings at its Happy Valley Gold Prospect on its Myrtleford property in Australia's Victorian Goldfields. The sections of holes 2 and 3 that were expedited to the lab both delivered bonanza grade gold intercepts. Hole 3 in particular delivered eye popping numbers, including:
0.60 meters of 147 g/t gold

 from 165.20m downhole

11.10 meters @ 160.45 g/t gold

from 190.40m downhole including:

0.60m @ 2,430 g/t gold

from 190.40m

3.00m @ 126 g/t gold

 from 198.50m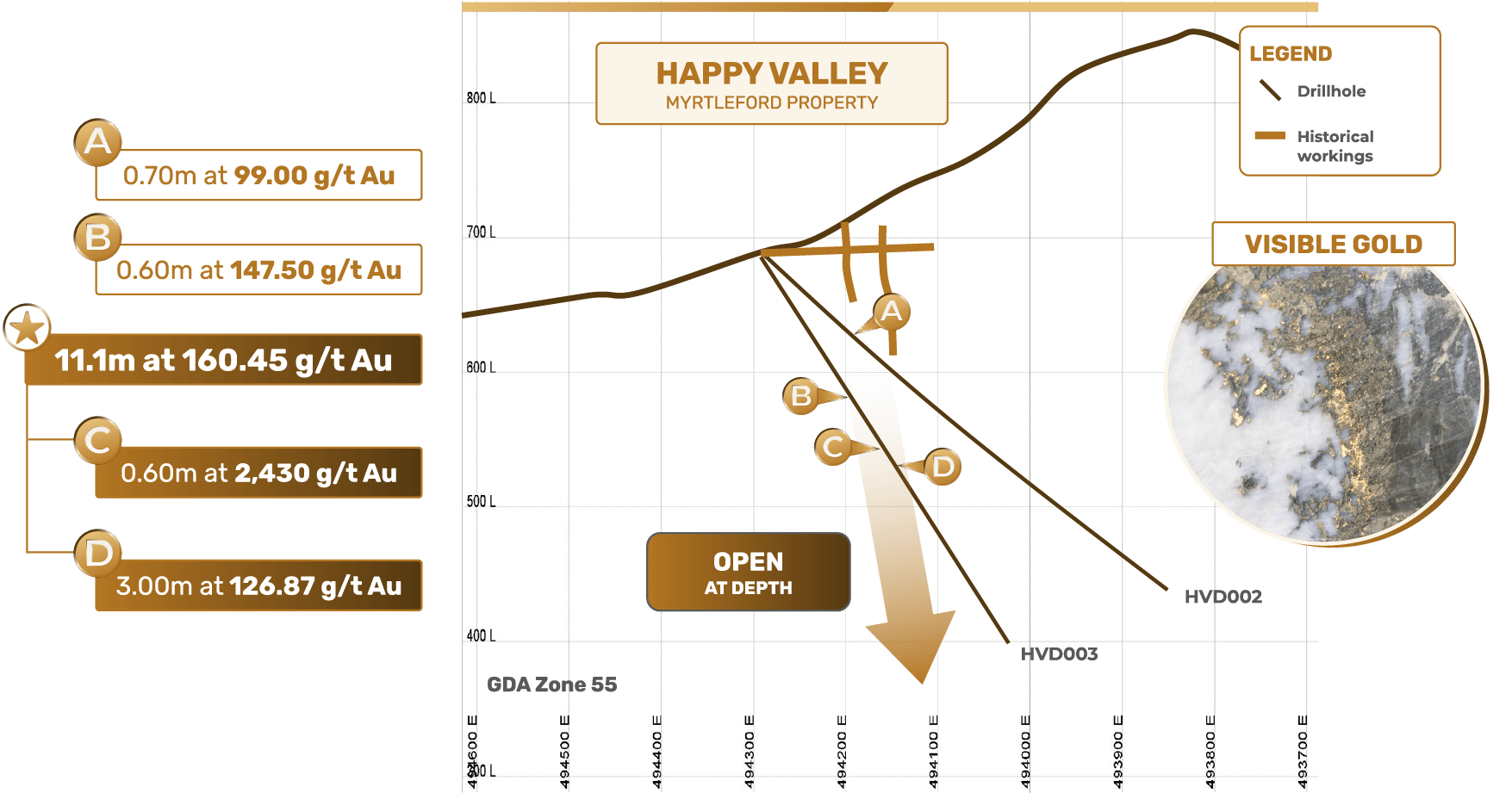 The company drilled four holes in total during phase 1 drilling at Happy Valley. The objective of Phase 1 drilling at Happy Valley was to test for down-dip extensions of previously mined high-grade quartz vein structures. The results of holes 2 & 3 demonstrate that not only do the high-grade vein structures continue down-dip, but that grades are increasing at depth.
There are assays pending from the rest of holes 2&3, and holes 4&5. E79 is currently drilling its Beaufort Project also located in the Victorian Goldfields, although the rig could be moved to the Happy Valley prospect at Myrtleford within a couple days.
A Systematic Modern Exploration Approach to Australia's Victorian Goldfields
Australia is one of the best places to find gold, crocodiles, and under the radar junior gold exploration companies. While I have spent most of my resource investing career focusing on the US and Canada, I have largely neglected Australia. That is beginning to change starting today.
Australia is the world's second largest gold producer, and home to 14 of the world's 20 largest gold miners. In 2019, Australia produced 11,469,000 ounces of gold, an increase of 4.2% over 2018, enough to push Australia into the 2nd spot globally, ahead of Russia (China is both the world's largest gold producer and consumer). Some of the largest Australian gold mines include Newmont's Boddington Mine (located in Western Australia) and Kirkland Lake's Fosterville Mine (located in the state of Victoria).
While Western Australia is ranked as the #2 mining jurisdiction in the world by the Fraser Institute, Australia's Victorian Goldfields have a storied history of producing lots of gold at very high grades. The prolific Fosterville Mine, located in the Victorian Goldfields, produces more than 600,000 ounces of gold per year and boasts an average grade of more than a ½ ounce of gold per tonne (17.9 g/t Au).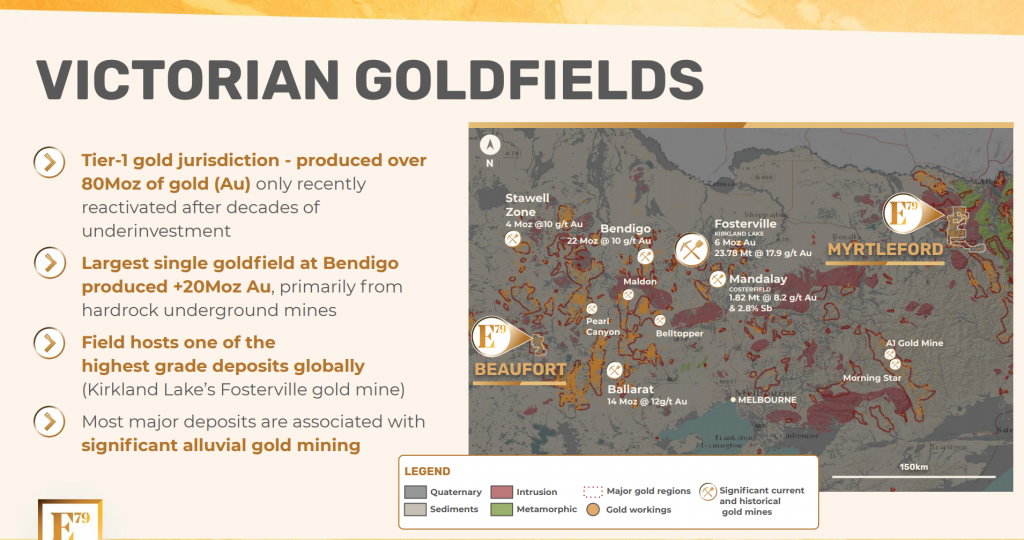 Bendigo produced 22 million ounces of gold at an average grade of 10 grams/tonne gold, and Ballarat has produced 14 million ounces at an average grade of 12 grams/tonne gold.
In the Beaufort Region of the Victorian Goldfields prospectors are still finding massive gold nuggets worth upwards of $250,000 to this day. More than 1,000,000 ounces of alluvial gold has been produced at Beaufort historically, with no hard rock source identified.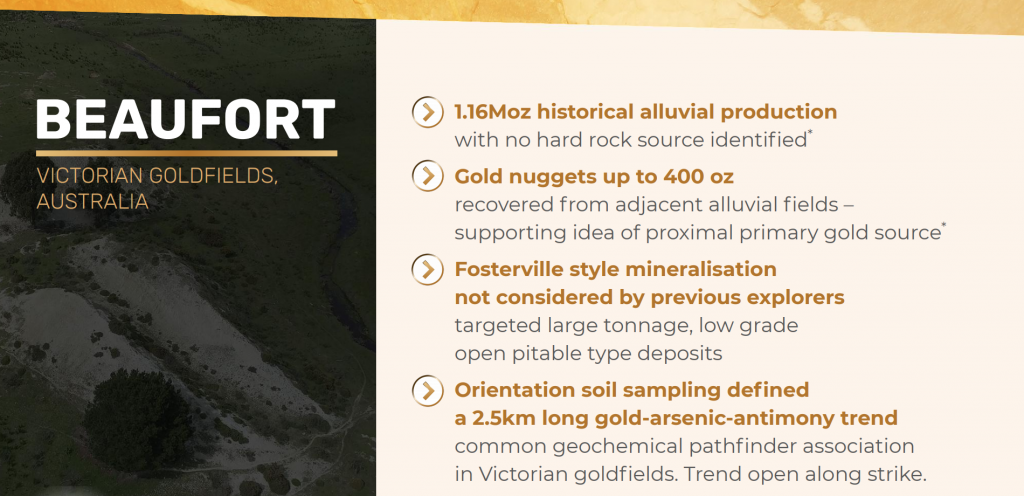 xploring in a region where there has been significant alluvial/placer gold mining in the past, without the discovery of a large hard rock source of the gold mineralization is the basis for gold exploration in many parts of the world. A couple of notable examples are the Yukon Territory (near Dawson City) and in the Spences Bridge Gold Belt in southern BC, Canada (Westhaven's Shovelnose discovery).
E79 Resources (CSE:ESNR) is a Canadian-listed junior gold exploration company that is focused on new gold discoveries in the Victorian Goldfields. E79 has two projects, Myrtleford and Beaufort, both of which E79 has initiated maiden drill programs this year. E79's Beaufort Project is located approximately 48 kilometers west of the regional town and historic gold mining center of Ballarat. Beaufort has seen extensive historical mining with 1.16 million ounces of historical alluvial gold production. Beaufort is a single contiguous land parcel covering 120 square kilometers: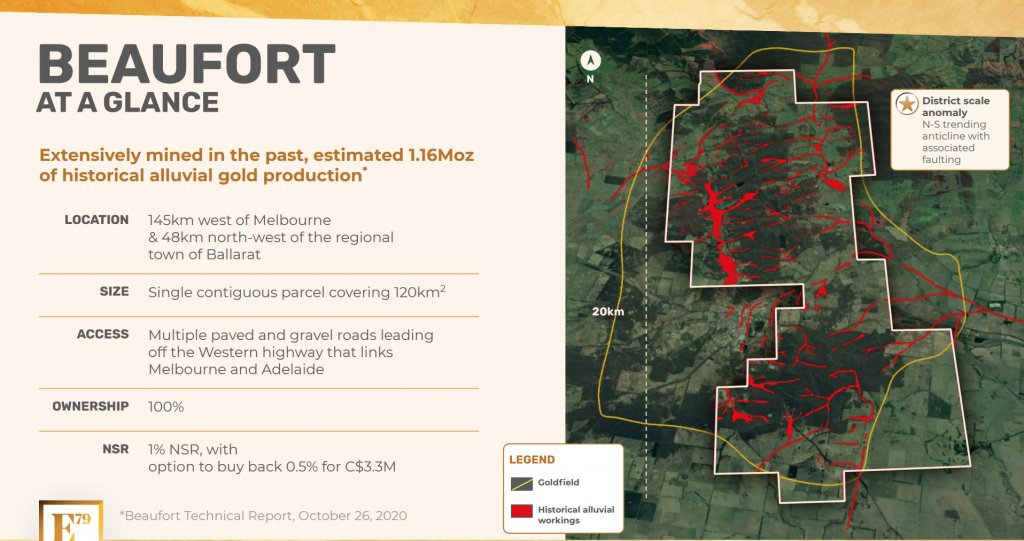 Beaufort has seen no systematic exploration historically, and Range River Resources recommended a geophysical program on the property in 2008, but the Global Financial Crisis caused the project to be mothballed. The founders of E79 Resources acquired the project during the gold market downturn in 2017.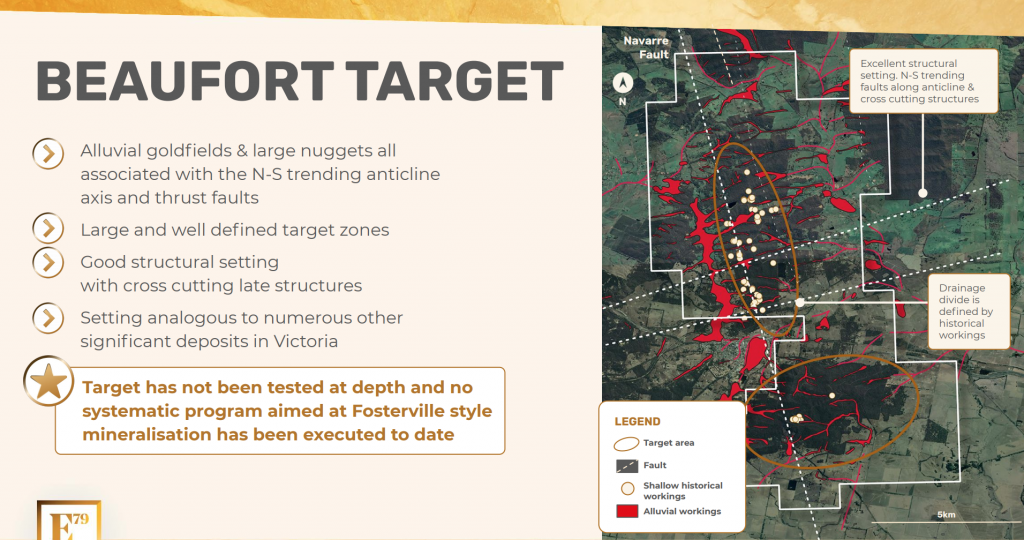 Beaufort hosts large and well defined target zones within a fertile structural setting with cross cutting late structures. Beaufort has not been tested at depth and no systematic geochemical or drill program has been carried until now.
Back to the alluvial gold production and the abundant gold nuggets that have been found at Beaufort. The shape and texture of the gold nuggets at Beaufort point to a proximal hard rock source.
Physically, the nuggets are relatively sharp, rough and pitted, which leads the E79 team to believe they have not travelled far. The nuggets and previous alluvial gold mining tend to have been discovered in the gullies on both sides of a ridge (The Camp Hill Range). The range runs right through E79's licensed exploration tenements, straddling the Navarre fault which is a regional fault (running for hundreds of kilometers) that runs about 20 kilometers through E79's Beaufort Project. E79's hypothesis is that these nuggets and the alluvial gold have been shed off of this range.
The old timers sank pits and shafts looking for the source of all of this gold. They would have been looking for thick quartz veins found at Ballarat and Bendigo, but Beaufort is much more like Fosterville. The old timers would not have been able to access the gold in disseminated sulfide like the material at Beaufort or at Fosterville.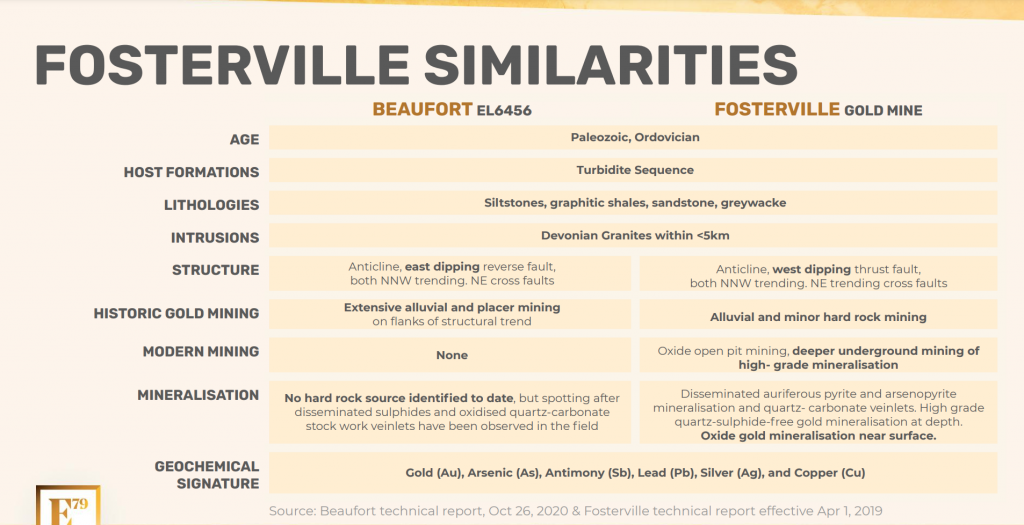 E79 plans to do more geochemical work; however, the apparent iron oxide and silver fits with the thesis that the gold is local. A soil sampling program carried out at Beaufort in 2020 successfully identified a gold-arsenic-antimony geochemical fingerprint over the key structural trends. The association of arsenic and antimony with gold is one of the hallmarks of several of the major gold districts in Victoria.
At the start of the year, E79 completed a detailed infill soil sampling program to define the first drill targets at Beaufort.
 Rory Quinn, E79's President and Chief Executive Officer stated: 
"Elevated gold (Au) values, to a high of 90 ppb, are positively correlated with elevated arsenic (As), antimony (Sb) and lead (Pb), a characteristic geochemical signature for bedrock gold mineralization in central Victoria.
Reconnaissance and in-fill soil sampling continue along the nearly 20km trend of highly prospective ground that provided the source for much of the 1.2 million ounces of alluvial gold estimated to have been produced from the Beaufort goldfield."
Before moving the drill rig to Beaufort for a maiden drill program, E79 had already initiated diamond drilling and completed the first program at its highest priority target at its #2 project, Myrtleford. Myrtleford is another Victorian Goldfields project that has had extensive historical alluvial gold production. This is a special project because it is district scale (418 square kilometers) and encompasses 70 historical gold mines across the property.
The vast majority of historical mining and exploration at Myrtleford terminated at the water-table, due to lack of capital. Myrtleford also boasts high grade underground historical gold production greater than 30 grams/tonne gold. The opportunity is to utilize a holistic, modern exploration approach to large structural trends that host high grade historical gold mines at Myrtleford: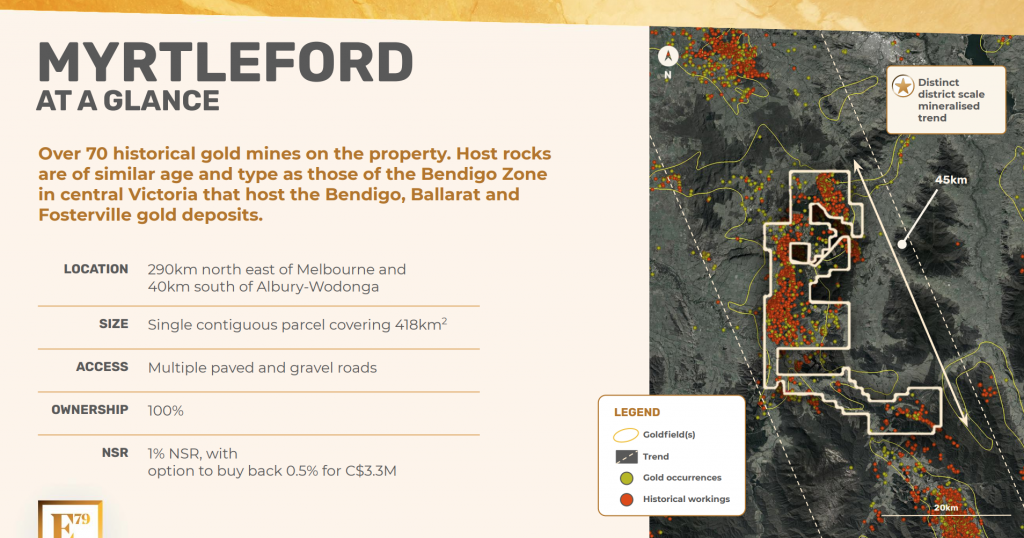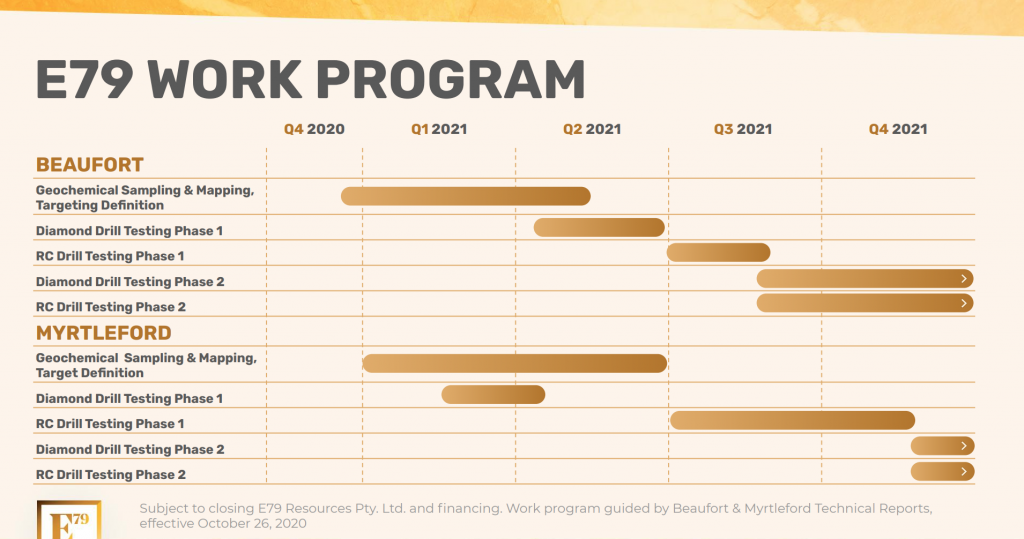 It sounds like E79 CEO Rory Quinn wants to wait to get the rest of the assays back before planning the next phase of drilling at Happy Valley. The company has C$4 million in the treasury and all-in drilling costs are below $200/meter for E79.
With a tight share structure and strong insider ownership (nearly 50%) I can see E79 shares trading above $1.00 following this morning's news.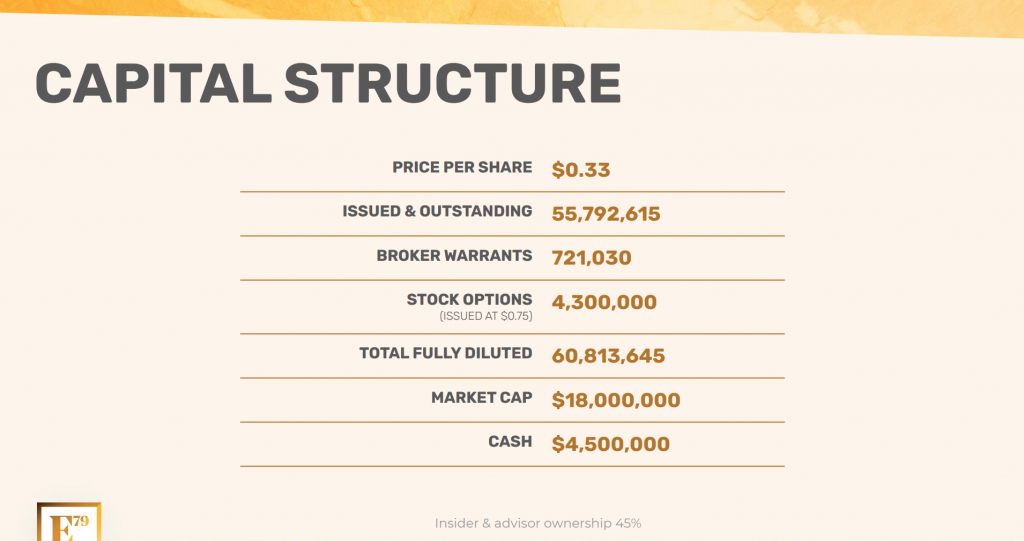 Technical director Martin Pawlitschek formerly worked at BHP – the largest mining company in the world. Mr. Pawlitschek secured the Beaufort property for BHP, before BHP decided to exit the gold business. He has since worked with a prominent private equity group out of the UK and helped advance Teranga in Africa. Martin worked to secure the Beaufort property around 2017, and finally managed to secure it in mid-2018, just as gold was bottoming at around US$1200/oz and few were interested in acquiring gold exploration assets.
Exploration director Dennis Arne has over 35 years of experience as a geologist. Specializing in geochemistry in a wide range of environments including work in both the minerals and petroleum industries, as an academic, and in geological surveys. In recent years, Mr. Arne has been involved as a principal consultant in the development of geochemical exploration programs for global precious and base metals projects. He has published extensively in the areas of applied geochemistry, economic geology, alteration mineralogy and thermal history analysis for tectonic and petroleum exploration applications including a substantial amount of work in the central Victorian goldfields of Australia.
E79 CEO Rory Quinn has 15 years of capital markets experience in the global gold mining space and is the former Director, Investor Relations, at Wheaton Precious Metals (previously Silver Wheaton). During his tenure at Wheaton (2012 to 2019), Mr. Quinn worked on acquisitions totalling over US$6 billion as the company built its precious metals business. He was also involved in the review of hundreds of mining companies and mining assets from large precious metal producers to earlier-stage developers and explorers in assessing high-quality investment opportunities around the globe.
E79 has a stacked team of management and advisors, and two highly prospective large-scale projects in a tier-1 mining jurisdiction. The company is well financed and has a clear plan of action ahead in 2021. ESNR shares had been flying under the radar in Canada, and are now benefitting from an upward revaluation as the truth machine rolls out and E79 makes fast progress on its exploration programs at Beaufort and Myrtleford. 
Disclosure: Author owns shares of E79 Resources at the time of publishing and may choose to buy or sell at any time without notice.  Author has been compensated for marketing services by E79 Resources Corp.
DISCLAIMER: The work included in this article is based on current events, technical charts, and the author's opinions. It may contain errors, and you shouldn't make any investment decision based solely on what you read here. This publication contains forward-looking statements, including but not limited to comments regarding predictions and projections. Forward-looking statements address future events and conditions and therefore involve inherent risks and uncertainties. Actual results may differ materially from those currently anticipated in such statements. The views expressed in this publication and on the EnergyandGold website do not necessarily reflect the views of Energy and Gold Publishing LTD, publisher of EnergyandGold.com. This publication is provided for informational and entertainment purposes only and is not a recommendation to buy or sell any security. Always thoroughly do your own due diligence and talk to a licensed investment adviser prior to making any investment decisions. Junior resource companies can easily lose 100% of their value so read company profiles on www.SEDAR.com for important risk disclosures. It's your money and your responsibility.