by @Goldfinger on 3 Aug 2021
What if I told you there is a stock that is barely trading above the net asset value of its cash and equity investment portfolio holdings?
This company also has dozens of exploration projects across Western Canada, in addition to an extremely profitable wholly owned subsidiary that delivers geological services to the mineral exploration industry across Canada.
65% of the company's market value is supported by cash, an equity portfolio, and real estate. This company has ZERO DEBT.
The net asset value per share of this company is C$.105 per share and the shares are available to be purchased on the open market at C$.16 per share. This means that investors are paying C$.055 per share for a project portfolio that spans dozens of projects throughout western Canada, including many projects that have been optioned out to other minerals exploration companies – this company receives option payments from the companies it has options agreements with, and it maintains royalties on many of the projects it has optioned to other exploration companies.
And I'm just getting started. This company also has a wholly owned subsidiary that is spitting out millions of dollars of revenue and a considerable amount of free cash flow.
Which company is this? How do I buy shares?
The company is Eagle Plains Resources (TSX-V:EPL, OTC: EGPLF), a vertically integrated project generator focused on minerals exploration in Western Canada. EPL management takes shareholder value seriously and the company has a track record of successful shareholder value creation.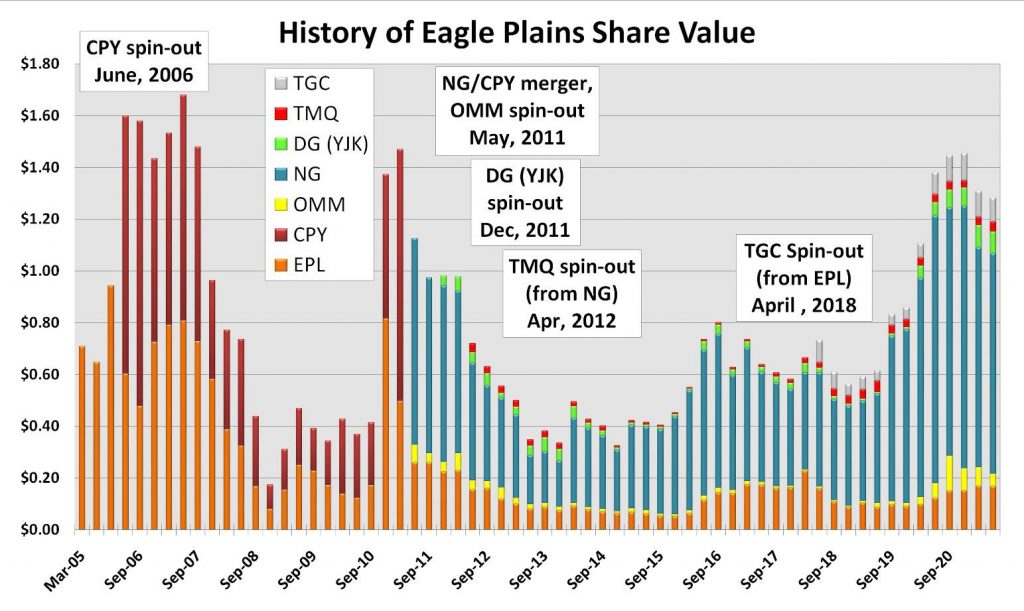 Eagle Plains management owns nearly 10% of the outstanding shares and CEO/Founder Tim Termuende has been a regular buyer of EPL shares on the open market. This is a management team that eats their own cooking and maintains a laser focus on Eagle Plains (as opposed to many other junior mining management teams that are involved with numerous companies and split their time and attention in order to maximize their personal salaries and options packages).
Eagle Plains has developed a risk averse approach to a very risky business by employing the JV project generator model. EPL takes a shotgun approach to mineral exploration by being a project generator; EPL acquires many projects based on research, develops these projects to a certain degree which varies by project, then options them to other companies to carry on development and conduct most of the heavy lifting. This approach is risk-averse and EPL usually ends up retaining a 20 – 40% interest in the event of discovery but pays much less than that proportionally of the exploration expenses.
A few things make Eagle Plains different from other project generators in the junior mining sector. One of which is EPL's wholly owned geological services subsidiary, TerraLogic Exploration Inc. TerraLogic is poised to generate C$1.6 million in profit on revenues of C$14 million in 2021. That means that EPL's enterprise value (EV) to EBITDA (earnings before interest taxes depreciation and amortization) ratio is roughly 3x.
It's extremely rare to have a junior mining investment opportunity that is supported not only by a strong cash position and equity portfolio, but also with a steady stream of growing free cash flow. In fact, this is basically unheard of in junior mining!!
Ok, so the downside is pretty limited but where is the upside potential?!! Eagle Plains holds a portfolio of dozens of highly prospective exploration stage gold projects, as well as a number of prospective copper and uranium projects. Let's delve into a few of EPL's projects that are being drilled this year.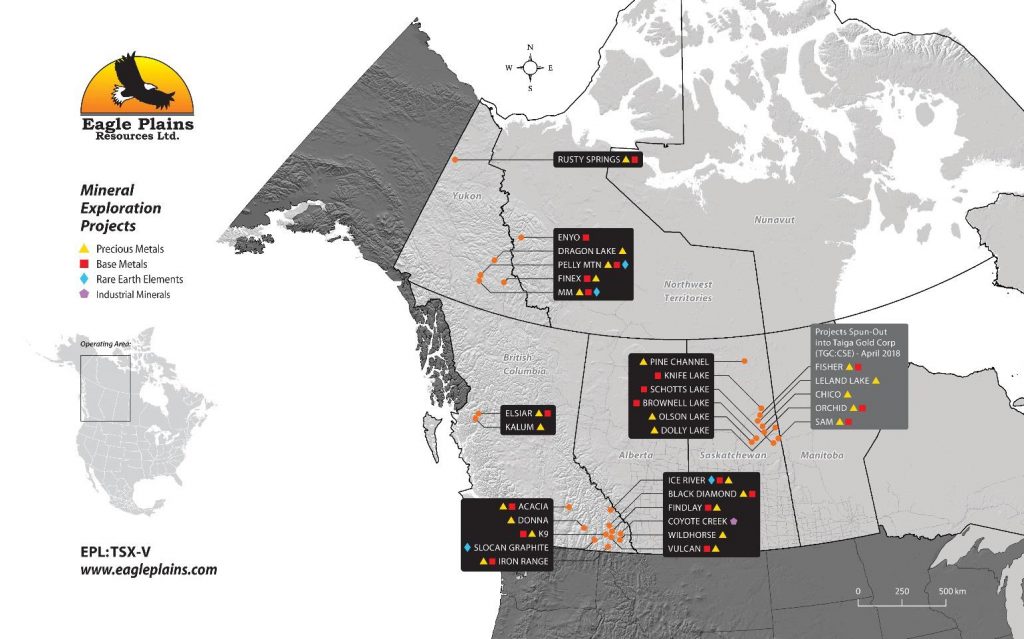 The Donna Gold Project, located in the prolific Quesnellia Terrane, host to many major B.C. porphyry deposits such as Highland Valley, Gibraltar, Mount Polley, Mount Milligan, Copper Mountain and others. EPL just completed a drill program at Donna and is currently awaiting assay results. Drilling focused in the vicinity of 4 recently acquired Crown Grants located in the central portion of the Donna property, these crown grants are host to two past producing gold mines and where no known drill testing has taken place.
Another area of the property drill tested was in the vicinity of a large robust soil anomaly that has been identified through previous ground-based exploration programs. Both zones drill tested exhibited hydrothermal brecciation. Drill results are expected to be available by the end of August.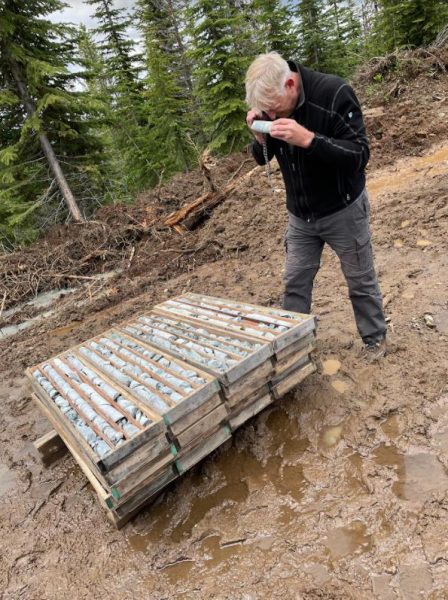 – Ground-based work included follow-up of a radiometric geophysical anomaly that identified extensive areas of potassic alteration. This type of alteration is known to be associated with gold mineralization on the property. Exploration located extensive areas of coincident gold/base metal showings associated with this alteration which will be beneficial in generating future drill targets. Ground work focussed within this alteration package to locate new mineral showings.
– The property also contains mag-high geophysical anomalies that appear to be associated with porphyritic intrusions/gold showings. The porphyritic sills identified by these geophysics are thought to be derived from underlying porphyry intrusions.
– As with the Dictator Project, current exploration activities are focused on exploring for overlying, higher-grade epithermal gold mineralization.
The Dictator Project – The Dictator Project is also located in the Quesnellia Terrane of BC. This terrane is host to many large porphyry deposits, some of which are being mined by resource giants such as Teck. The Dictator is one of 6 regional properties that Eagle Plains holds in an eastern extension of this terrane in southern BC. – See regional map here. A ground-based exploration program recently conducted at the Dictator consisted of mapping, soil sampling, chip and rock sampling to ground truth the results of a 2-phase geophysical survey that was carried out over the past year.
The geophysical surveys identified 2 prominent magnetic anomalies coincident with a boulder field from which high-grade gold and base-metal samples had been collected in 2020. Early indications are very positive with EPL geologists very excited about the potential of this project having located numerous mineralized veins and shear zones associated with intrusions. A program of trenching and channel sampling is being considered for later this year to establish drill targets for which permitting is underway.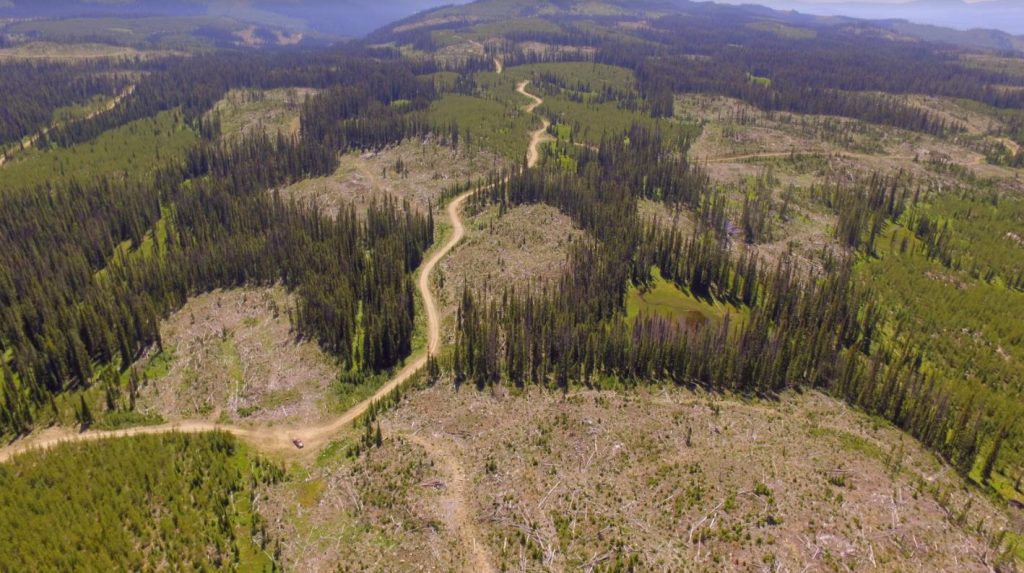 As porphyry deposits are often associated with overlying higher-grade epithermal gold deposition, Eagle Plains has been focusing exploration efforts on this type of mineralization.
EPL has always relied on its project generator model as its bread and butter but often takes a swing for the fences on its 100% owned projects as well. Shareholders have given EPL the message loud and clear over the years that they prefer to see the company use some of the treasury to explore the most prospective 100% owned projects in the company portfolio.
EPL became aware of opportunities in the Donna/Dictator area a few years ago through the company's network of prospectors and management felt that the risk/reward ratio is suitable for EPL and its shareholders. The area offers excellent geological potential (evidenced by placer gold activity throughout the region), but seems to be overlooked by both government and industry. The infrastructure is second to none and the fact that it has seen extensive logging activity not only creates great access but also results in rock exposures along well developed road networks.
The Olson Gold Project – The Olson is one of 8 projects that Eagle Plains holds in the La Ronge Region of Saskatchewan near SSR Mining's Seabee Mine.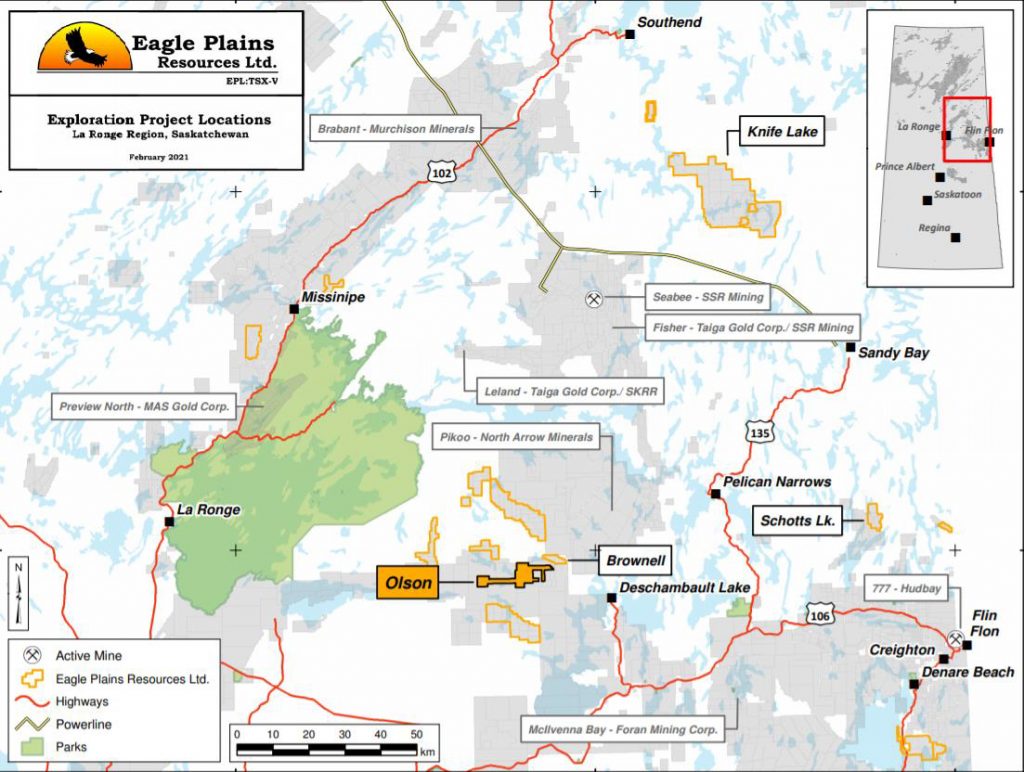 The Olson has had approximately 4655 meters of drilling in 2 phases during the last year, funded entirely by SKRR Exploration, which holds an option to earn up to a 75% interest in on the property.
Highlights are:
– 22 of the 30 holes intersected significant gold mineralization including new discoveries at the previously untested Point, Jena, Michael's Lake and Ackbar zones and in a 150 meter step-out hole at the Olson Zone.
– Robust gold mineralization continues to be intersected at the Olson Zone, with the latest drilling returning up to 5.54m grading 4.12 g/t gold within a broader interval grading 2.95 g/t gold over 10.21m
– The new discovery at Point Zone shows good continuity in width and has the potential for large size near surface gold mineralization of bulk tonnage grade containing narrow higher-grade intervals, while the Olson Zone exhibits significant potential for high grade underground mineralization.
The recent programs at Olson have been a major success and the property shows potential for a significant discovery. The setting is that of mineralization in the contact areas of intrusions and in structures within the country rock. The one abandoned drill hole due to deteriorating ice had significant potential according to the onsite geologist given what had been witnessed up-dip in a previous drill hole, hence the targeting of this subsequently abandoned hole.
Risk vs. reward propositions in junior mining don't get much better than EPL shares at C$.16. The company is generating substantial cash flow from its geological services business and its option project portfolio, while striving to make a game-changing discovery on one of its 100% owned projects. A strong cash position and equity investment portfolio underpins an already formidable proposition. I own EPL.V shares and I intend to accumulate additional shares over the next couple of weeks.
Disclosure: Author owns shares and warrants of EPL.V at the time of publishing and may choose to buy or sell at any time without notice. Author has been compensated for marketing services by Eagle Plains Resources Ltd.
DISCLAIMER: The work included in this article is based on current events, technical charts, company news releases, and the author's opinions. It may contain errors, and you shouldn't make any investment decision based solely on what you read here. This publication contains forward-looking statements, including but not limited to comments regarding predictions and projections. Forward-looking statements address future events and conditions and therefore involve inherent risks and uncertainties. Actual results may differ materially from those currently anticipated in such statements. This publication is provided for informational and entertainment purposes only and is not a recommendation to buy or sell any security. Always thoroughly do your own due diligence and talk to a licensed investment adviser prior to making any investment decisions. Junior resource companies can easily lose 100% of their value so read company profiles on www.SEDAR.com for important risk disclosures. It's your money and your responsibility.