Once an afterthought to gold and silver investors, copper has emerged as the hot commodity right now. Investing in copper mining stocks is no longer the underground topic of discussion.
The price of copper has rallied past eight year highs. Despite the recent run, copper appears to be in the early stages of a prolonged bull market. On December 1st, 2020, Goldman Sachs referred to the move in copper as "the first leg of a structural bull market in copper".1
Value investors have made early profits from the producers by spotting this emerging trend. For years the low commodity prices left very little motivation to bring on new supply. In the current market, the momentum building into the next leg will trickle down to the advanced projects under development.
Favorable supply-demand dynamics accelerated by the impacts of COVID-19 are a big reason for the surge in copper prices. China's swift economic recovery is contributing to a strong global appetite for copper given its widespread use in construction and electricity. 
Looking further down the road, the importance of copper in electrification and electric vehicle manufacturing are additional catalysts expected to drive growth at copper mining companies.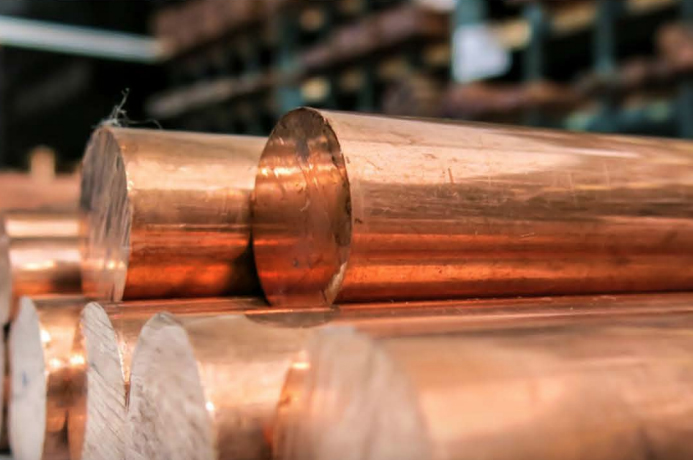 Copper discovery rates, grades on the decline
Known as "man's first metal", copper has been around for more than 10,000 years. Civilizations have long been using copper in architecture, weaponry, jewelry, and coinage. But more recently the rate of new copper discoveries has slowed. 
The world's largest sources of copper are Chile and Peru. Chile's state-owned Codelco, the world's biggest copper producer, mined 1.7 million tonnes of copper last year, its lowest level since 2008. Inferior copper grades in addition to water scarcity and other operational challenges were to blame.2 Codelco's lower copper grades relate to aging mines and are indicative of a broader industry trend. 
Copper mining projects are massive by nature. They require significant capital and time to develop. According to BMO Capital Markets, the worldwide pipeline of copper projects is at its lowest level in more than a century.3 An impending copper supply crunch could spur industrywide investment in new mining projects. However, given the long lead time, copper miners with strong existing assets have a long runway for growth. 
The COVID-19 pandemic has had a major impact on Peru's copper mining industry. Quarantine measures that halted Peruvian copper mining operations have put further pressure on global supply. While the near-term effects of the pandemic should dissipate over time, tight supply and strong demand conditions are likely to persist. 
The downturn in quality copper yields comes at a time when the metal is poised to take on a bigger role in global economic development. Already an indispensable raw material in our daily lives, nearly 28 million tonnes of copper are used annually in power grids, construction, transportation, appliances, electronics, and more.4
Over the next decade, copper will be a critical part of the green revolution. The metal's unique conductive and sustainability properties will make it a highly sought-after material for the next generation of renewable technology. Government spending on environmentally conscious initiatives like solar and wind projects stand to support copper prices and miners.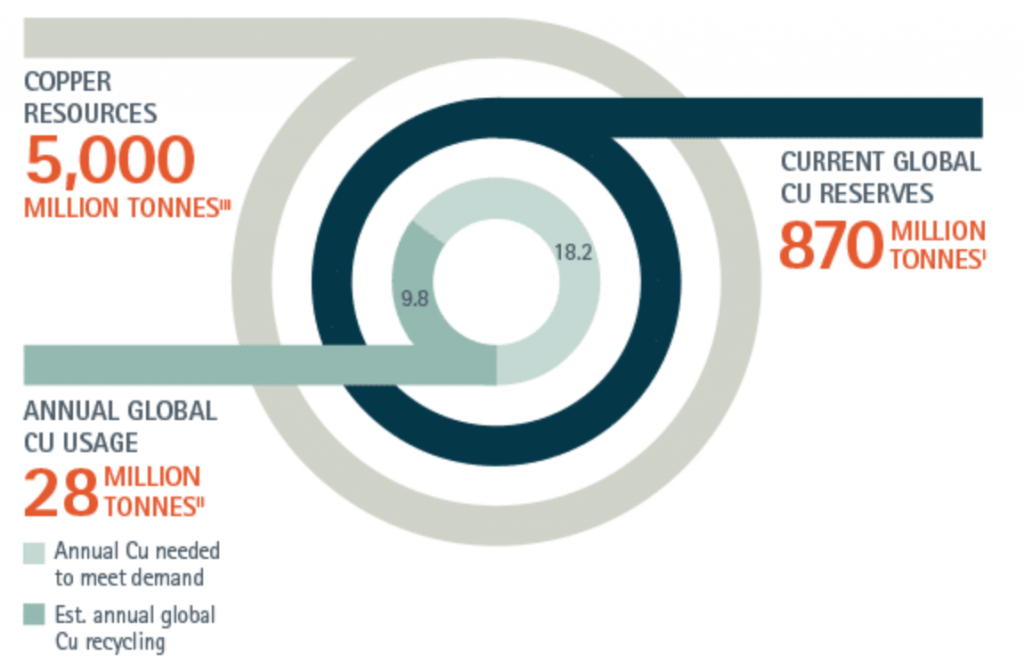 China a key player
China is a major force in the copper market. As the world's largest copper consumer, economic activity in the region is widely considered a gauge for copper demand. The Chinese government's massive coronavirus relief package has already had a major impact on construction and infrastructure development. 
More recently, better than expected Chinese manufacturing data has propelled copper prices to their highest level since March 2013.5 Today, China is importing record amounts of copper to fuel an economic revitalization that is paramount to global economic health—and a boon to the copper mining industry.6
Global electrification, the process by which countries change from one power source to electricity, is expected give another huge jolt to copper demand. Electrification is on the rise because of its energy efficiency and ability to lower carbon emissions. In order to reach the Paris Agreement's global climate targets, global electricity demand will need to increase 80% to 90% by 2050.7 And with copper being a main component of electrical wiring, it will be a critical piece of the electrification process. 
As both developed and developing economies buildout their infrastructure, copper will be relied upon heavily. Its use in power grids, electric powered subways and buses, building wire, plumbing and much more will keep the metal in the spotlight during the global infrastructure boom.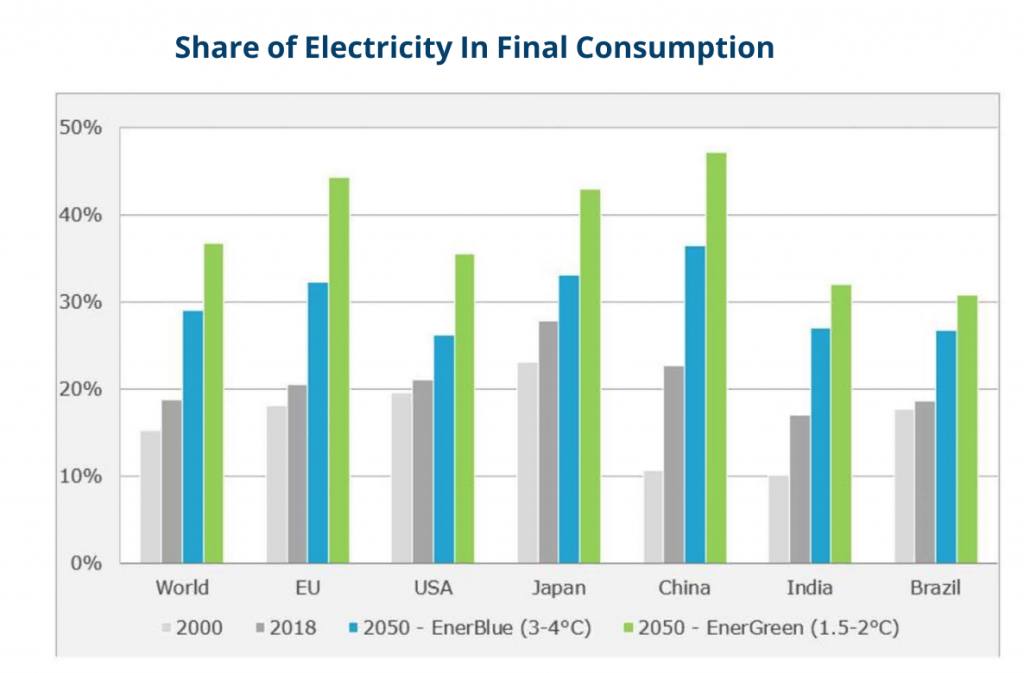 Copper's integral role in electric vehicle technology
Electric vehicles (EVs) are here to stay. They will become an increasingly vital mode of transportation in our society as governments implement clean energy policies. As EVs rise in popularity, so too will copper demand.
By 2030, battery electric and plug-in hybrid cars are projected to account for almost 20% of the global automobile market. A decade later they are forecast to represent 72% of all vehicles on the road.8 Given the extensive use of copper in EV manufacturing and infrastructure, there's likely to be a similar growth trajectory in worldwide copper demand.
The amount of copper that goes into an electric vehicle is staggering. According to the Copper Development Association, battery electric vehicles (BEVs) contain 183 pounds of copper while conventional cars contain, on average, 34 pounds of copper.9
Even more copper will be required to charge EVs. Since each EV charger can require up to 8kg of copper, charging-related requirements alone could add up to an additional 216,000 tonnes of copper demand by 2027.10
The EV market will clearly have a dramatic impact on copper demand. Scottish consulting firm Wood Mackenzie estimates that passenger EVs will consume more than 3.7 million tonnes of copper annually by 2040. To put this into perspective, total worldwide copper usage for all purposes combined was 24.4 million tonnes in 2019. 
From electrification to the proliferation of electric vehicles worldwide, the conductive metal will be in increasingly high government and private sector demand for many years to come. And as copper prices rise amid a limited supply of high-quality sources, copper mining companies appear to be in the driver's seat for a long growth ride. 
1 Source: CNBC
2 Source: mining.com
3 Source: mining.com
4 Source: Copper Alliance
5 Source: Reuters
6 Source: Reuters
7 Source: Enerdata
8 Source: Copper Alliance
9 Source: Visual Capitalist
10 Source: Visual Capitalist